There is no doubt that Facebook Messenger is the second most popular chat application globally, with 1.3 billion monthly active users, only behind WhatsApp (2 billion) but its ranking can change in the future.
It's one of the most popular social media platforms for chatting, voice and video calls, sharing media files, etc. That's why we use it every day.
Check out these cool messenger tips and tricks you may have missed.
Facebook Messenger Tips and Tricks
Share your location
You can now share your exact location with someone easily rather than guiding and explaining where you are. 
Open the conversation.
Tap on the 4-dot menu button
Select location.
Allow location access.
Tap on start sharing live location for 60 minutes.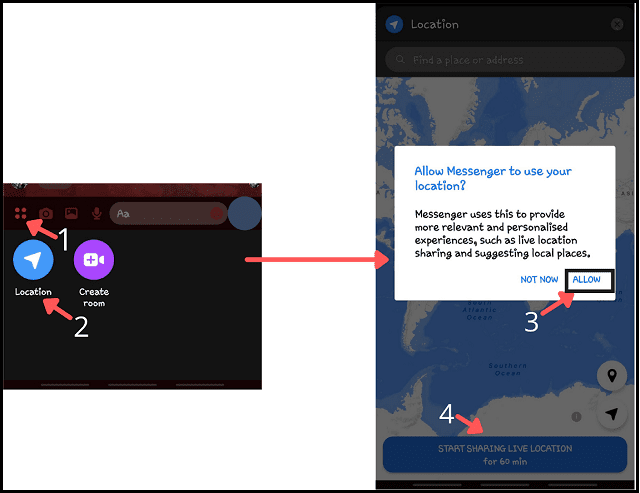 Send money through Facebook Messenger
One of the coolest features of Facebook Messenger is that you can transfer money to your contacts while staying in the conversations. 
Tap on the 4-dot menu.
Select the payments option 
Make your payment.
You can send or ask for money with your contacts using this feature.
Use stickers, gifs, emojis
Our daily communication has become enhanced by emojis and stickers. There are a lot of stickers, GIFs, and emojis available that you can use in your Facebook Messenger conversation so that your conversations look more engaging. 
You can tap on the smile menu inside the message box and use all the available GIFs, emojis, and stickers. Messenger now allows you to send emotes with sound.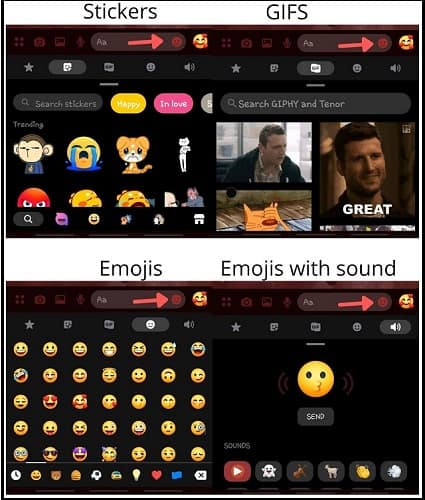 Emojis can also be changed in size by long pressing on the particular emoji. Tap on the message you want to react to, and there will be different emojis available to do so.
Also Read: How to Retrieve Archived Messages On Facebook Messenger App?
Send voice messages
Not only text, but you also can send voice messages using Facebook Messenger. Sometimes, you may feel bored typing texts; in that case, you can record your voice message to send to your friends.
To record, tap into the "mic" button

Once you start a recording, it will send when you let go of the microphone
But you may remove it by dragging it away

Effects and Backgrounds
Facebook messenger also has a feature of adding effects and backgrounds during video calls. You can also use some background photos and videos to prank your friends.
To setup Effects and Backgrounds:
Open a chat.
Tap on the video call option.
Tap on the effect button at the bottom of the screen.
Choose 'Effects' or 'Background' that you want to use during a call.
Select the effects and backgrounds as you like.
For backgrounds:
 You can choose the default backgrounds provided by Facebook Messenger 
OR
Tap on the image icon. 
Select the type of media (photo or video) you want to use as a background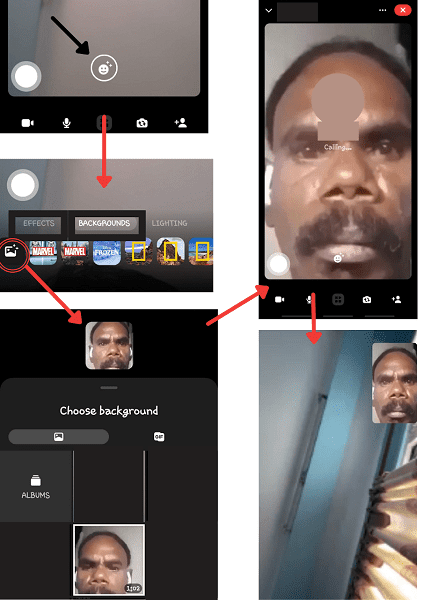 Nicknames
Many of us like to call our friends by their special nicknames. Facebook Messenger helps to set nicknames for your friends easily. You don't always have to look at serious, official names after you set the nickname for your friends. 
You have to open the chat.
Tap on their name or the "i" button at the top right corner.
Select nicknames.
Set their nickname as you like

Change the theme of the chat
The messenger blue theme for every chat might make you bored. With the special nickname you got for your friends, you may also want to change the chat theme in Facebook messenger. 
Click on the "i" button or the name of the conversation.
Click on the theme.
Add the color of the chat as you like. 
You can also change the emoji for the chat.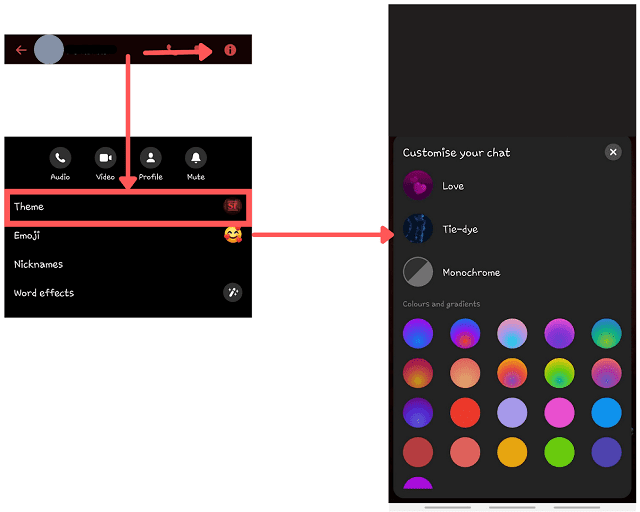 Block and ignore messages
A person you don't like, a stalker, or an enemy might send you a message; you can ignore it or block it. 
Click on the "i" button or the name of the conversation. 
Scroll down to privacy and support.
Click on the block or ignore option. 
You can also unblock or unignore the chat later if you like.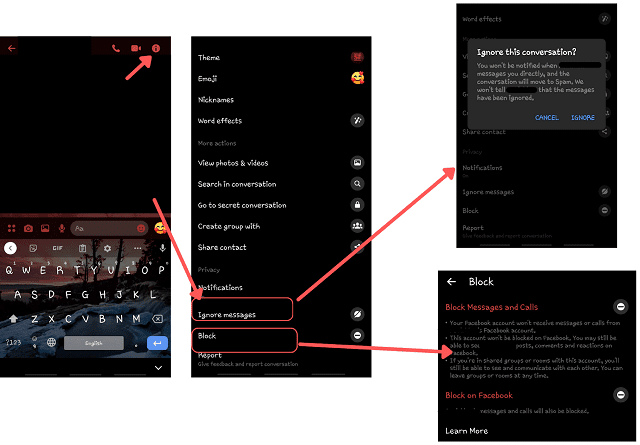 Turn on dark mode
In dark mode, your Facebook messenger will look cooler and prevent your vision from being affected by the bright white light at night. Also, it can save battery too.
To set up dark mode:
Open Messenger.
Click on your profile in the top-left corner.
Select the dark mode option. You can turn on/off the dark mode

Manage messages notifications
We love our friends and family, but they may get gossipy on Facebook Messenger. Notifications for each communication might start to grate on your nerves. Fix the problem by muting the whole group chat. 
Tap the conversation you want to mute.
Select mute notifications. 
Select any options to mute this chat? And press OK.
You can mute conversations for a set length of time—15 minutes, one hour, eight hours, 24 hours—or you can choose Until I turn it back on for an indefinite time. 
And press ok.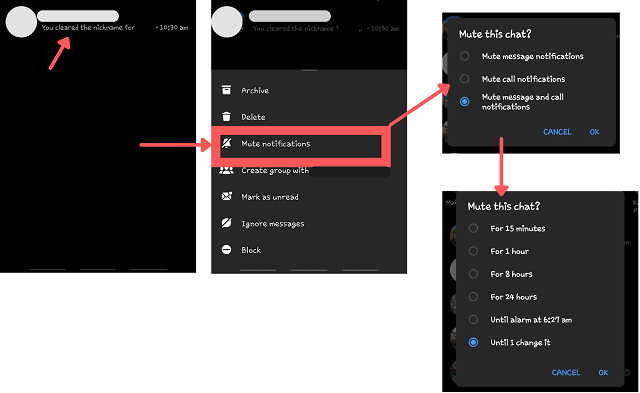 Search in conversation
You may need some details or specific messages from the old chat conversations. In the case of looking for a birthdate or Netflix login, scrolling up to that message might be overwhelming. The "Search in conversation" feature makes it easy to search messages.
Select the conversation where you want to search for messages.
Tap in the name of the conversation or the "i" button.
Tap search in a conversation, and search the required message. 
For example, you can use the word Netflix to find the Netflix login message in your chat.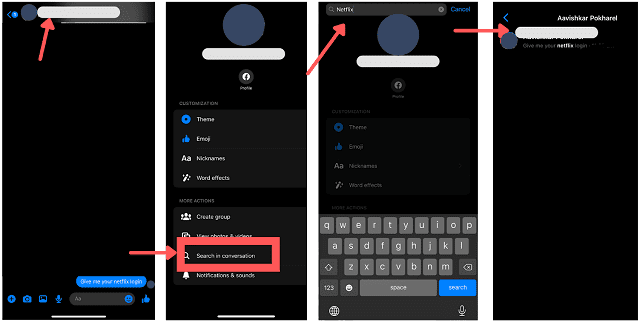 Secret conversations
There is a secret conversation feature on Facebook Messenger that you can use to keep your conversations private. In these conversations, the data is encrypted, and also, you can set a timer to have the conversation disappear after a certain amount of time.
To enable secret conversations:
Open the messenger app.
Select a conversation.
Tap the "i" button or the name of the conversation.
Select "Go to the secret conversation." 
Also, you will not get to use other features like making payments, voice or video calls, group chat, and GIF support by encrypting the conversation.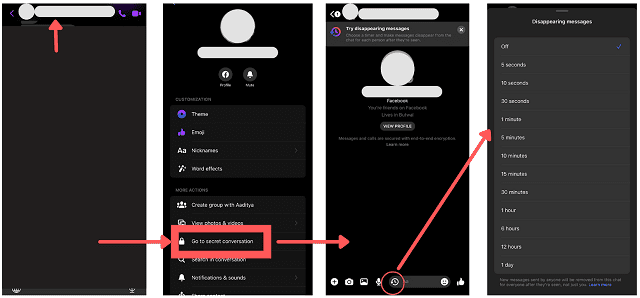 Create group chats
Creating a group chat with your friends is a great way to plan or discuss something with them all in one conversation without leaving anyone out. 
Additionally, you can name your group, change the photo, change the theme color, add emoji, add nicknames, and make voice and video calls. There is also a poll feature.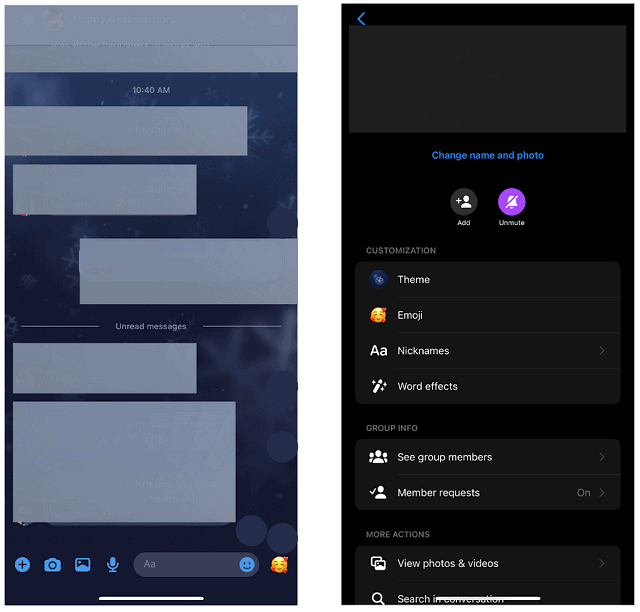 Best Messenger Tips And Tricks:
Share your location to let your friends know where you are.
Send money through Facebook Messenger to make instant payments.
Use stickers, gifs, and emojis to make conversations look more engaging.
Send voice messages if you choose not to type very long messages.
Effects and Backgrounds can make your video calls look more interesting.
Nicknames to make the names look less serious.
Change the theme of the chat so that it makes your chat interesting and extra-ordinary rather than the same messenger blue theme for everyone.
Block and ignore messages from people you don't want to have a conversation with.
Turn on dark mode to save your eyes from burning and also your phone's battery.
Manage message notifications so that you can focus on your work without being disturbed by message notifications.
Search in conversation to find the details you are looking for easily.
Secret conversations to make the conversation more private.
Create group chats so that you can have discussions with your friends and make plans.
Summing up
That's all about Facebook Messenger tips and tricks for making the most of the chatting service.  Let us know which tips and tricks are your favorite in the comments. You are also welcome to share tips and techniques with the community and us.