Screen recorders are great tools for creating how-to videos, product demonstrations, and other types of video content. They're also used for personal purposes, for example, to record Skype calls, record video chats, capture precious memories or playback games.
You can also provide potential customers with an immersive view of your product or service by sharing videos. This can help your business flourish.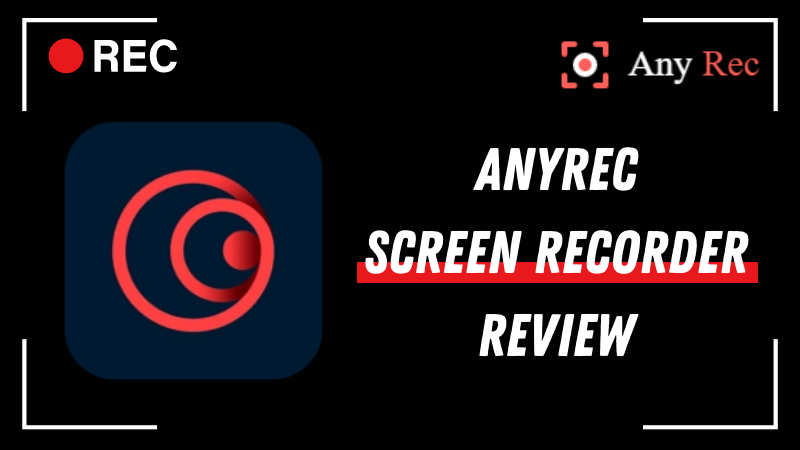 There is no shortage of screen recording tools on the internet, but the AnyRec screen recorder tool is unique in many ways. It offers all the advanced functionalities you need to create high-quality videos.
Be sure to read the entire article to find out about all the features this screen recorder offers so that you can decide if it is a good tool for you.
What Is AnyRec Screen Recorder?
AnyRec screen recorder enables its users to record high-quality videos on both Windows and Mac OS. Regardless of the type of video you want to create, this tool provides you with the facility to do so. It's a user-friendly and versatile recorder that does what it promises.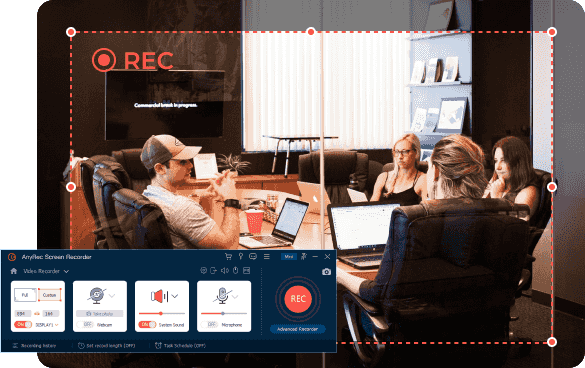 It has a clean, straightforward interface, and it has easy-to-use features. In addition to recording, you can crop a screenshot on Mac OS, making it unmatchable with any other screen recording tools.
There is no limit on time for recording i.e. you can record for as long as you want. What's more? You may use AnyRec to capture your smartphone's screen as well.
Whether you want to record video, only audio, webcam, gameplays, or take a screenshot, this tool can do it all for you.
What Makes AnyRec Screen Recorder the Right Choice?
There are many reasons why you should choose AnyRec as your screen recorder. Here are some of the most notable reasons:
Full High-Resolution Screen Recording:
Using AnyRec, you can record your screen in high resolution. Therefore, you can produce videos of the highest quality without worrying about pixelation.
Even 4K videos can be recorded on both Windows and Mac operating systems. Moreover, you can also record a video in 60FPS to make it look smoother and more realistic.
Real-Time Drawing Effects:
This feature allows you to annotate your recording in real-time. You can use a drawing tool to draw shapes or write text on the screen while recording the video.
If you're creating a how-to video and want to highlight certain elements on the screen, this feature is going to help you a lot. By doing so, you can engage your viewers and make the video more informative.
In addition to recording the screen, the AnyRec screen recorder can also record the area around your mouse cursor. You can use this when you want to demonstrate how to use a particular feature on a website or software.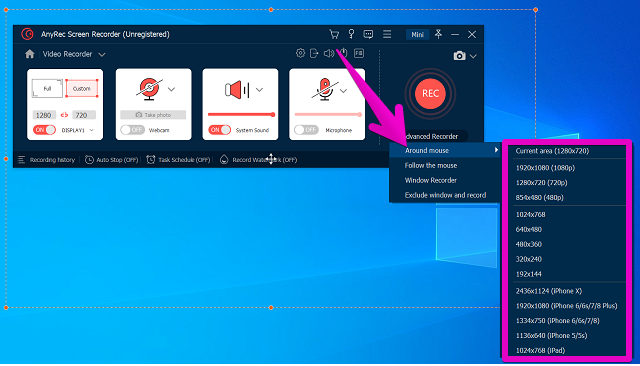 Recording the area around the mouse helps viewers focus on particular elements on the screen and makes it easier to understand what you are doing.
No Watermark & Time Limit:
How will you feel if you record a video after much hard work and the screen recorder adds a watermark? Wouldn't that be annoying?
Well! AnyRec does not put a watermark on your captured videos, so you can be assured that your recordings are protected. Moreover, you can record videos for as long as you want, so you're not restricted.
This is a really useful feature especially if you're recording long gameplay sessions or tutorial videos.
You can also capture GIFs with the AnyRec screen recorder. The GIFs are of amazing quality, and you can even adjust the recording speed and frame rate to get the perfect result.
So, no additional tool/software is required for this task.
AnyRec Screen Recorder: Primary Features
This awesome screen recorder comes with a ton of advanced recording features but some of the highlighted features are focused on here:
Video recording is the main feature of this screen recorder. You can record what's happening on your screen and save it as a video file.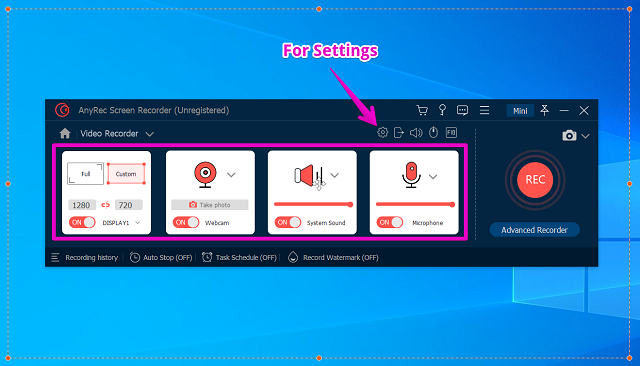 This can be useful for making educational videos, recording business meetings, or just capturing funny moments on your screen for entertainment.
There are many settings that you can tweak to get the best recording results like adjusting frame rate, bitrate, and resolution. Moreover, you can add a camera overlay to record your reactions along with the screen recording.
AnyRec also comes with a video editor, which enables you to edit your recordings before exporting them. You can crop the video, trim it, add watermarks or subtitles, and more.
Just want to record audio? Its audio recorder feature is particularly useful, as it allows you to record both system and microphone audio simultaneously.

This is ideal for recording lectures, webinars, or other presentations. The recordings can be saved in MP3, M4A, WMA, or AAC format, and you can even choose the recording quality.
What's more in Audio Recorder? You can also set scheduled recordings, and this tool will automatically start and stop recording at the specified time
Are you a game lover? Want to record memorable moments of your gameplay to share with friends? AnyRec offers this facility to record any game on your screen, including online games.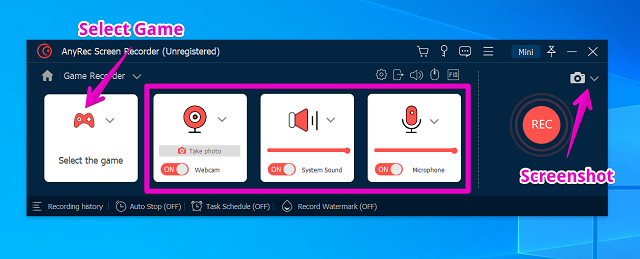 You can record game moments as long as you want since there is no limit on time. You can also record games to take a break and analyze your own or your opponent's performance. Sounds great!
Just select a game, adjust some settings and you're good to go
Also Read: 8 Best Free Online Screen Recorder No Download No Install
Phone Recorder (Both Android & IOS):
AnyRec screen recorder is a powerful recorder that is constantly improving and new features are being added to it. Among the new and useful features is the phone recorder, which allows you to record videos from your smartphone without installing any additional screen recorders.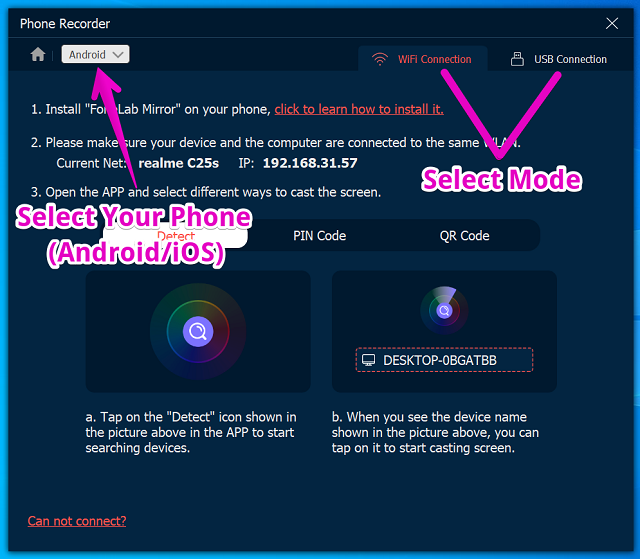 Whether you're an Android user or an iPhone user, this feature will come in handy for recording high-quality videos on your screen.
You can connect your phone to a PC via USB cable or WiFi to enjoy this feature.
Using AnyRec Screen Recorder, you can also record footage from your webcam. If you want to create a video tutorial or demonstrate your gaming skills, this is a great solution.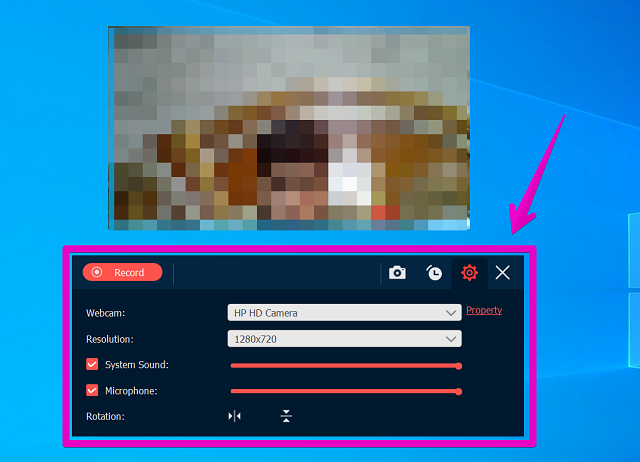 You can also use this feature to record webinars or online meetings. A webcam recording helps you capture important moments and create interesting vlogs.
What's more, you can add webcam footage to your screen recordings to create more engaging and professional-looking videos.
This tool can also be used for taking screenshots. It is quite handy to be able to take screenshots, and it can be of great use in numerous situations.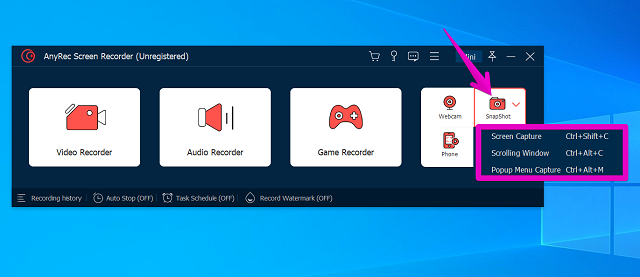 During the recording process, you can capture a specific screen. As an additional feature, it also supports scrolling window screenshots to save the entire visible page at once.
Additionally, you can edit the screenshot by adding text, arrows, and other shapes to suit your needs.
Read Also: 5 Best Screen Recording Software For PC
Final Thoughts on AnyRec Screen Recorder
We need screen recorder tools in various situations whether for work or for personal purposes. The AnyRec screen recorder is versatile and user-friendly, making it a great choice for anyone who needs to record their screen.
AnyRec contains powerful and advanced features that make it a top choice for a screen recorder, yet it is still very easy to use.
If you're looking for the best screen recorder to suit your needs then, AnyRec may be the best option for you.