Have you ever had difficulty transferring data from one device to another, i.e. transfer contacts from Android to iOS, transfer data from Android to PC, or iPhone to PC? It might become one of the most frustrating and annoying tasks at times.
While moving files from your computer to your phone or vice versa, the process is often slow and complicated. Additionally, data loss and corruption are extremely common problems.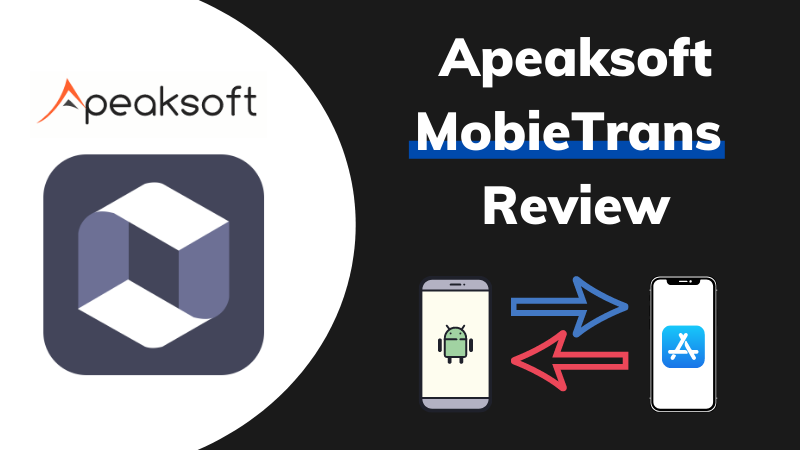 Many solutions are available to overcome this issue. One of them is using the best data management and transfer tools like Apeaksoft MobieTrans.
Apeaksoft MobieTrans is an all-in-one solution for data transfer between two devices, i.e. Android to iOS, Android to PC, iPhone to PC, etc.
To discover the amazing capabilities of this awesome tool, keep reading this article until the end.
What is Apeaksoft MobieTrans?
Apeaksoft MobieTrans is a reliable and easy-to-use data transfer tool that can help you transfer data between iOS devices or Android devices, or even between iOS and Android devices.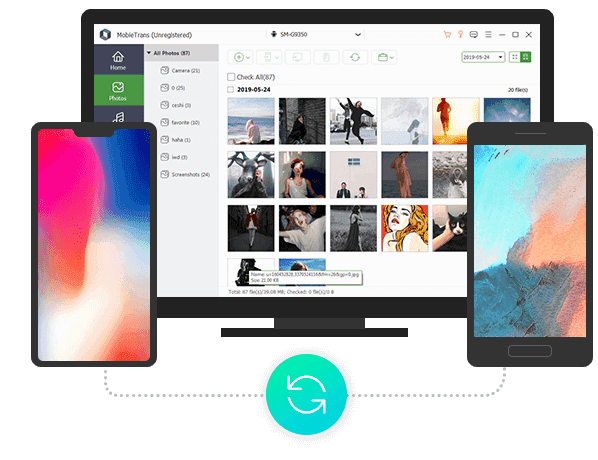 With this powerful tool, you can easily transfer photos, music, videos, contacts, and text messages with just a few clicks.
Apeaksoft MobieTrans is compatible with all the latest iOS devices, Samsung, HTC, Motorola, etc. You can easily transfer files from Samsung to iPhone and vice versa.
What's more? You can backup your contacts to your PC and restore them at any time with Apeaksoft MobieTrans. Moreover, you can create wonderful ringtones for your device with the ringtone maker feature.
You can convert HEIC images to JPGs or PNGs using the HEIC converter, a feature provided by MobieTrans, without losing any quality, and view them on any device.
Apeaksoft MobieTrans Highlighted Features
You can either connect your phone via USB cable or Wi-Fi. After that, you'll be able to use its powerful features.
With Apeaksoft MobieTrans, you can easily manage photos on your devices. You can transfer photos from one phone to another, from phone to computer, and vice versa.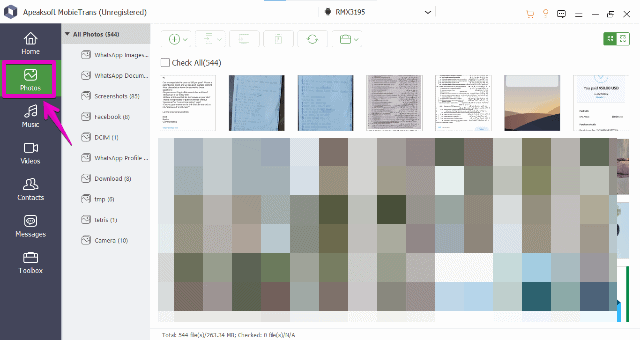 You can also create new albums and add pictures to them to keep your photos well organized.
In addition, you can delete duplicate or unwanted photos from your devices to free up space and improve the performance of your devices.
Moreover, you can use its built-in photo viewer to view pictures on full screen and export the desired pictures to your computer.
#2. Manage Music And Videos
MobieTrans also allows you to manage music and videos on your connected devices. You can transfer them to another device without worrying about the file getting corrupted.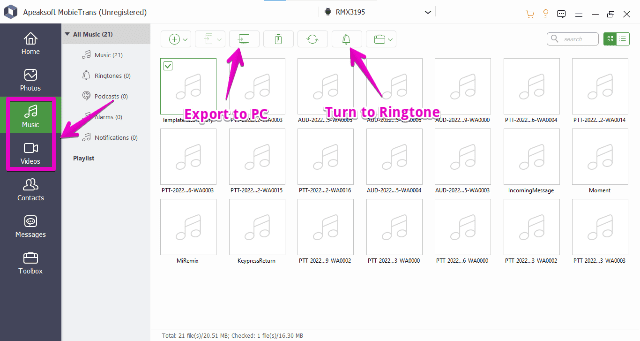 It enables users to create new playlists and add songs or videos to them. In addition, you can use a ringtone maker to create a new ringtone for your device by ripping any part of an audio/video file.
MobieTrans offers its built-in media player to play music and videos. Delete unwanted videos and music to free up the space.
Apeaksoft MobieTrans is an all-in-one to manage your mobile contacts on a PC. You can delete, add, or transfer your contacts with ease.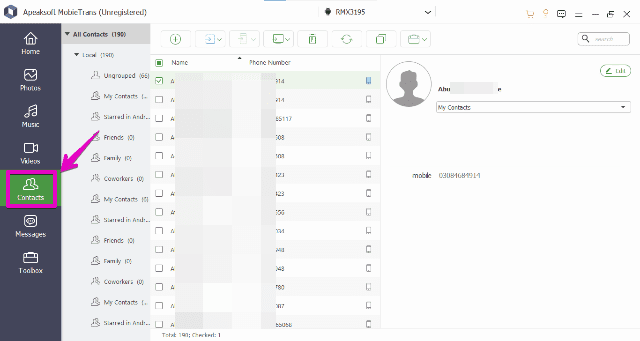 You can create new groups and add contacts to them. It provides the facility to edit the contact name, email, address, and more with a few clicks.
Move your contacts from one device to another without any difficulty.
You may want to use this feature if you have a lot of contacts and need a quick way to organize them or if you have recently switched to another phone.
#4. Manage Mobile Messages
Besides contacts and media files, you can also use this awesome tool to manage your mobile text messages.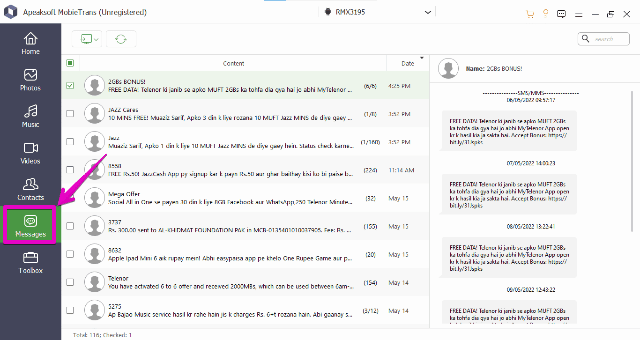 You can export all or selective text messages from one phone to another with just a few clicks. This is very useful if you want to keep a backup of your important conversations.
Furthermore, you can add particular message numbers to your contacts.
#5. Contacts Backup And Restore
Wouldn't it be great if you could back up all your contacts in one click? Well! Apeaksoft MobieTrans provides this feature too.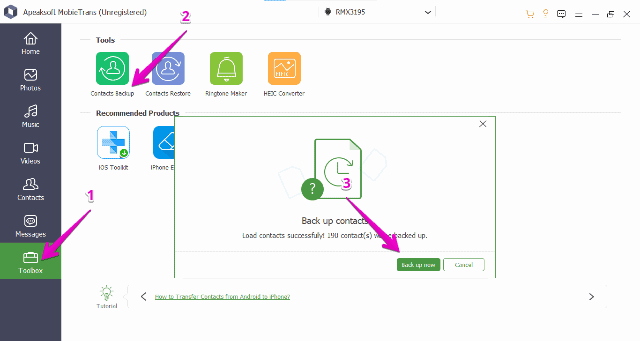 You can take backup of your contacts in various formats on your computer using the Contacts Backup feature.
Also, you can restore the contacts from your computer to your device anytime you want using the Contacts Restore feature.
Can't find duplicate contacts? This tool will scan and find all the duplicate contacts on your device and you can merge or ignore them depending on your requirement.
You can create custom ringtones for your phone by using songs and audio files you have stored on your device with the Ringtone Maker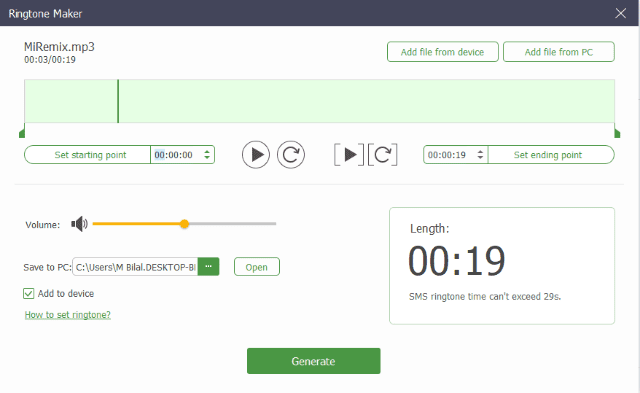 You can select the file from your phone or PC, select starting and ending points, choose the destination and you're good to go.
You can save your time as well as data by finding and downloading ringtones from the internet instead choose your favorite music and convert it to a ringtone.
You probably know that the photos taken by an iPhone are in .heic format. It's great for saving space, but you won't be able to view these photos on a PC or an Android device.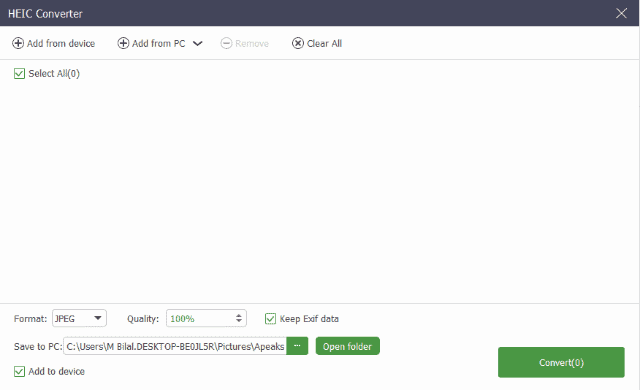 That's where the MobieTrans HEIC Converter comes in. With this handy tool, you can quickly and easily convert your .heic photos to .jpg or .png.
The converter is very easy to use. Just add the HEIC files that you want to convert, choose the output format, and click Convert.
Frequently Asked Questions
How To Transfer Data From Android To iPhone?
You can easily transfer data from Android to iPhone. Simply connect both devices to your computer, select the data you want to transfer in the Apeaksoft MobieTrans interface, and you're good to go.
Connect your device to your computer and navigate to the Toolbox section. Select Contacts Backup, and all of your contacts will be backed up.
How To Make A Custom Ringtone?
The process is very simple. Just select the file you want to use for this purpose, choose the starting and ending points, select the destination, and click Convert.
How To Convert HEIC To JPG?
Just add the files you want to convert, select the output format (PNG or JPG), and click Convert. Your HEIC files will be converted to JPG or PNG in no time.
Final Verdicts On Apeaksoft MobieTrans
Whether you're looking for the best tool to transfer data between two different devices, or you want to manage your contacts, messages, or media files, Apeaksoft MobieTrans is a great choice.
It's easy to use and provides a wide range of features that make it one of the most comprehensive data transfer tools on the market.
Do share this review with your loved ones if it was helpful to you. Additionally, you can read useful articles to gain a deeper understanding of tech.