If you need stock videos for your project, you should have enough budget to buy them from an online platform, and certainly, the price is very high. But various websites are offering high-resolution video footage for both personal and commercial use free of charge. I will introduce you to some best stock video sites where you will be able to find copyright-free videos.
Sometimes, we need free videos for various purposes. Maybe you want to use it in your Youtube videos to enhance your videos' quality or perhaps for your project. If you visit sites like Adobe then, you should know that the prices are very high, and average users can't afford it. But don't worry, here are the best stock video sites, and I believe these sites will help you a lot.
If you want royalty-free images, then I have also written a complete article on this, you can read and download unlimited copyright-free photos.
Best Stock Video Sites
There are numerous stock video websites on the internet, but I will reveal a few sites on which I trust and share with you. You can download unlimited videos without any restrictions and copyright. Another important thing is that you will get High Quality like 4K videos, which is again a plus point. So, let's dive into our topic: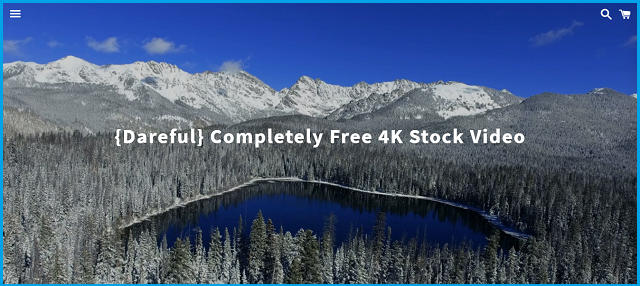 On Dareful, you will not find a large amount of free footage, but you will get stunning 4K resolution clips, and these were shot by Joel Holland. This person has another site for creatives called story blocks but not free. All the clips he contributes to Dareful are entirely free of charge.
When you select the video to preview, you'll get additional information, including the duration size, file resolution, and the license information, which is Creative Common International 4.0. The license varies from site to site, and I would advise that you should read the license agreement before downloading any files.
On Dareful, all footage can be used for any type of project, but you must provide attribution giving proper credit to the clips creator. So, this is the first one in this list of best stock video sites.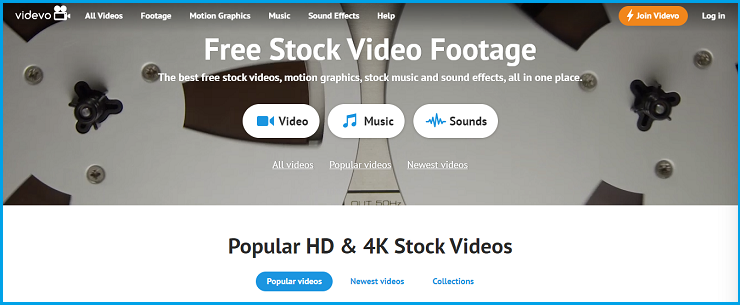 Videvo offers thousands of free and premium stock videos created by its community members. Most of the videos are in HD with a small selection also in 4K. You must filter the videos which are free of charge; otherwise, copyright issue may occur.
After filter, you'll only see the free stuff. Other filter options include sort resolution like HD, 4K, etc. and license. There are three types of licenses available on this site. When you select any video, you will find the license type, and you can get additional information about the various license types offered on videvo.
Some videos can be used for any project but must give the attribution. In my opinion, we should also give attribution since they are providing us free HD videos. You must read the license first before downloading a particular video.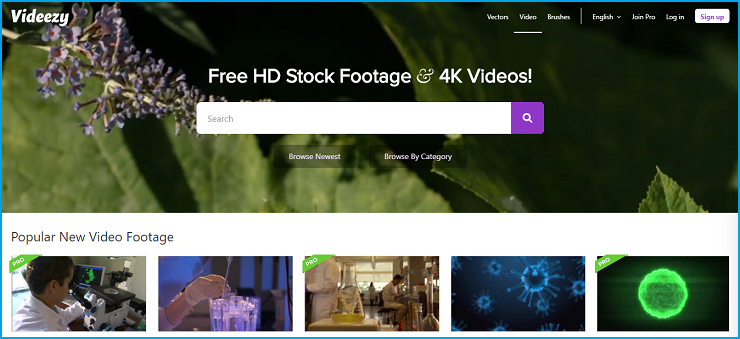 They offer a large collection of high-quality videos in both HD and 4K resolution that are royalty-free for personal and commercial use. When searching on their website, you can filter the results along the left by file type, license type, resolution, and format. Most videos you find will be in an mp4 format.
In addition to the free clips, you'll also see results shown with the green tag marked pro. These are premium clips that require paying with credits. Below the preview of the video you selected, it will have a link to the license info and show you the file format resolution and the frames per second.
The Videezy standard license is the most common type of license for free footage. It lets you use any clip for personal and commercial use but you must give attribution in one of the two ways listed. You can purchase the videos from this site to remove the attribution requirement.
As we are talking about videos, here I want to mention that if you want to download the whole youtube playlist then I have a dedicated article written on this topic. You can go and read it.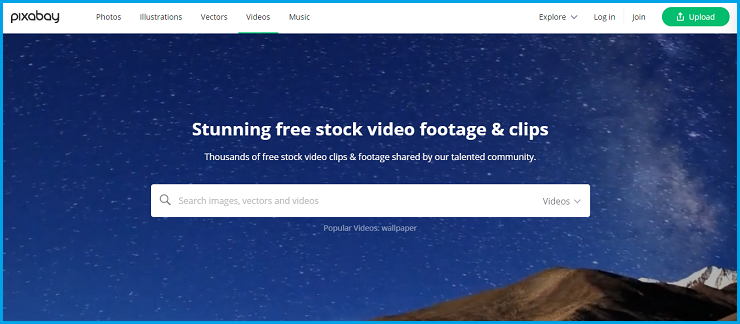 Pixabay is one of my favorites for free stock photos and it's also great when looking for free stock footage with thousands of videos to choose from. The community users provide free footage to users who can not afford the money. Most footages are in HD format with a decent selection also in 4k resolution.
To the right of the preview, it displays the file format, resolution, length of the video along with additional information. When you go to download any file, you get to choose the resolution for that video. You can edit the footage and I have dedicated article on best video editor apps for android. You can read it as well for better video editing
All images and videos on this website carry the Pixabay license and there are not many restrictions. You can use any file for both personal and commercial use and you can modify videos as well which is a great thing. While I do recommend giving credit to the owner since it will encourage them to produce more footage.
Like Pixabay, Pexels is also a well-known source for photos and free footage as well. Variety is amazing and the file format is mp4 with content in both HD and 4k resolution. On the download page, you have your choice of resolutions.
Below the video, if you click on info, you can gather additional information about that video including. This information includes resolution, duration, frame per second, and aspect ratio. The license is creative commons zero. You can use Pexels videos for both personal and commercial projects with no attribution required.
Here, you can find numerous of free of charge videos and you can utilize for any project. I recommend you to give attribution to their site since they are providing free and HD video clips for free. We can at least give attribution. 
You can also take a look at best stock market apps for iPhone since I have written on this topic as well. If you are interested to invest then, these apps are for you.
Finals Thoughts
Now, you don't need to purchase expensive video clips from Adobe and Shutterstock like websites since these websites are enough to download High-Resolution footage free of cost. You just need to give attribution to those clips and these are the best stock video sites. They all come under different licenses which you can read before getting video.
Moreover, there are more sites where you can get free HD resolution videos and some of them are MIXKIT, VIDSPLAY, MAZWAI and LIFE OF VIDS. You can also check them to get more video clips but they do not contain a large number of videos. However, you can visit at least once. If you find this article helpful, don't forget to share with friends by clicking on the given social icons.