In GB WhatsApp, making backups and restoring them later is easy. It just requires an understanding of how to do so. Despite being a modded version of WhatsApp, it works the same as the original WhatsApp but comes packed with additional features.
Note: These mod versions are restricted by WhatsApp. Use this only for legal reasons and you are responsible for any risks.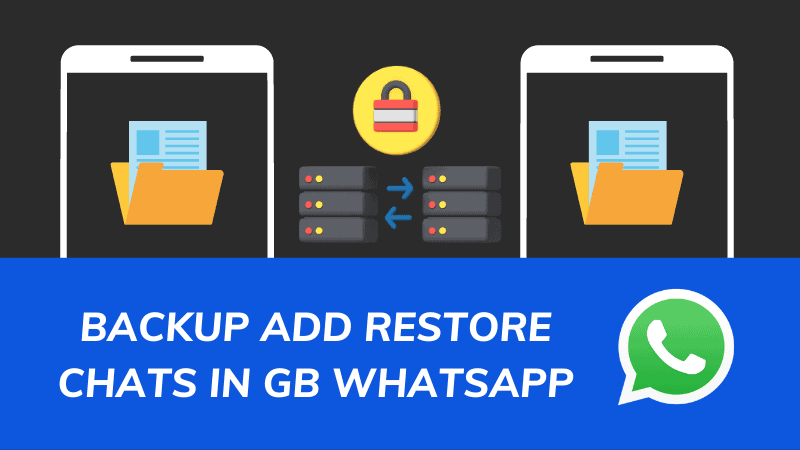 Currently, the functionality of creating a backup and storing it in Google Drive is unavailable. Even a modded version of the messaging app can't access this feature, as Google restricts it.
Don't worry. There is a way using which you can back up your chats and restore them on GB WhatsApp easily. Stay with me to know how to do it.
How to create a Backup of chats in GB WhatsApp?
It's always recommended to take a backup of data periodically and save it in a safe location so that it does not get ruined if something happens to the original data.
If you are using GB WhatsApp and want to backup your chats, then follow the following steps.
Open the GB WhatsApp.
Go to Chats.
Press the three horizontal lines in the upper right corner and select Settings at the bottom of the menu.
Now, click on the chats menu.
There you'll see the chat backup option.
Click on it.
Once the backup is completed, you'll get a notification that the backup is completed.
Once the backup has been created, you have to place it in a secure location. If you're unable to access the backup files, you can download ES File Explorer to access those files on the internal storage easily.
Installing ES File Explorer on your device could be a good option.
Note: It is always best to keep the backup file at a location that is easily accessible and no one else can access it, so you won't lose any important data.
In the list of folders, you'll find one called GB WhatsApp. As you use the app, the contents of this folder change according to your activities.
How to Restore Chats in GB WhatsApp?
To restore GB WhatsApp's back up within the same app, find the GB WhatsApp folder we copied earlier on the same or a different phone.
After installing it, don't open it yet. First, we must copy the backup folder to our phone's internal storage.
Follow the following steps once you have copied the GB WhatsApp folder back into the internal storage.
First, visit GB Whatsapp Download and Install it
Enter your number for verification and set up the account.
The app will ask you to restore chats. You can't restore as there was no backup in Google drive.
Once the app is completely set and ready to use, the GB WhatsApp will notify you of restoring the chats. Accept the restore.
Restoring will take time, depending on the size of the backup file.
When the restore is completed, you will get a notification about it.
Press next, and enjoy chatting.
Frequently Asked Questions
Can We Back Up Chats In GB WhatsApp?
Yes, you can backup chats in GB WhatsApp. All you need to do is go to your chat's Settings > chat backup and click on backup. This will create a backup file of all the chats of GB WhatsApp on your phone.
How Can I Restore My GB WhatsApp?
You can restore chats by uploading the backup file you created after installing the new GB WhatsApp. Once uploaded, open the app and set it but don't restore it. Once the app is completely set, GB WhatsApp will detect a backup folder and notify you. Simply restore, and your chats will be restored.
Suppose you were using original WhatsApp and created a backup of chats there and restored it on GB WhatsApp. In this case, all you need to do is open GB WhatsApp and enter your number. The app will notify you of a backup and will ask for restoring it.
GB WhatsApp is an unofficial mod of WhatsApp. If you create a backup file, it will be created in the GB WhatsApp folder on your phone. All you need to do is copy that file into some safe folder.
If you have installed GB WhatsApp on your phone and want to restore chats, you need to copy the backup folder and paste it into the internal storage, and then restore it. You can directly restore chats if the backup file is created on Google drive.