Android OS does allow an easy way to customize your phone according to your preferences. You can use different themes and backgrounds, change the screen orientation, change the text display language, and so on.
One of the customization options is message background. The default text message background color of android smartphones looks very boring and users are looking for a way to customize it.
By assigning a different color to the message background, it also becomes easier for users to quickly interpret the message.
Continue reading this article to learn how to change the text message background on an Android phone with or without using a third-party app.
How to Change Message Background on Android?
The white color is set out as the default text message app background on smartphones.
It is possible to change the background color of the text messages app without using an app, but the functionality will be limited. In order to have more control, you will need an additional third-party application.
So, let's start out learning about how to change text background color easily.
1) 

Using Default Message settings
On most Android devices, the instructions will be nearly the same, but if you can't locate any specific settings, you can search by device model.
Many smartphone companies are now using the Google message app on their latest devices rather than their own message apps which come with a unique interface and settings.
So, let's start by going over the procedure for both types of android devices:
1) 
Method 1
If the android device you're using has its own designed text messages app, you can change its background easily.
Procedure
Follow the given procedure according to your device model:
Navigate to the Message app and tap on three dots in the upper-right corner as shown below: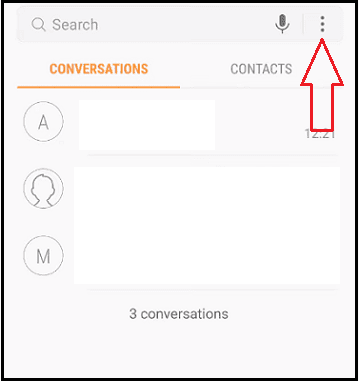 Go to Settings > Background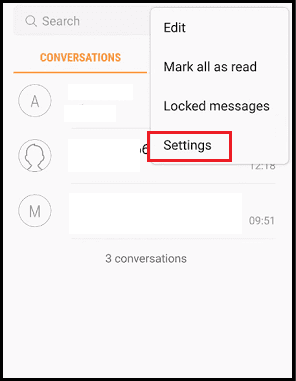 Now, you can choose a different background color or a custom picture as you like.
For most smartphones, this method will work. If it doesn't work for you, consider changing your mobile theme by going into Settings > Theme store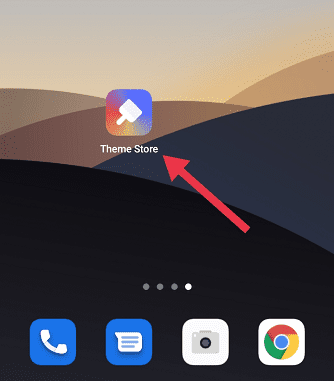 If none of the above work, jump to the next section.
2) 
Method 2
In the case of smartphones with the Google message app installed as a stock messaging app, you can only switch between light and dark themes.
Changing the background is not a dedicated feature of this messaging app. However, you can use a third-party messaging app for more customization options which we will discuss later.
Procedure
For choosing either dark mode or light mode, open the Message app
Tap on three dots > Choose a theme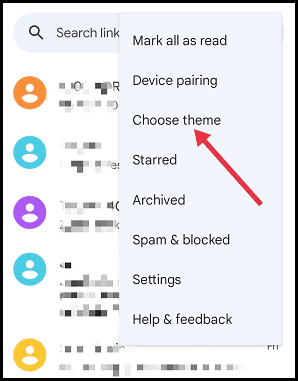 Here, you can select the theme according to your preference.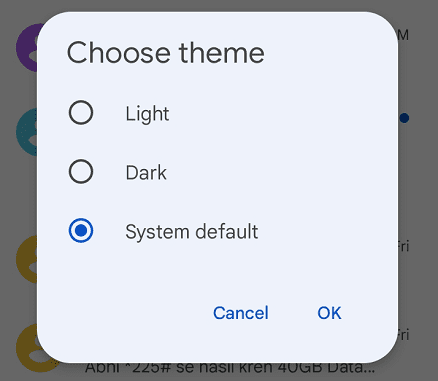 Dark mode can also be chosen by navigating to Settings. It'll apply dark mode to everywhere.
2) 

With Apps to Change Message Background
There are plenty of text messages apps available in the market to provide various customization options, but I have compiled a list of the top 5 best messaging apps for you to consider.
You can pick your own theme from these apps, and there are numerous backgrounds option are available.
Let's take a closer look.
1) 
Textra SMS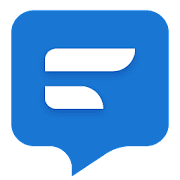 Price: Free and in-app purchase
Textra SMS app can be the ideal alternative to Google's default messaging application. You can use it to replace your default messaging app with something beautiful, fast, and fully customizable.
It has an extensive list of features, including hundreds of material design free themes, bubble & app icon colors, change font size, copy partial text, etc.
Moreover, it has custom-made stickers and animated GIFs, schedule messages, quick replies, auto-reply, etc.
It's completely free and you can use all its powerful features free of charge for a lifetime. It's a good texting app to check out.
Download: Textra SMS text messages app for Android
2) 
Color SMS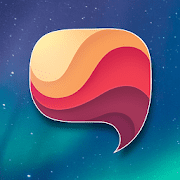 Price: Free
Color SMS comes with a range of vibrant fonts, stunning animation, and excellent performance, making it an ideal alternative to your normal messaging app. There are plenty of features like message themes, message icon, pop-up windows are available.
It comes with a variety of customization options such as font color, own themes, dual sim support, font sizes, change text message backgrounds color, and many more to improve your experience when you text. You can select any message theme according to your liking.
It is easy to backup your messages using the ColorSMS app in case anything happens to your device or you lose it.
This app is completely safe to use and has a simple interface. I recommend trying it at least once since it's one of the best text messaging apps.
Download: Color SMS for Android
3) Handсent Messaging app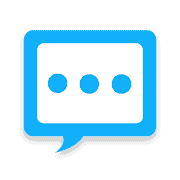 Price: Free and in-app purchases
Handcent messaging app is one of the best SMS apps with ultimate message customization options. It allows you to send and receive messages from your friends as well as all over the world.
This app provides the most stunning experience in SMS for users by making it easier to use, quicker, and more user-friendly. To make the SMS messenger more attractive, you can change its color.
With Handcent, you can send stickers, emojis, and gifs to produce a look that is appealing to your friends.
It's not just an SMS messaging app pioneer but also a complete messaging app customizer. It's also available for iOS device.
Download: Handcent text messages app for Android
4) 
Chomp SMS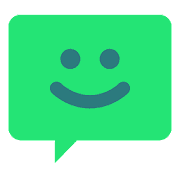 Price: Free and in-app purchase
Chomp SMS is a great alternative to the stock Android phone SMS/MMS app. It's easy to use, has a lot of options for customization, and offers a variety of wallpapers and themes.
It's a well-rounded SMS app that offers a large number of features like using custom shortcuts, themes, encryption, and much more. You can choose your favorite message theme and enjoy a customizable messaging experience.
You can change LED notification colors when you receive messages. Furthermore, you can change font size, background color, and screen color.
Download: Chomp SMS for Android
5) 
GO SMS Pro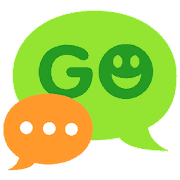 Price: Free and in-app purchases
There are more than 100 million android phones users using the GO SMS Pro app around the world, making it one of the most popular messaging apps. You can change text message background as you're looking for.
GO SMS Pro app provides hundreds of customizable themes and fun stickers to enhance messaging. There are both free and paid plans available.
Premium plans include advanced features, such as disabling sponsored messages, advanced private boxes, unlimited cloud storage, and many themes. It's one of the best SMS messages apps out there.
Download: GO SMS Pro text messages app for Android
Pros & Cons of Google Messages App
Google Messages is a popular messaging application developed by Google. It supports SMS, MMS, and RCS messaging. Users gain access to many features, but at the same time, there are few drawbacks.
Many smartphones are coming with the Google messages app. As with other messaging apps, users can send and receive messages from anywhere in the world with this app.
Pros
It supports Rich Communication Services (RCS)
Integrates with Google Duo
Available via Web, just like WhatsApp
Simple Interface
Provides read receipts feature (Whether someone has read or received message)
Send Images as well as documents
Cons
Fewer customization options
There is no custom wallpaper or background option available
Less secure as compared to other messaging apps like Signal
Which Messaging App Is Recommended?
I reviewed 5 messaging applications to check out if you want a customizable messaging experience. By using these apps, you can change the background, set your preferred theme, background wallpaper, filter spam message, change text style, group chat, bubble style feature, and much more.
Each individual app offers unique features that other messages application do not. If you want to choose the best one, you should check them and test their functionality individually so, you can choose the one that fits your needs.
But these are the best apps to change message background color and set according to your taste.
Final thoughts: Change Text Messages Background on Android phone
Everyone wants to customize their android phones to their liking. Besides changing the message background, you can also change the font size and color of your Android device easily.
By changing the background color of a text messages application, we can make it look more eye-catching and distinctive.
This article showed you how to change message background on android phone. Do share it with your friends so that they can benefit from it too.
Moreover, you can read my other useful articles to enhance your knowledge about technology