Communication with others has become very easy through internet since we can send messages instantly. There are many platforms developed only for communication.
But we can't express emotions with messages like we do when meet to our loved ones. So, emojis are the good way to express your feelings.
Microsoft has made it easy to access the emojis through many ways. Many users face difficulty to use emojis in the messaged on windows 10.
So in this quick guide, I will show you how to do emojis on windows 10 easily.
Also Read: 5 Best Fast Web Browser For Windows 10
What are Emojis?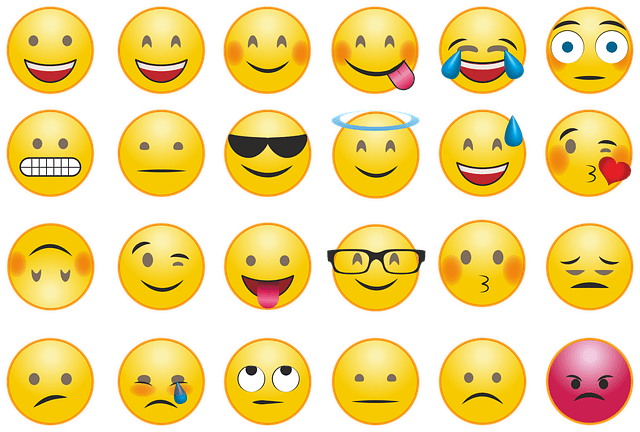 Do you know what are emojis? If you can answer, tell me in the comment but those who are unaware about this, I will try to explain this term in simple words.
Emojis are the graphical representation of emotions or smileys we use in text messages to show your feeling like happy, sad, crying and many other symbols as well.
Some examples are 😂, 🥰 ,😡, ☠️, 🧑‍🚀 etc. I hope you have understood about the emojis.
Although it can't replace the real emotions but it is helpful to at least show your feelings.
How to Do Emojis on Windows 10?
Now, I will show you how can you easily access these emojis on windows 10 with few steps and shortcut keys.
There are many ways to access these graphical representation of emotions in windows 10. I will guide you 3 ways to easily use them anywhere on your computer.
Also Read: 5 Best Free Screenshot Software For Windows 10
1)
Via Touch keyboard Button
In this first method, I will show to access the emojis through the touch keyboard button.
You can use this keyboard via mouse or touch panel. By default, this feature will be disabled in your windows 10. To enable it, right-click on taskbar and hit on show touch keyboard button.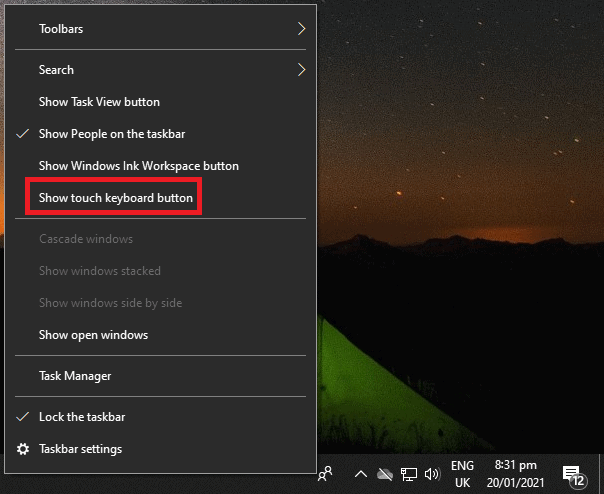 The small virtual keyboard will be appeared in the taskbar.
Now, follow the given steps to access the emojis via this feature:
Open any text editor like WordPad, MS word etc.
Click on touch keyboard on the taskbar.
The keyboard will be appeared to you.
Click on emojis 
Here, you can click on any emoji and it will appear to your current cursor position.
This is an easy way to use the smileys in windows 10 via this virtual keyboard. This keyboard is very helpful as especially if your external keyboard is out of order.
Also Read: How to Get File Explorer Tabs in Windows 10?
2)
Via Emojis Panel
Now, I'll show you the more easiest way to insert emojis to your text to make it more understandable using the updated emojis panel.
Open any text editor or any messenger platform where you want to insert emojis. Then, press Windows + . (Period) keys together from your keyboard.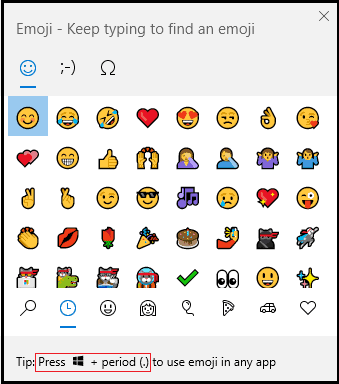 The emojis panel will appear to you . Now, you can use any emoji easily and quickly.
This is the easiest and quick method to access the emojis in the windows 10 operating system. Try it and share you experience.
Tip: You can also Press Windows key + semi-colon key (;) to access the emojis panel.
Also Check: How to Change Mouse Pointer Colour in Windows 10?
3)
Use Emojis on Files and Folders
If you think emojis can only be used in text messages and comment sections then, you are wrong since you can insert these smileys in files and folders name as well.
I have taught you how to access the emojis on windows 10. You can choose any method but I recommend the keyboard shortcut key method since it is the fastest way to use emoji in file name.

Just Rename any file and press Windows + . or Windows + ; keys together to open emojis panel and insert any to your file name.
It will be black and white but very useful as well. You can use if you want, I just wanted to share it with you.
Also Read: Which Emulator is Best For My PC?
Final Thoughts
Microsoft has added a lot of features in windows 10 including this emoji which is very helpful to access anywhere you want on your computer.
I tried to explain in detail and step by step that how to do emojis on windows 10.
Just spread your love 😍 in the below comment section with emojis so, I can understand that you have learned something new.
Share any emoji 💕 in the comment and express your feelings after reading this article.