There is a high demand for a USA number that users can use for WhatsApp.
The demand comes from entrepreneurs and businesspersons who want to get into the US market to sell their products and services.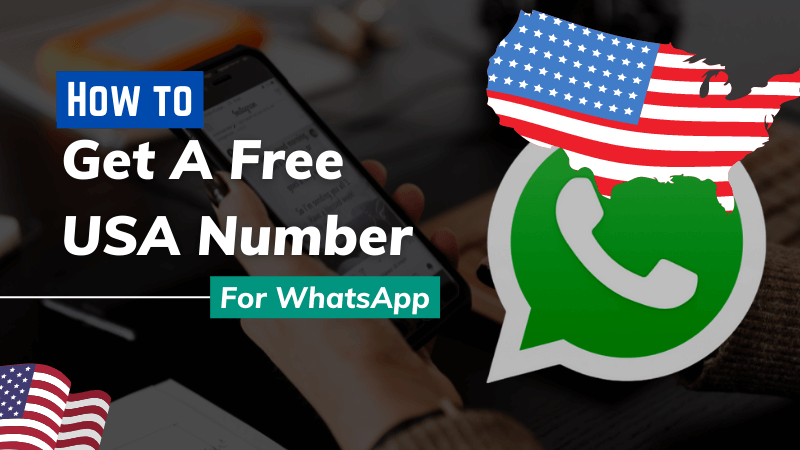 Once they open a WhatsApp account with a virtual USA number, their company becomes more credible and trustworthy in the eyes of potential US customers. Furthermore, you can get even more benefits using WhatsApp mods, such as FMWhatsApp, when using these apps
However, getting a real SIM card number from the USA is not possible under normal circumstances when you are living in another country.
You may have to shell out huge money to get a real USA number. Instead, we will illustrate how to get a free USA number for WhatsApp.
Benefits of Free USA Number for WhatsApp
A free USA number is going to be a virtual international number instead of a real phone number with a SIM card.
However, you get almost all the benefits of a real USA number starting from opening online accounts to making calls and using the number for social profile verification. 
You can hide your real number and use a virtual number on WhatsApp and hence, you get more privacy and security than usual. 
Also Check: How To Backup And Restore Chats In GB WhatsApp?
Most importantly, you can make your potential USA customers think that you are based out of the USA. 
Therefore, they are going to trust your product or service more than someone who offers the same but uses a foreign country's number.
You can also make unlimited international calls using the virtual USA number. This is going to give you global exposure for the expansion of your business. 
How to Get a Free USA Number For WhatsApp
You will need a third-party app that provides the service of a free USA number. Once you have such a free virtual USA number without any SIM, you can use it to open a WhatsApp account and for many other purposes. 
Your number will make people think that you are using a real USA number and that you are an American citizen.
Are you in hurry?
If so, you can watch this short video tutorial as well to save your reading time.
Here are the top apps we recommend to achieve your goals, and you can choose the one that is available in your region.
Text Plus is the most legitimate app to get a free USA number to open WhatsApp account.
The app is available on App Store and Play Store and hence, you can download it on your smartphone directly instead of installing it from external sources.
Procedure:
Here are the steps you have to follow.
Download and install the Text Plus app from the play store (or use the below download button).
Open the app and register an account for free. Provide all the details to get started.
Tap on the Menu option from the top left side and choose the option to get a new number.
You will be required to select the country which should be the USA in your case. You should also provide the code number as well.
Now, you should have the free USA number. You can use the number to create a new WhatsApp account.
All the calls and messages on this virtual number will be received on the Text Plus app including the WhatsApp verification code.
You can send messages and make calls directly from the app using your USA number. 
#2. 2nd Line – US Phone Number
If you are an Android user, you can use the 2nd Line app to get a free USA number. In fact, it is a dedicated app designed to offer users a US phone number that can be used to open a WhatsApp number.
Procedure:
Here are the steps to follow.
Download and install 2nd line – US Phone Number app
Launch the app and tap on Get Free Phone Number option.
You have to provide your email address and password. You can use any random email address as well for privacy.
Select the area code of USA as per your requirement and tap on Continue.
You will get the new free USA number.
Open WhatsApp and register a new account with the number. The verification message or call will be available through the 2nd Line app.
Honorable Mentions – In case the above apps are not available in your area, you can try out the Burner app, Hushed app, Primo app, Talkatone app, Flyp app, and even the Text Me app.
Also Check: Is WhatsApp Safe? WhatsApp End-To-End Encryption Explained
Conclusion
Getting a free USA number for WhatsApp and other instant messaging apps is no more difficult in today's world. There are several apps available that you can download and use to get a free USA number. 
You should try out the apps we have selected one by one and choose the one that works the best in your region.
You can also use the numbers for free international calls as well as protect your own number for privacy purposes.