Windows file explorer is a built-in feature of Windows OS. If you have opened two tabs, you can easily manage them. But what if you have open so many tabs at once? You will find it difficult to manage them. You need to go through each folder minimize each one so that you can try to locate a file that takes a lot of time for you to search. I will show you how to get file explorer tabs in Windows 10.
I have provided a simple solution of this problem. Just like the Google chrome tabs, you can enable the tab features in the File explorer in windows 10. In this way, we can easily navigate through each tab easily. You will have tabs in file explorer and this will be easier for you to locate a file or a folder if you're working in a Windows operating system environment.
How to Get File Explorer Tabs in Windows10?
File explorer tabs will make our task easy to navigate the folders especially if you are working with more than two tabs. To get this feature on your windows 10, you have to follow the steps carefully and the procedure is quite simple. This feature is not provided by windows 10 but we have to install the third-party software. First, let's take a look on requirements.
Prerequisites
You must meet the following requirements in order to follow the steps. The requirements are given:
Windows Operating System (windows 7, 8, 10 etc.)
ExplorerMax software
Also Read: How to Change Mouse Pointer Color in Windows 10?
Download And Install the ExplorerMax Software
QTTabBar will make our task easy. I have shown the step by step procedure to download and install this time saving software. The whole procedure is given below:
1) First, download the ExplorerMax software.
2) After downloading, double-click on the software.

3) Click on Install button, the installation will begin.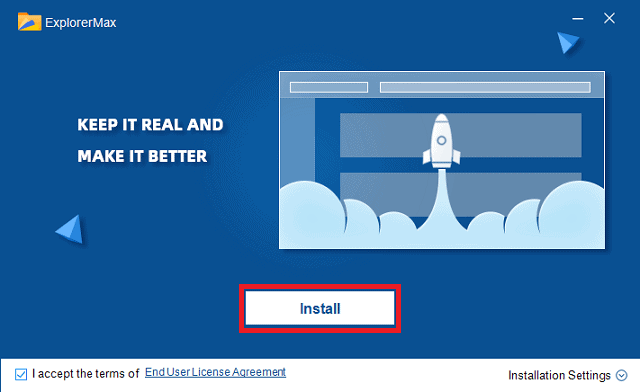 4) After installation, click on Start N0w.
5) Now, we are ready to use.
How to Use Explorer Max?
After installing this incredible software, you just have to launch it. It has premium plan that adds extra functionality to it. But recommend you to stick with its free version since the free plan offers amazing features. However, if like this software then, you can purchase it at a reasonable price.
Now, open This PC and you will see that it will open with Explorer Max. It has beautiful interface and easy to use. In the top bar, you will see tabs just like Google chrome and other browsers.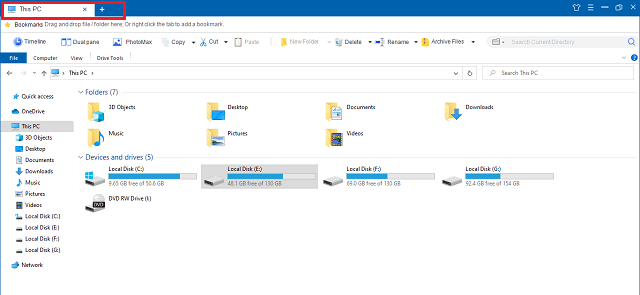 Similarly to add a new tab, click on the plus icon right to the tab and a new tab will be opened for you in no time. In the same way, you can close the tab easily. If you know how to use Chrome, you can easily use this software. It provides some additional features as well that we will discuss them later on.
Now, you can open as many tabs as you need. This is the basic feature of explorer max. In this way, you can easily navigate the tabs in a very short time.
Extra Features Of Explorer Max
I hope you got my first point, how to get file explorer tabs in windows 10. Explorer Max provides so many features and we will explore the main important features. Some of the highlighting features are explained below:
1)
Open Folder in New Tab
Just like the Chrome, you can now open the folder or drive in a new tab. This is very useful feature when you want a particular folder to open in new tab i.e., don't want to leave the current tab. Now, it is possible with this software. To do it, follow the given steps:
1) Navigate to the folder, you want to open in new tab.
2) Right-Click on the folder or drive.
3) Click on Open in new window.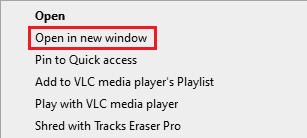 4) The folder will be open in new tab.
5) That's it.
2)
Copy the Path
In chrome, we right-click on any link and copy its address. Similarly by using this amazing tool, we can copy the path of any file. This feature is particularly useful when you are working on command prompt or CLI (Command Line Interface) mode. Follow the given steps to copy the path:
1) Navigate to the desired file or folder.
2) Right-Click on the file.
3) Click on Copy the path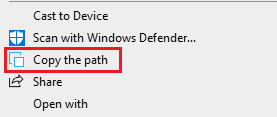 4) The path of a file has been copied.
Also Read: How to Change Wi-Fi Password in Windows 10?
3)
History
This feature is also available in windows 10 but Explorer Max take it to the next level. As the name suggest, we can see the history and clear it as well. The history is divided into categorizes like today, yesterday, last week and last month. To explore this feature, follow the steps:
1) In the menu bar of explorer max, click on Timeline

2) It will display the history.
3) You can see the history according to documents, videos, folders and many more.

4) To clear the history, hit on Clear history.
5) This is also an incredible feature.
4)
Dual Pane
Moreover, we can divide the screen into two parts. To the right of the timeline, we find the option dual pane. By clicking on this button, the screen will be divided into two parts. Now, you can work on two windows simultaneously. This is very useful when you need to copy the files from one folder to another.

This is also a time saving feature that can be used by using the explorer max software. You can but it's premium version if this software is really impressing you.
5)
Extract/Archive Files
If you are using the winrar or 7zip software then, you are going to uninstall after using this amazing feature because this tool provided you a facility to zip and unzip the files, the same task done by winrar. To do it, follow the procedure given below:
1) Select the file or number of file, you want to zip.
2) Click on Archive Files, in the menu bar

3) The tool will start packing the files into one book.
4) To unzip them, just select it and click on Extract Files.

5) I hope you find it very helpful.