Having a table of contents section in a word document is a good practice since we can easily navigate. It becomes more necessary when you have a large document like almost 200 pages.
As you know, every book has a table of contents at the very beginning of the book. Now, we will learn how to make table of contents in MS word since one can easily read the desired section by single click.
I will try to cover each step in detail so, make sure to read till the end without leaving any single word.
Also Read: How to Freeze Multiple Panes in Excel?
How to Make Table of Contents in MS Word?
Adding a table of contents is a very easy task especially in MS word documents. You can add with a few clicks.
Also Read: How To Insert Degree Symbol in Word?
We only need to follow two easy steps to add a table of content in our word document. Follow the given method carefully,
1)

Make Headings:
Before adding a table of contents, your MS word document must have headings like H1, H2, etc. otherwise you can't add a table of contents. You can add headings in the Home > Style section.

If you didn't add headings in your document before then, you can simply highlight the text, you want to make a heading, and click on Heading 1 or Heading 2. That text will be converted into a heading.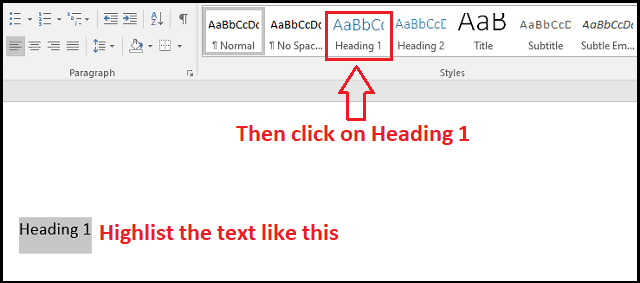 Now, make headings first within an entire document.
2)

Add Table Of Contents
Follow the given steps to finally perform our task:
Go to the tab References > Table of Contents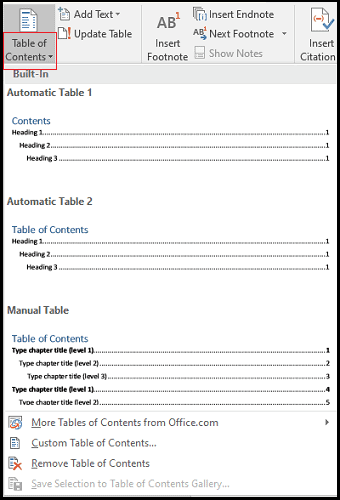 It will show you various formats you can choose from.
Select any method and the table of Contents section will be added to your document (at the current position of your cursor)

That's it
You can select any table of contents template and also download it from the Microsoft store. This was the automatic template, you can also select the manual table of contents format.
To go to the desired heading just click on the heading in the table of contents section while holding down the CTRL key from the keyboard, you will be navigated to that section.
Edit Table Of Content
You can also change the design of your table of contents by going to the Design tab. Here, you can select the desired theme to give your document and table of contents an attractive look.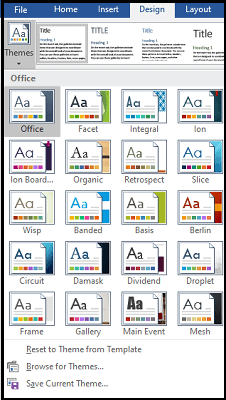 You can apply it and it will not just change the design of your table of contents but also the entire document.
Custom Table of Content
If you didn't like the pre-made table of contents templates then, you have the option to make your own table of contents.
For this navigate to Reference > Table of Contents > Custom Table of Contents.
Now, you can set things according to your taste like page number, alignment, use hyperlinks instead of the page number, format, headings level, and much more.
Also Read: How To Create a Bar Graph in Google Sheets? [2020 Guide]
Conclusion
It's the recommendation of every expert to add a table of contents to your document if it is a large one. One can easily jump to the desired section quickly.
In this way, you can add a table of contents with a few clicks automatically or manually.
I hope you learned something new from this post. If so then, don't forget to spread the love with others. You can also read the other useful articles to enhance your knowledge.
You can also become a part of our blog subscriber family so that you can receive updates about this blog first.