In this digitalized world, E-commerce is the largest shopping venue. It is the most effective way to approach more customers every single day around the world.
E-commerce stores provide multiple delivery methods for the delivery of their products.
It is always expected that the customer will receive their products on time. In the eyes of a customer, the quality of the product and the time it takes to be delivered are equally important.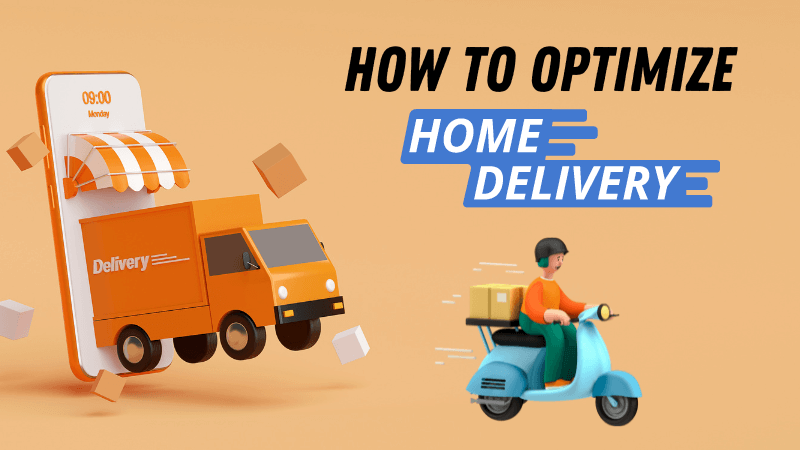 Hence, e-commerce stores should have a top-of-the-line delivery system in order to level up in this highly competitive market.
Maybe the most important question is now buzzing around your head: How can eCommerce businesses optimize their delivery operations?
Let's dive into the details!
What is e–Commerce Delivery?
Basically, it is the delivery of all the necessary items to the exact location ordered online by customers, a good and easy way to receive products at their doorstep.
The evolution of eCommerce sites is accelerating rapidly, so it is more important than ever to improve your eCommerce delivery operation.
A delayed delivery process can shrink your store with no buyer. In other words, a strategic process combined with a suitable system leads to an excellent flow for your business.
How to Optimize Delivery Options
Here's how a delivery operation for an eCommerce business should be optimized:
Pick The Perfect Shipping Possibilities
A customer always expects fast shipping and an eCommerce service needs to be more careful about that. A maximum number of customers prefer to receive their shipment the same day or the next day after their order.
It is therefore important to pick the right shipping operation based on the customer's need.
Here are the most common shipping options that many sellers are using nowadays.
1. Dropshipping
2. In-house shipping
3. outsourced Shipping
Dropshipping: In this type of shipping you are the one who will play as a middle man between customers and your manufacturers. Most of the work will be fulfilled and shipped by your manufacturers. You collect the order requests from customers in your store and enter the orders to manufacturers.
In-House Shipping: Basically this type of business model is for online sellers. Owners of an eCommerce site are fully responsible for in-house shipping orders. Your store is fully accountable from label and printing to dropping off the parcel at the office.
Outsourced Shipping: This one is the smartest delivery option for all types of eCommerce businesses. Additional workers are responsible for completing the packaging, labeling, and dropping off the parcel at the location following the customer's given details.
Building a solid partnership with a professional delivery company can help your eCommerce business reduce excess shipping costs.
Allow an Easy-to-use Tracking page for Customer
When customers can see the status of an order through an order track, they are too satisfied.
Sending regular SMS, email, and store updates to your customers is a great way to keep your customers engaged.
Keep the relevant details about the product on the page, as well as the date of the order, possible shipping date, and other tracking information.
With this easy-tracking information, you can fulfill your customer's curiosity easily.
Isn't it going to be simple for them? They won't poke your store hundreds of times to find their product? And when will it arrive?
Use The First Rate Delivery Service
If your product never reaches your customer on time, it can be frustrating for them. They won't make any other purchase from your business.
Most eCommerce owners make the mistake of utilizing a delivery service that does not offer high-quality service.
Allow shipping your product more quickly and effectively via a top-notch delivery service that will do the task dedicatedly.
Deliver The Product Quickly With The Help Of The Right Technology
To boost your delivery operation, your business needs to level up with the right technology.
For instance, 6 valley e-commerce CMS has a pre-built solution with the use of the right technology. This e-commerce content management system includes a number of payment channels. It is a multi-vendor eCommerce solution using mobile apps and vendor mobile apps.
Maximize the efficiency and utilize technologies like wireless scanners, barcode scanners, and similar devices that can give you accurate details.
This will allow you to minimize your labor cost and save money, and time and track the details easily.
You can optimize your work a lot more than before if you use automated technology during the order process.
Upgrade Communication With The Warehouse
Fastest communication with your warehouse team is one of the major tasks from your side. Processing a conversation with your warehouse does not take much more time.
Stocks and imports will be increased as needed with the assistance of the management team. Try to build up a great relationship between your team and the warehouse team.
Avoid miscommunication and promote your business in a better way with the help of your warehouse. This can increase delivery operations for your eCommerce business.
Final Verdict
Try to implement the strategies mentioned above. Implementing all of these in your eCommerce delivery operations at the same time helps increase your profit too.
Having a shipping operation and experience is essential to improving your delivery operation.
Keep in your mind that building an eCommerce site can be easy, but without a proper strategy, shipping, operations, and relationship with customers you can't reach your expected demand.
You have to embrace the things that can double your business operations and give you the exact brand value that customers are searching for every day.
The more you optimize your shipping operation, the more you connect technologies and digital tools with your store, and the more you improve trends inside your business the more your store going to make a high profit.