If you have a smartphone or tablet, you might wonder "Can I use Windows programs on an Android device?" Fortunately, yes you can and I will guide you on how to run exe files on android with various working methods. Exe is a very common file format of executable files.
The current Android Operating System can not run exe files directly rather we need an exe files opener to use these programs on our smartphone. It's important to know that you can execute only certain exe files on android. Heavy programs can't be executed on an android device.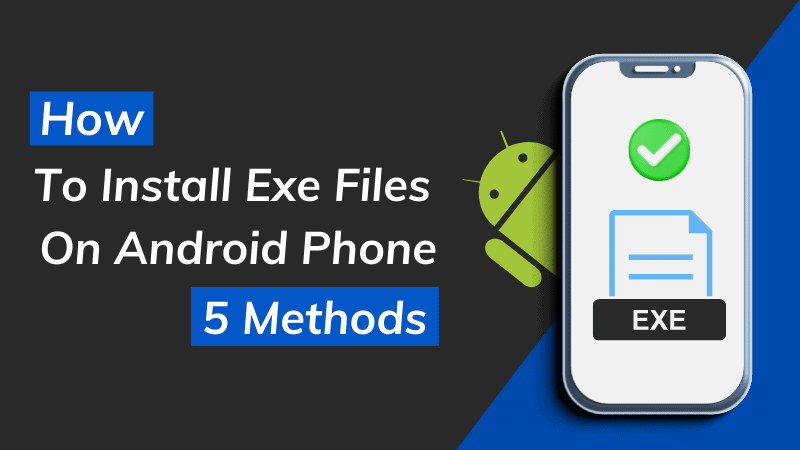 The question may come into your mind "why would I want to execute windows files on Android devices?" Well, the main reason maybe you want to run windows games on an android device which are not available for android OS. Android apps can easily be used on Windows by using an android emulator.
There are many file openers are available for Android as well to use windows software on android. With much hard work, I have brought you the best exe file opener, so you do not have to look for it.
How to Run exe Files on Android?
Here we will discuss 5 unique methods to run exe file on android:
Via ExaGear – Windows Emulator
DOS BOX to Open Exe files
With Inno Setup Extractor
Wine App to Install Exe File
Using Remote Desktop
Each method has its own limitations which will also be discussed in detail so, make sure to stick with this guide till the end.
#1. Via ExaGear – Windows Emulator
Just as we have numerous Android emulators that let you run Android apps on PC, there are also many Windows emulators that let you run Windows exe file on Android devices.
ExaGear is one of the most popular windows emulators that we'll use to run windows exe file on android.
Procedure:
It's not available on the google play store rather you can download its zip file by clicking on the link below:
Moreover, download the ZArchiver app from the google play store as well. You can use ES file explorer as well. Launch ZArchiver, navigate to the Download folder, and extract the zip file: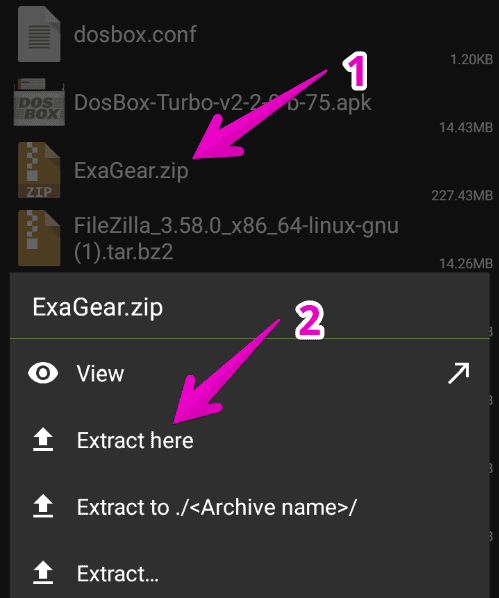 Open the extracted ExaGear folder, you'll find two items here. Copy the folder named com.eltechs.ed: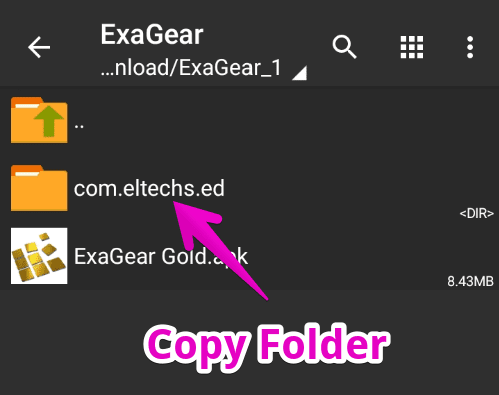 Go to Android > obb > paste the copied folder here, you will need to grant permission before pasting: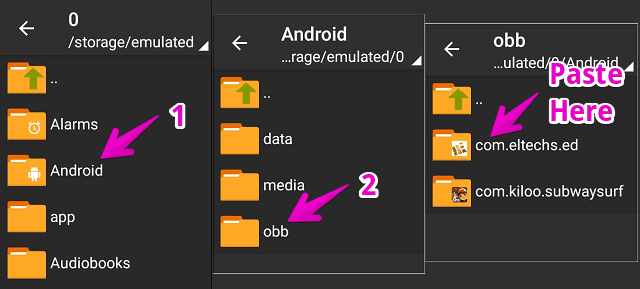 Once copied process is done, come back to the extracted ExaGear folder and install the ExaGear Gold apk file: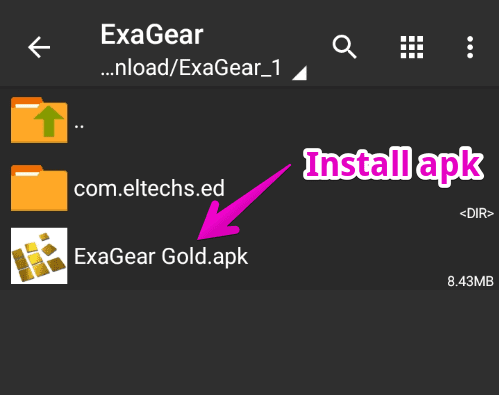 You may need to enable unknown source installations before installing. Once installed, launch the app. Click on three lines at the top-left corner > Install New: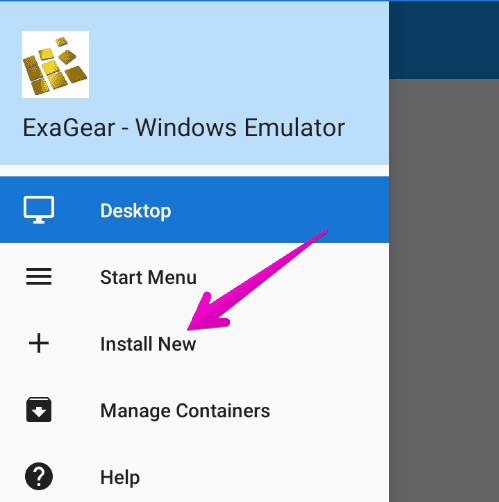 Scroll down to the end, and select Other app (not from the list):
Now, select the exe file, you want to install, from the list. It'll show all your files present in the Download folder.
It's actually your Download directory, you have to place your exe file in the Android Download folder in order to easily access it.
Once selected, the starting up process will begin. Complete the installation process and you're good to go: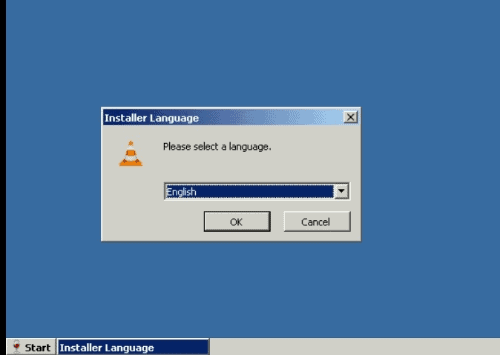 You may encounter an error during installation that says this version cannot be installed on Microsoft Windows XP and Windows Vista. In that case, you need to install a lower version of that exe file.
You can't install every kind of PC software however it has the capability to install most of the executable files. I tested it by installing VLC, and notepad++.
After launching the ExaGear app, you'll find the shortcut of the installed exe file like below: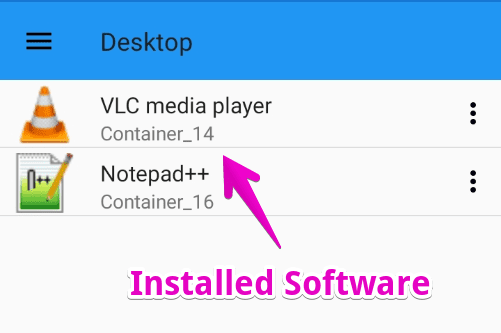 #2. DOS BOX to Open Exe files
DosBox Turbo, one of many DosBox emulators available on the web, is a great option for running exe files on Android. It is available on the play store, but it is a paid apk file. However, you can download it for free by following the link below:
DosBox works with many programs developed for Windows 2000 and earlier, but it's not suitable for the latest executable files.
Even DOS games of 1999 can be played on it easily, which the latest operating systems cannot. In my own experience, I enjoyed playing Tetris Queen (video game) on a command-line interface (DosBox).
Procedure:
Download your favorite game and place it on your android Download Folder. Extract in case of the zip file (in the Download folder). You need to remember the name of extracted folder and the exe file name: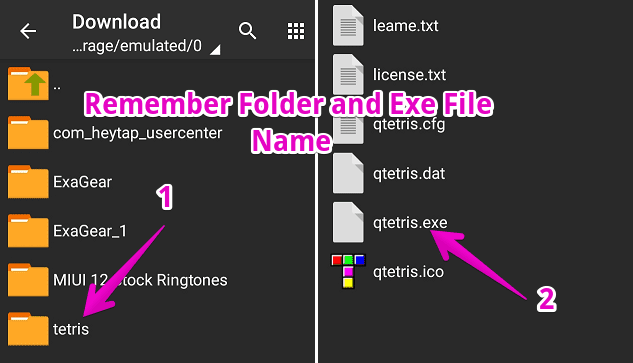 After downloading the DosBox Turbo from the above link, install it and grant storage permission in order to access files.
Launch the DosBox Turbo (command-line interface) app and tap on the keyboard icon to write: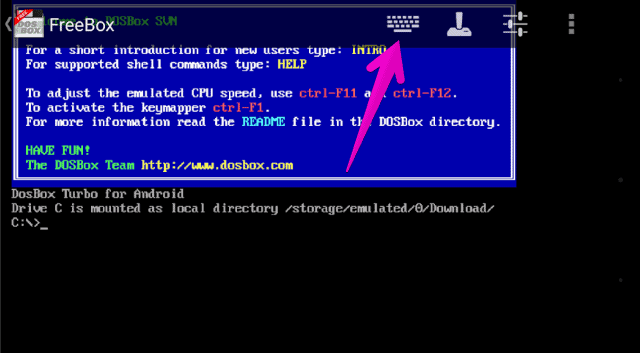 Now, if your exe file is placed on the Download folder then, simply type its name without the .exe extension like tetris in DosBox and tap enter like below: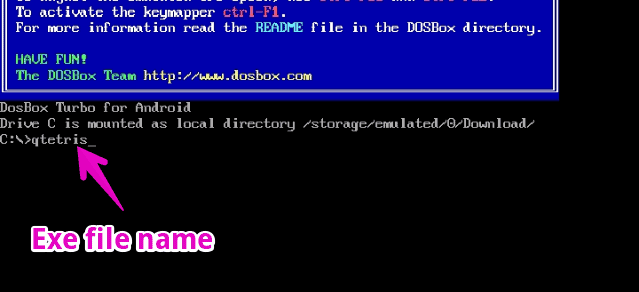 The game will begin loading, you can control it via your android keyboard. But if it's placed in another folder then, type cd foldername. Here, replace foldername with your own folder and tap enter: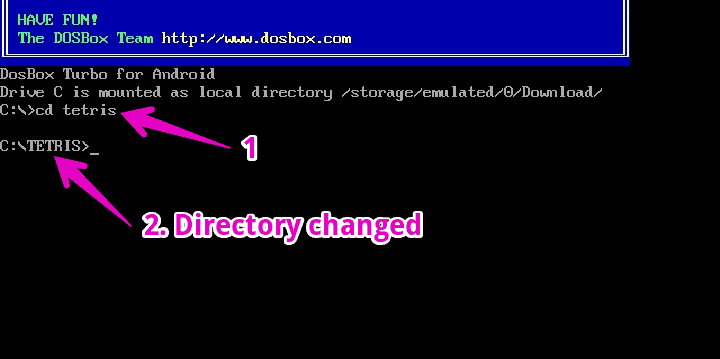 The directory will be changed, and now simply type the exe file name, tap enter and your game will start loading, you can change android keyboard shortcuts within the game as well: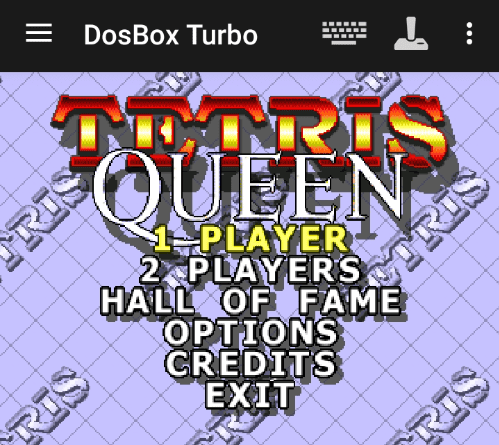 Errors like This program cannot run in DOS mode or Win32 indicate that the exe file is not compatible with DOS.
#3. With Inno Setup Extractor
While there are plenty of exe files openers available on the Internet, Inno setup extractor is one of the best and most straightforward exe files openers.
Inno setup extractor is an easy-to-use single-page interface that ensures everyone can understand it.
First, download and install Inno setup extractor from the google play store to extract Inno setup files. Then, you just need to select an exe file, you want to extract, from the file browser and the destination: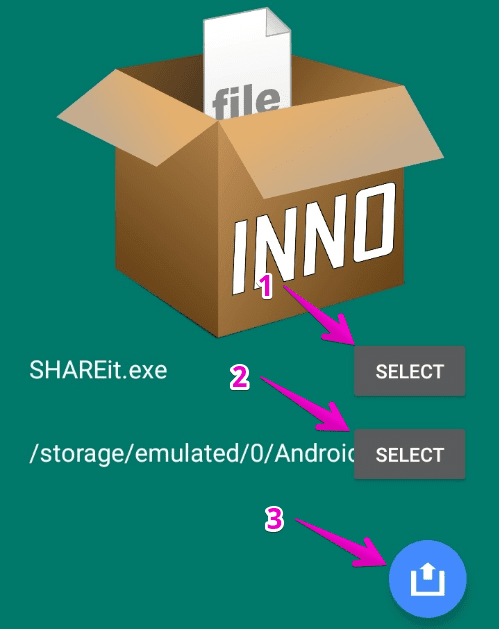 Then, tap on the upload symbol, Inno setup extractor will begin extracting or installing that exe file on your android device. In this way, you can convert exe file to its installed version.
Sometimes you may face an error like the Selected file is not a valid Inno Setup file. Not all exe files can be extracted but most of the apps can easily be installed.
#4. Wine App to Install Exe File
You must follow these instructions carefully to run exe file on an android device or else this method won't work. Depending on your phone's processor architecture, this may or may not work.
Download and Install Wine App:
To download the best version for your device, follow the given steps:
Go to Wine website  
Download the latest version.
Two versions are available for arm and x86 processors. You need to check the processor on your smartphone before installing
The next section will tell you what type of processor your smartphone has

Check Processor Type:
Navigate to the Play Store and download the Droid Hardware Info app.
After installation, launch the app and go to the System tab. Here, check the CPU Architecture of your smartphone:
Now, download the wine apk file according to your smartphone processor architecture.
Don't download the wrong version of an app, otherwise, you'll get stuck Also, enable Unknown resources before installing the app
Installing Windows Programs Using Wine:
Upon installing the wine app on your smartphone, it will look like Windows since it simulates the Windows environment. You will see a little command prompt as well.
Note: You may be stuck on the interface saying Setting up windows environment or blank screen, it means you downloaded the wrong version or it's a hardware compatibility issue.
Follow the given procedure to install the executable file on the phone:
Launch the wine app on your smartphone
Tap on the Start button, at the bottom left corner, and then tap on Run

Click on Browse and locate the software, you want to install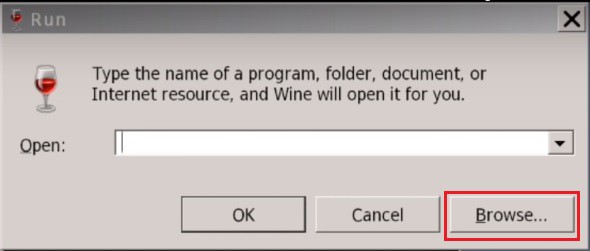 Once you select the desired exe file, you want to install, tap on Open like below: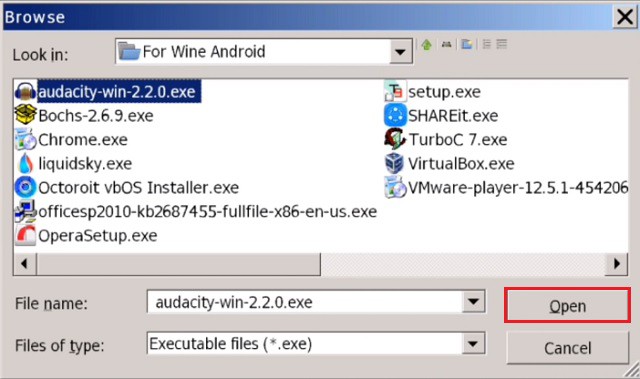 Click on OK and the installation process will begin
As every computer program has its own specifications, and an Android phone OS cannot fulfill these requirements, you should only install light applications and games so that you can use them smoothly.
Launch Software:
Some of the programs will launch automatically after successful installation, but you can also run them manually.
Also Read: How To Make App Icons Bigger On Android?
There are two ways to launch the installed exe file on your phone. These methods are given below:
The shortcut of the software will be generated on your wine app desktop. You can run it by double-tapping. This is the easiest way to launch the program.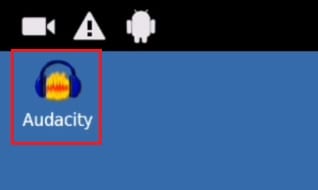 If you are unable to find the shortcut of software then click on Start > Programs > Select your software. Your program will quickly open and you can use it.
In this way, you can run Windows programs directly on your android devices.
Using this method is the best way to run Windows programs on an Android phone in a Windows environment. We won't actually install anything on Android, rather we will turn the smartphone screen into a mirror that displays everything that happens on your computer.
Using this method, we will actually install software on a PC using our smartphone and control it on our own phones. In this way, we'll be using windows exe files on our android phone. Sounds good!
Procedure:
Download and install TeamViewer for your windows PC. Also, download and install TeamViewer Remote Control for android devices.
Open TeamViewer on PC and note down the Your ID and Password.
Launch the mobile app and type the ID, tap on tap on REMOTE CONTROL, enter the password as well.
Your mobile will start connecting with your PC. Now, you can install windows apps and use them from your mobile, it'll be actually happening on PC.
If you don't have a computer or laptop then, you can use Windows apps on your phone. I hope you have understood how to run exe files on android. I suggest you use the Windows software on your desktop computer/Laptop.
You can't run the executable file properly on an android phone as you can use it on the computer. Moreover, your smartphone is unable to run heavy exe files.
I hope you learned something new by reading this article to open exe files on your phone. If you find it helpful, share it with your loved ones so that they can enhance their tech knowledge as well. Also, read my other useful articles to learn about technology.