Do you know some users don't even touch the mouse? They do all their work with the keyboard since tasks can be performed quickly with the help of the keyboard.
Many users prefer the keyboard over the mouse since there are many cool keyboard shortcuts to perform that operation rapidly.
However, the mouse takes some steps to perform the same task. Do you know What are some cool keyboard shortcuts?
I will reveal some useful keyboard shortcut keys which will save your time and effort thus, you can also complete your work as fast as possible.
What Are Some Cool Keyboard Shortcuts?
So, you are excited to know what are the most common keyboard shortcuts? You should remember or note these shortcut keys somewhere since these keys are to help you a lot.
Let's deep dive into it.
1)
Virtual Desktop:
Imagine, you are working on any project or doing research. At the same time, you want to do another task immediately then, opening a new tab or program will slow down your work.

You need a fresh and clean environment to work at that time. So, this amazing shortcut key is for you since it will create another desktop for you.
Just press Windows key + CTRL key + D together and the new and clean desktop will appear to you instantly.
But what about the first desktop, Is it gone? Wait, don't worry because it is hidden. To get it back, you just have to press Windows key + CTRL + Left arrow key together, and the first desktop will appear.
Similarly, to switch again to the second desktop press windows + ctrl + right arrow key. That's it.
If your work is done, you can close any desktop by pressing Windows + CTRL + F4 key. The current desktop will be closed.
2)
Desktop
If you have opened too many apps or software on windows and want to return to the desktop without minimizing them individually then, this shortcut will help you a lot.
When you have opened several apps then press Win + M keys together and the desktop will appear.
The same operation can be done using the mouse. Just click on the most bottom right corner of window 10.

3)
Open App on Taskbar
Usually, we pin the most commonly used programs to the taskbar like a file explorer, chrome, etc to save your time.
In addition, you can open these taskbar apps with the keyboard shortcut keys as well to speed up your work.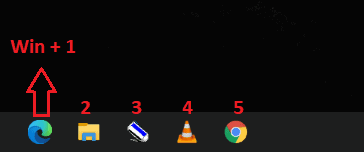 Each app on the taskbar represents the specific number from 1 to 9. If you press windows key + 1 then, the first app on the taskbar will open.
Use only numeric keys above the alphabet keys to press any number.
See the above snap to understand. It is the easiest and fastest way to open any software with keyboard keys.
4)
Split Screen
This keyboard shortcut key will be very helpful for those who love multitasking. If you want to split a desktop screen between two apps then you can do this easily.
To perform this operation, open any app and press the Windows key + left arrow and it will be adjusted to the left. Now, open another program and press the Windows key + right arrow, and see the magic.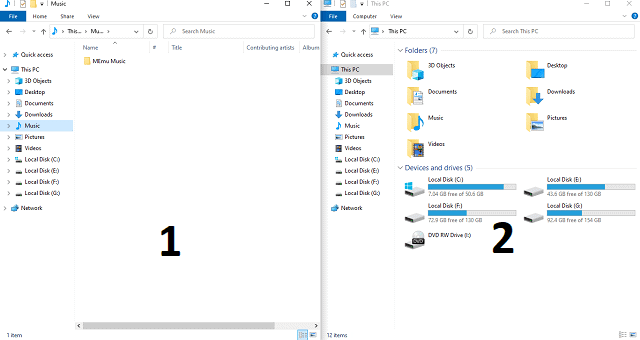 Now, you can work on both windows side by side easily.
5)
Switch Between Apps
When you have opened many apps at the same time then, there are several ways to switch between them.
You can press Alt + CTRL + Tab keys together to view all the current apps opened. Thus, you can switch between them.
Another way is to press Alt + Tab keys together to view and switch between opened programs.
There is also another way to perform the same task. You can press Windows key + Tab to view and switch between the apps at whole screen.
6)
Hang Software Solution
This is the common problem we face while using the windows that any program or app hangs while working. I often face this problem that a program suddenly stops working.
So, we have to restart the PC to go back for normal operation. But you can solve this problem with restarting.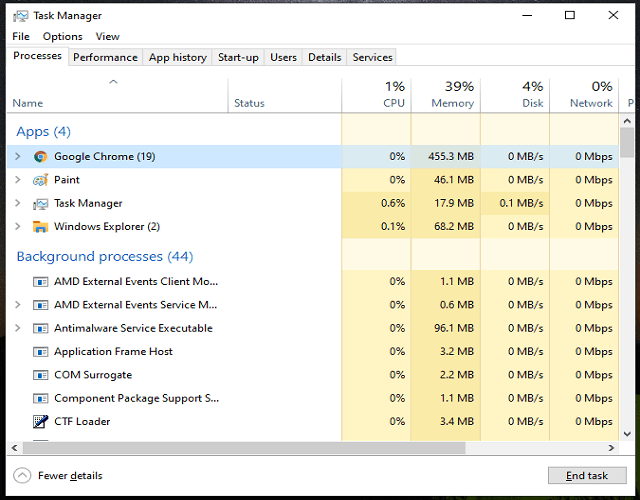 Now whenever any app hangs, just press CTRL + Sift + Esc keys together to open task manager and click on End task to force quit that program.
There are several ways to open task manager since we often need it. I have moved my hands on this topic, 12 ways to open task manager on windows 10. You can check out it as well.
7)
Open File Explorer
You might think, can I open two Windows Explorer side by side? Well yes you can and even more than two file explorer can be opened at once.
You just need to press the simple keyboard shortcut key to open as many file explorer as you want.
Press Windows key + E to open file explorer. This is very useful if you want to open multiple folders at once.
Try it out and share your experience in the comment box.
8)
Access Magnifier
It is very difficult to read the small texts. It is a big problem for those whose eye-sight is weak since that can't read tiny words.
This keyboard shortcut key will help them a lot.

You have to press Windows key + (+) key to zoom in and Windows key + (-) to zoom out. Actually, it opens the magnifier feature of windows.
You can change the view as well i.e. Full Screen, Lens etc.
9)
Take Screenshot
Taking a screenshot on window 10 is very easy. Windows 10 comes with two different screen capturing tools. The first one is snipping tool and other is snip and sketch.
You can read my other post on Difference between Snip & Sketch and Snipping Tool to know the which one is better.
Well, you can press Windows key + Prnt Scrn keys together to take screenshot of entire screen. It automatically saves the snap to the Image folder in file explorer.
You can also Press Windows key + Shift + S keys together to take snapshot of particular area of screen. Then, paste it anywhere.
10)
Action Centre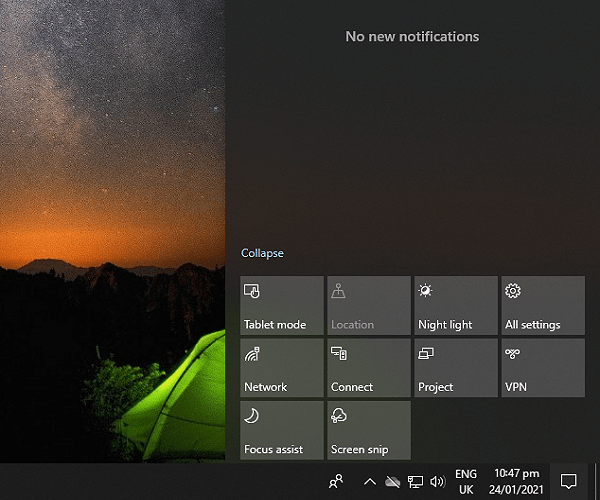 Windows 10 actions centre is very useful to manage notifications and other features like Bluetooth, location, sharing, VPN etc at one place.
This is an amazing feature of windows 10. You can access it on the taskbar with mouse click.
But there is shortcut method to open the action centre. Press Windows key + A together and it will be appeared to you.
Final Verdicts
Remembering these shortcut keys will make your work quick and easy. Everyone computer user should know what are the most common keyboard shortcuts?
I hope you learned something new and understood what are some cool keyboard shortcuts?
I you found this article helpful then. move your hands and spread the love with others by sharing this article to you loved ones.