The quality of our communication has improved dramatically thanks to emojis, which allow us to express things we might not be able to express with words alone. It's estimated that about 6 billion emojis are shared on social media daily.
Emojis are used almost every time we communicate with others as a way to express ourselves clearly. There are fewer emojis included with the built-in keyboard app.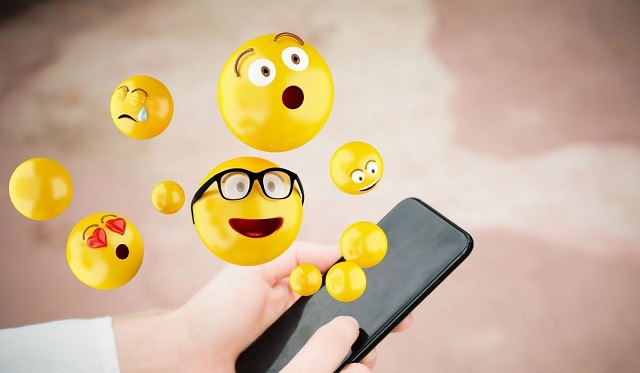 You can grow your emoji collection by looking for third-party emoji apps for android device with a huge collection of emojis. There are a few available emoji apps for android that provide quality emojis. On the play store, there are several emoji apps to choose from, but which one is best for you?
Keep reading this article to check out the list of 10 hand-picked collections of the best emoji apps. will be able to determine which is the best emoji app for android based on your preferences.
Best Emoji Apps for Android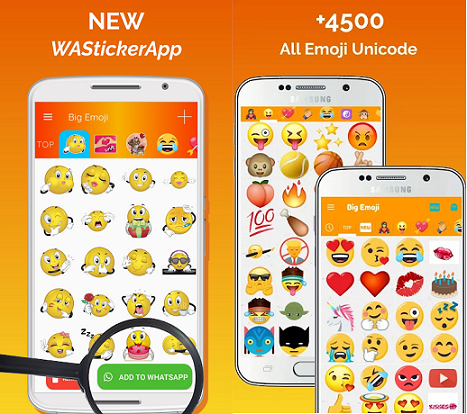 Price: Free & in-app purchases
If you're looking for a complete emoji app package, Big Emoji is definitely worth checking out. This app includes 5000 different emojis, and even stickers to add humor and emotion to your conversation.
Not only does it have a variety of emojis, but it also has a wide database of stickers. They are great ways to express yourself and share your thoughts with friends and family. Moreover, it also allows you to easily add emoji to other instant messaging apps like WhatsApp, Facebook Messenger, Slack, and much more.
Using this app, you can choose your hair color, skin tone, and eye shape, and the app will show you your giant emoji version. This is one of those best emoji apps that actually offer value to its users.
Features
Select emotion, choose your messenger and you're good to go
Supports number of social media platforms
Available for both Android and iOS
Plenty of packages available to download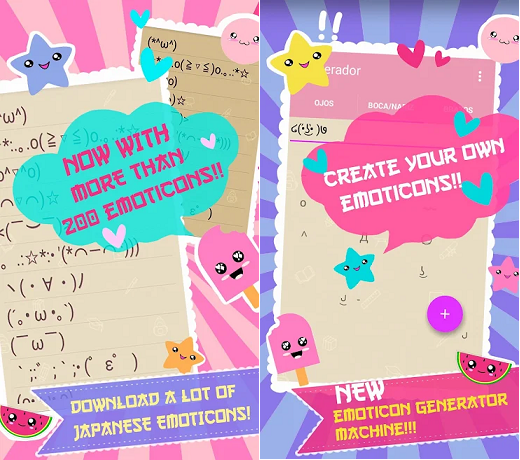 Price: Free & in-app purchases
Kaomoji offers over ten thousand different kaomoji and over 100 categories. You can save your favorite emoticons and use them in text messages and other social networks. The app also allows you to add text to your pictures and save them for future use.
While this app comes with a large library of kaomoji, it also comes with a kaomoji editor. You can use this to customize your own collection. You can also add or delete kaomoji.
In addition to its huge selection, it also allows you to create your own custom emoji by adding your own personal emoji. You can use your own unique combination of kaomoji with this app.
Features
The floating window provides a nice touch
Create custom and animated Kaomoji
You can save your favorite kaomoji in the cloud
Lots of themes available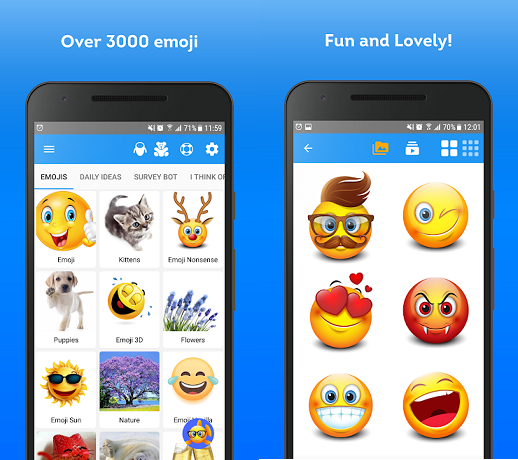 Price: Free & in-app purchases
If you're looking for a high-definition emoji app, you've probably heard about Elite Emoji. This popular emoji app allows other apps like Messenger, email, and Whatsapp. It comes with more than 1400 large emojis that will enhance your emoji experience.
It provides more than 2000 high-definition emojis and stickers for use in messaging, making it the perfect companion for social media. This app is compatible with many social networks and supports bilateral typing.
Furthermore, it offers support for GIFs and animated images. In addition to providing emoji, this app allows you to create and share your own emoji.
Features
Available for both Android and iOS
Huge collection of emoji and stickers of all kinds
You can add GIFs or create your own animated images too
This app supports many other apps like Facebook, WhatsApp messaging apps, etc.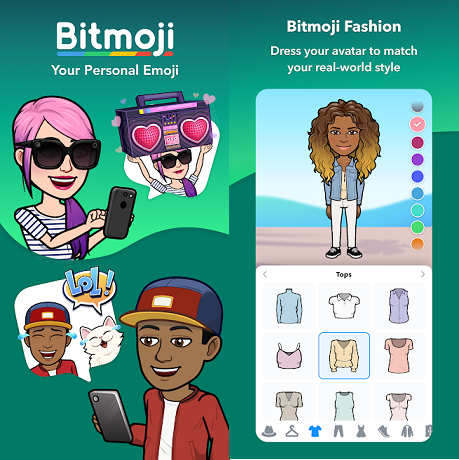 Price: Free
Bitmoji app lets users create an expressive cartoon avatar. It has over 100 million downloads worldwide. The app allows users to take a picture of themselves, which is then transformed into an avatar and can be customized with a variety of outfits, accessories, hairstyles, and more.
It allows users to create an expressive cartoon avatar, customize stickers, and share them through a chat program. It contains tons of stickers to choose from.
This is a free app and is one of those best emoji apps that users actually find useful. Emoji maker is one of the best features of this app. You can create emojis that reflect your personality.
Features
You can design an effective avatar
Comes with a number of built-in stickers
You can link Bitmoji with Snapchat to unlock awesome features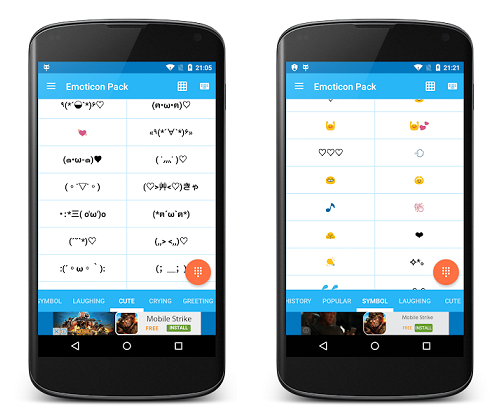 Price: Free
The Emoticon Pack app is a collection of emojis and emoticons. You can choose to display any of them in any text you send or receive. The best part is that the app is completely free, so you won't be tempted to purchase it.
When automatic updating is enabled, emoticons and emojis will automatically be updated. You can also use it together with other keyboard add-ons, such as the Mushroom keyboard.
Another benefit of the Emoticon Pack is its variety. The app contains thousands of emojis that you can use while chatting. This is the best free emoji app for android smartphone.
Features
Contains a bunch of popular emoticons and emojis
Use it directly from Mushroom or ATOK Direct keyboard add-on
Emojis are updated automatically
Save your animated emojis for later use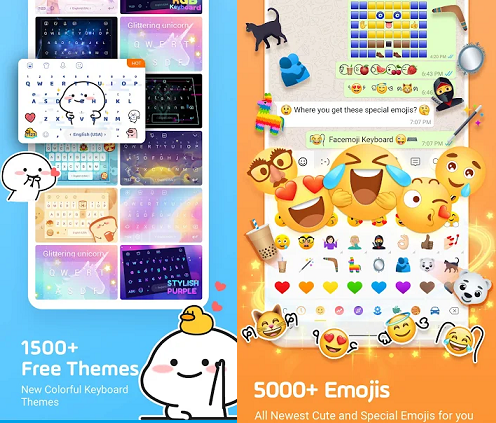 Price: Free & in-app purchases
If you're looking for a new emoji keyboard for your Android phone, look no further than the Facemoji keyboard for Android. The keyboard is packed up with many features like many special Emojis, animated GIFs, stickers, and free themes, which you can use when writing texts.
Unlike other keyboards, it has more emojis, and it is easy to find the right one to express your mood or feelings. It even offers a translation feature, which helps you use the app in foreign languages.
This keyboard has an impressive list of features and a high-quality interface, which makes it a must-have for Android users. This is one of the best emoji apps for Android.
Features
Facemoji keyboard includes awesome fonts, themes, emoticons, stickers, etc.
Ability to customize keyboard like change message background image, tapping sound, etc.
Featuring 1500+ free stylish themes
Smart suggestion, auto-correction, built-in translator, and much more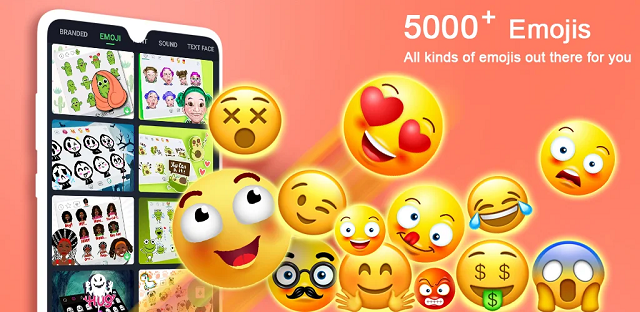 Price: Free and in-app purchase
The Emoji Keyboard allows you to type along with the emoji to enhance your chatting experience. It comes with over 3000 emojis, including cute faces and animated emoticons. The app also includes GIFs, import and manage your own GIFs, and has a built-in translator.
This keyboard app is fully functional and lets you customize the appearance of your keypad with stickers, emoji plugins, and GIF galleries. It also lets you change the keyboard wallpaper, and gesture trail, as well as the tone of the keys.
With its customizable stickers, you can use them in messages. The Emoji android keyboard app is a great way to express yourself.
Features
Fun Emoji Keyboard with smiley faces & emoticons
Contains latest and popular emojis, stickers, and GIFs
The keyboard supports more than 150 languages
Supports voice input (voice typing)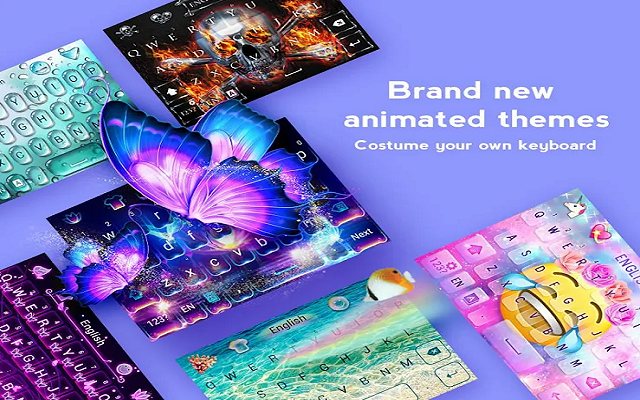 Price: Free and in-app purchase
The Go keyboard app has a variety of features that will make your chatting experience on your phone more enjoyable. It includes an emoji section that allows you to find the perfect emoji for any situation or emotion.
More than 200 million people use it, making it one of the most popular emoji apps for Android available on the google play store.
You can choose from thousands of colorful themes, emojis, and GIFs in this app. This keyboard comes with more than a hundred fonts. Emojis and emoticons can be created from plain text.
Features
Comes with a bunch of smileys, emojis, emoticons, stickers, and more
Create a custom keyboard based on your preferences
Maintains user privacy and security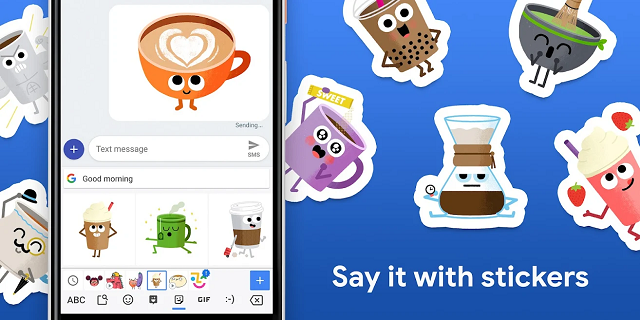 Price: Free
The Gboard app comes pre-installed on many smartphones. A number of features are included in this app to improve the user experience. In addition, Gboard allows you to search GIFs and emojis according to the situation.
It also suggests emojis while typing. Users can type words or phrases and the app will suggest the corresponding emojis.
GBoard offers many emojis and the user can customize the keyboard with stickers, gifs, and themes to create their own personal emoji keyboard. It's one of the best android apps I personally use.
Features
Emoji prediction while typing from its emoji dictionary
Contains a wide variety of emoticons, stickers, GIFs
emoji search is a very handy feature
Offers gesture typing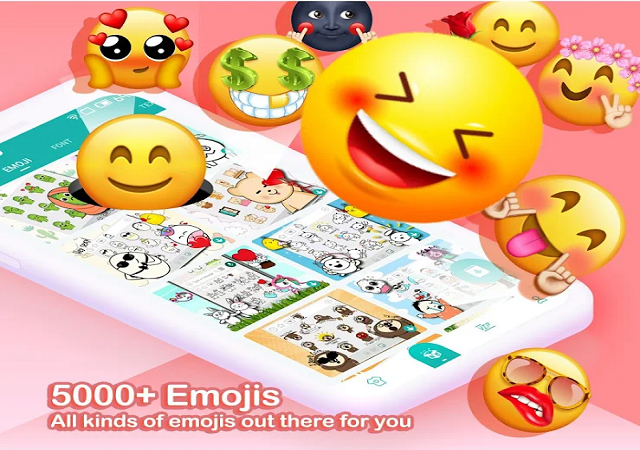 Price: Free and in-app purchase
Kika Keyboard is a powerful, free, and personalized emoji keyboard app for Android. There are over 800 cute and fun emoticons that you can use in your daily conversations. This app has a variety of keyboard themes to choose from, so you can create your own personal theme.
In addition, It offers custom designs with over a thousand colorful fonts, photos, and gifs to choose from so that you can express your feelings in a much more creative way. It's one of the best emoji apps for android available on the google play store.
Features
Thousands of keyboard themes and fun backgrounds
Suggests innovative emojis
Offers various WhatsApp Stickers & Funny GIFs
Final Verdicts: best emoji app for android
With emoji apps, you can have an even more enjoyable chatting experience. Moreover, emoji keyboards can be customized by using stickers or GIFs. I hope you found the best emoji app for Android that meets your needs.
There are also other emoji apps available that offer value like swiftkey keyboard by Microsoft. If I missed any popular and useful free emoji apps, let me know in the comment.
If you found this piece of writing helpful, share it with others.