Do you need to refresh your chrome web page again and again? Sometimes I need to do this and I have to do it manually but luckily there are a number of chrome extensions to perform this task automatically and you can go anywhere. I will show you to auto refresh in chrome. There are plenty of extensions to perform this task but I will mention the best ones.
You may need to refresh the page for any reason. By installing these extensions, you can also stay online on freelancing platforms. This is a little trick. We can set the time interval between each refresh so that it will perform its task automatically. There are chrome extensions to reload multiple chrome tabs as well. You can refresh them in only a single click.
Auto refresh in chrome saves our lot of time which we can utilize for other useful purposes. Some chrome extensions may contain viruses or malware but I will show you legit and best extensions to refresh in google chrome. Make sure to read this full article to know about all these extensions.
Auto Refresh In Chrome
Here, I will show you 5 google chrome extensions which will auto-reload your chrome tab or page automatically after a certain period of time. So, let's take a look at those extensions:
Tab Reloader (page auto-refresh)
Easy Auto Refresh
Auto Refresher
Super Simple Auto Refresh
Auto Refresh Plus
1) Tab Reloader

Tab Reloader is easy to use an auto refresh in chrome extension. You can set a certain time and after that time, the page will reload automatically. The popular feature of this chrome extension is that it can act as a reading job for each browser. Tab Reloader has a badge number which shows the active reloading jobs i.e, how many pages are reloading right now.
This amazing extension will show you the list of those web pages and you can easily manage and stop them as well. This task can easily be done by using this incredible extension. If you have tired pressing CTRL+R many times then you can use this extension and it will do this task for you automatically.
2) Easy Auto Refresh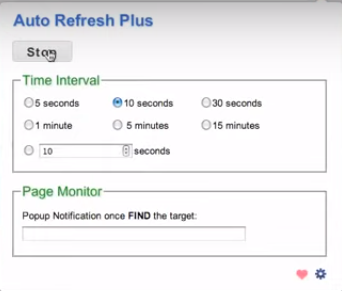 Now, you don't need to refresh the tab or web page again and again since you can choose one of the above extensions and utilize and I am sure that you will not miss any important update after installing the auto refresh in chrome extension. These extensions are the best according to me and you can use them safely and don't contain any virus or malware. There are many other amazing auto page refresh extensions as well. If you don't like these extensions you can go for them and choose your favorite one.
That is all for today and if you find this article helpful then share it with friends and your loved ones. You can also read my other informative tech articles and enhance your knowledge. I hope you enjoyed this post and have installed any auto refresh in chrome extension.