Looking for how to change font color on Android according to your liking? It would also be better to change the default font color to something more exciting.
According to a survey, more than 30% of users have installed the android launcher on their smartphone for more customizations.
Would you also like more control over your smartphone?
Android has an amazing range of customization options. You can tweak the look and feel of your smartphone in many ways for an optimal experience.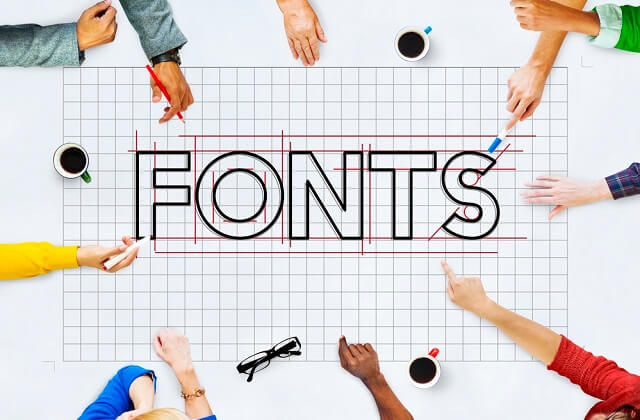 Whether it's changing the current font, its color, font size, making the app's logo bigger, or putting your favorite photo as wallpaper, you can do all of that.
But! this particular guide will certainly help you change the font color on your Android phone.
Most users are unaware of this feature in the mobile settings. It is even possible to add new fonts with the TTF file.
If you are also searching for how to change font color on Android, continue reading this article until the end.
How to Change Font Color on Android?
Don't have enough time to read the post?
If so, watch this video and read the textual guide later.
We have several methods to change the font color including both with and without 3rd party apps.
These methods are useful to change the font color on Android:
Using Color Inversion (Built-in Feature)
Using Android's Built-in Settings
Use Font Customization Apps
Using Android phone Launchers
We'll go through each of these methods and discuss the procedure as well. So, let's make our smartphones colorful.
Using Color Inversion (Built-In Feature)
Color inversion is one of the most useful features of android. Many users are familiar with this feature.
It applies a dark theme throughout the phone, including supported apps. While it may look weird and ugly, it does have its benefits as well.
With this android feature, you can now see things with ease on your phone especially when you're in a dark place like at night because of this dark mode.
Procedure To Change Font Color On Android:
Now, follow the given procedure to apply color inversion on your android device.
Navigate to the device's Settings app
Go to Accessibility
Under the Display section, you'll find color inversion
Turn it on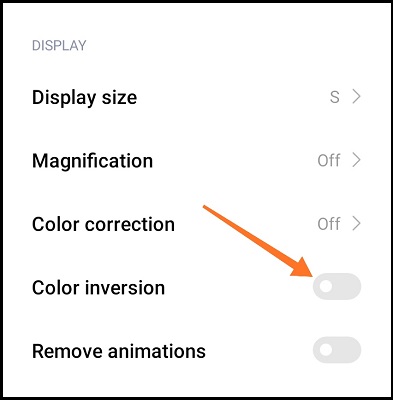 That's all to do to enable this feature. Now, you'll observe changes to your android font colors.
Can't find this feature?
Couldn't find the font color changer in android?how to change font color in android phone
Every android smartphone model comes with different settings so, it may be difficult for you to find it out.
So, is there any easy way?
Well, yes.
There is the easiest way to find any feature in settings easily without exploring it until you know its name.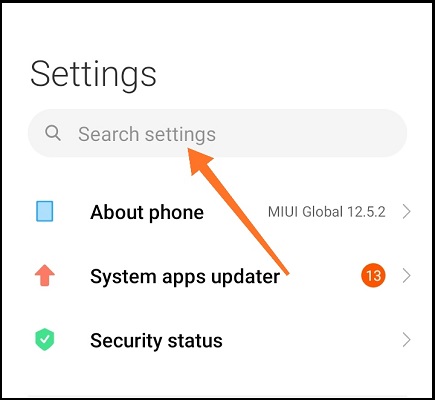 Tap no the Settings icon
You'll find a search option here
Type color inversion and it'll come up to you
Isn't it great?
Using Android's Built-In Settings
Now, the android smartphones also come with built-in options by using which you can adjust font settings like font style.
Many mobile manufacturing companies provide this feature to their users to play around with customizing font color to enhance user experience.
As discussed earlier, every mobile has different settings.
  Nevertheless, I will try to explain most of the phones' procedures.
How To Change Font Color In Android Phone: Procedure 1
Follow the steps explained below to know how to change font color in android phone:
Open mobile Settings
Go to Accessibility
Then, Visibility Enhancements
Enable the High Contrast Fonts/text as below: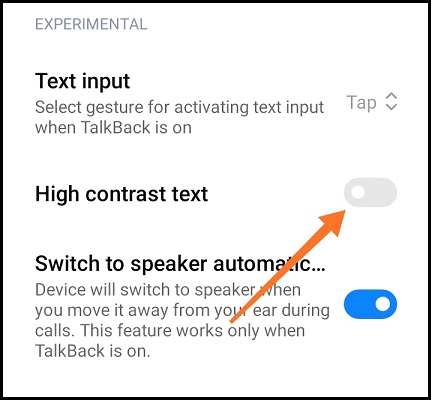 Are you not able to find this feature? It's okay, try other options
How To Change Font Colour In Mobile: Procedure 2
If the above method doesn't work for you, try the below method:
Go to Settings > tap Display
Select Font Size and Style
Here, you can also drag the font size slider right or font size bar left to change size as well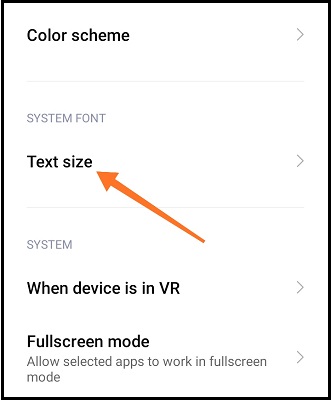 Now, you can make the changes according to your taste and preferences.
If your eyesight is weak, use a font size bar to increase font size. It'll help in text messages as well.
Change Android Font Color: Procedure 3
The following procedure of how to change font color in android phone will work for most of the smartphones:
Navigate to Settings > Wallpapers and Themes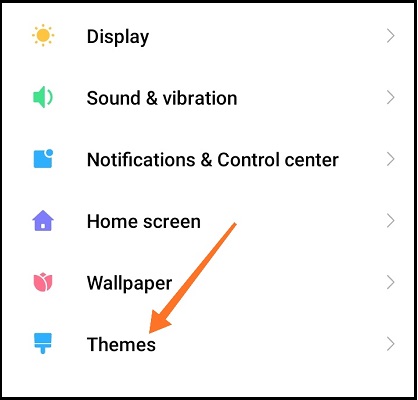 Change your mobile theme according to your liking.
The android font color will also be changed once you apply your favorite theme. So, this is a step-by-step guide on how to change font colour in mobile.
How To Change Font Color In Phone: Procedure 4
Head over to Settings > About phone/Android Device
Go to Styles & Wallpapers
Make your desired changes here
That's all
These are different methods for android to change font color. You can follow according to your device model.
Didn't Find Any Procedure According To Your Phone?
According to different smartphone models, I explained four ways to change the font color.
If none of the above procedures worked for you, then you should go to Settings and search for different queries like Contrast, Theme, Wallpapers, Font, etc.
You will certainly find any helpful option regarding customizing font color according to your smartphone.
If you're still unable to know how to change font colour in mobile then, jump to the next section which will certainly solve your issue.
Using Font Customization Apps
Still unable to know how to change text color on android? If so, this method is sure to work for you.
To change font color without digging into the mobile Settings, there are many font customization apps available in the Play Store.
Among hundreds of apps, which one is the best?
You don't need to research it since I have done it for you.
1) zFont
The zFont is one of the best apps to customize the android text color.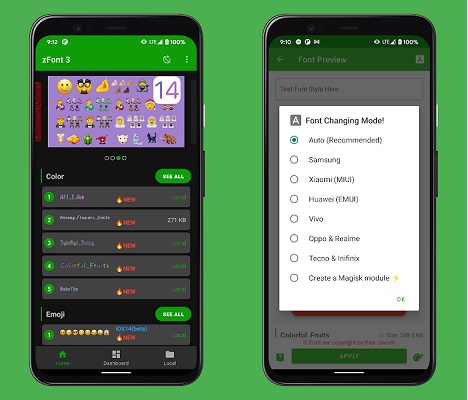 It enables you to apply beautiful fonts, change font color, insert emojis, etc. It's a complete font changer app.
It's compatible with all famous mobile companies like Samsung, Huawei, Xiaomi, Vivo, etc. Apply different themes as well.
Procedure:
Follow the given steps to learn how to change text color on android:
Download and Install the zFont app from the play store.
Launch the app
Grant the Storage Permission as well
Unde the Color section, tap See all to view all the available font colors
Select your favorite color
Tap on the Download button
After downloading, simply Apply that color
You may need to choose the Installation method, select your preferred method
This is how to change font color in android phone
2) iFont
The iFont is known as the Expert of Fonts. And, it is.
Besides adding beautiful fonts to your mobile, you can change their style as well including their color. Hundreds of fonts are available to choose from.
It doesn't require you to root or restart your phone, instead, you can apply your favorite font color directly.
Procedure:
You have to follow the given steps for android to change font color:
Download the iFont app from the play store and Install it
Open iFont app
Navigate to the MY tab (RECOM, FIND, MY, and SPONSORED tabs are listed)
Select Color Font and choose the best font according to your preference
Once selected, tap on the Download button
Then, go to MY tab again and tap on My Download
Among these fonts, select your previously downloaded font
And, tap on SET
You don't need to restart your phone
So, this is how to change font color on android using the iFont app. You can download this amazing from the given link.
3) HiFont
Another font customizer app is HiFont, which lets you replace your boring system font with one that is unique and colorful.
It offers hundreds of stylish fonts that you can install on your phone within a few taps.
This app supports almost all smartphones including Samsung, HTC, Motorola, Lenovo, Huawei, Nokia, etc. So, there'll be no compatibility issue.
For some devices, you may need to provide root permission.
Procedure:
Continue following the given easy steps to know how to change text color in android phone:
Download the HiFont app from the Google Play Store and Install it.
Open HiFont app
You can choose from hundreds of colorful fonts
After selecting one, tap on Download
Then, tap on USE
On the confirmation message, tap on OK
You may need to restart your android device
The font will be applied to your smartphone
Using 3rd-Party Android Launcher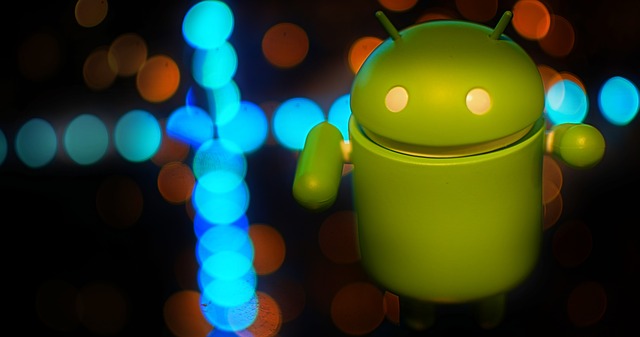 Android separate launcher is great when it comes to customization. Most people like to play around with their devices and you can do that by installing an alternate launcher.
Android launchers are all about personalizing things according to our preferences.
However, there are many malicious apps on the play store, so how do you know which launcher to choose?
Not to worry. I've compiled a list of some best emulators to choose from.
1) Nova Launcher
As well as being at the top of this list, the Nova launcher is also one of the most popular launchers for Android.
Choose customizations according to your liking such as changing font color, style, icons, and themes. etc.
Moreover, this launcher will help you change font color on home screen of android easily.
Procedure:
Following are the simple steps to know how to change text color in android phone:
Download and Install Nova Launcher from the Google Play Store
Apply this launcher to your mobile
Then, open Nova Settings
Go to Home Screen > Icons layout
Tap on Color and make your choice
In this way, you can change font color on home screen of android
Now, you'll notice changes in the labels of home screen apps. This is how to change font color in phone using the Nova launcher app.
2) Apex Launcher
Apex launcher also gives your smartphone a stunning look. This launcher app lets you customize your mobile environment according to your preferences.
There are several themes available as well as an App Lock feature for protecting your apps like the messaging app.
Procedure:
Download the Apex Launcher app from the play store and install it
Launch the Apex Launcher app
Once opened, select your preferred drawer style and home screen layout
This launcher will be applied to your smartphone
Open Apex Settings > Home Screen > Layout & Style
Change the label color to whatever you like
Go back to Apex Settings > App Drawer > Drawer Layout & Icons
Again, change the label color here
Your chosen color will be applied instantly
These settings will change font color on home screen of android as well as the app drawer. So, I hope you got how to change font color on android home screen.
3) Smart Launcher 6
Smart launcher 6 is considered one of the highly customizable launcher apps. It has been downloaded by more than 10 million users around the globe.
Apply your favorite theme and pick the font color according to your choice.
You can change app icon shapes and give them a new look.
Procedure:
Download the Smart Launcher 6 app to your smartphone
Open the app and agree to its terms and conditions
You have to grant necessary permissions
Go to Smart Launcher 6 app customizations
Navigate to the Fonts section
Here, select your favorite stylish font
4) GO Launcher
GO Launcher provides a more productive experience to android users. You can make your mobile home screen stand out with a beautiful design.
In order to provide users with the best possible experience, this app is updated over time. It is up to you how you control gestures.
Procedure:
Download and Install the GO Launcher app from the play store
Open the Microsoft Launcher app
Give necessary permissions and choose your preferred wallpaper
Long-tap on the home screen and select GO Settings
Navigate to Fonts > App labels color
Choose your desired color
You can also choose the Select Font option to set your desired font
Tap Scan font to load more fonts (you can select your downloaded font too)
5) Action Launcher
The Action Launcher is an excellent alternative to your stock Android launcher because it gives you much more control over the customization of your phone
With a wide variety of wallpapers, fonts, icon packs, and widgets, you can create the perfect design for your phone.
Procedure:
Install the Action Launcher app from the Play Store
Launch the app and accept its terms and conditions
Open Action Settings > Animation & Appearance
Select your favorite stylish font from the list
That's it
Installing the Launcher allows you to customize the launcher's interface to your liking such as increasing the font size, changing font color, making icons bigger, etc. Moreover, you can customize the message background color too.
You just have to install the launcher app from the google play store and tap font settings where they are located.
You can change your entire home screen as well. All in all, you will have complete control over customizations.
Which Method Is Recommended?
Four methods are discussed for changing the font color and size of Android. Now, you have to choose the one you prefer.
However, if you do not want to rely on or install a 3rd party app, you should use Android's built-in settings.
For those who want more control over font color and styling, the font customization tools app is a suitable choice.
Android launcher apps (like Nova Launcher, and Smart Launcher 6) are designed for users who want to give their device a completely customized look and who want to keep the settings according to their taste.
Moreover, you can also download your custom fonts from the internet. You will need TTF font files to install new different fonts.
Frequently Asked Questions
Can I Install New Font On My android Phone?
Yes, you can easily install a new font on your smartphone. For this purpose, you have to download a TTF file of your desired font. Now, you can use a third-party app like zFont to install this font easily.
How can I download free fonts for my mobile?
There are many websites available where you can download the font of your choice for free. Some of these awesome websites are Google fonts, Font Bundles, Dafont, and Urbanfonts. Download and enjoy free fonts.
Should I Root My Phone To install new fonts?
No, it's not a good idea to root your phone, as this may endanger your mobile security in the future. You can also try a number of other options if you want to install a new font on your Android device.
Why doesn't my Android device have a font color changer?
Most smartphones have built-in settings to change the font color. But, many mobiles just come with a font size feature. If so, you need to take the help of third-party font customizer apps like zFont and iFont.
how to change the font color on Samsung?
To change the font color on Samsung devices, navigate to Settings and then, look for Font Size and Style. Here, you can make the desired changes to your mobile font style.
Final Thoughts
Our first thought when we think about customization is changing the font color and style of the android phone because it gives the device a beautiful look.
You should avoid rooting your android smartphone since it opens the door to hackers. Many customization apps require root permission to function, you have to prevent all those apps.
That's all for how to change font color on android. If you learned something from this article that you think might be useful to others, please share it.
Moreover, you can browse other useful articles that will improve your knowledge.