Social media reports are a fundamental tool in the community manager's work since they justify, explain, and expand the work carried out during the month to transmit the client's greatest possible transparency and trust.
It is also essential to know if the short-and long-term objectives have been met and thus analyze the steps to take in the future. But before seeing what professional social media reports consist of, it is necessary to explain the aspects to consider before getting down to work.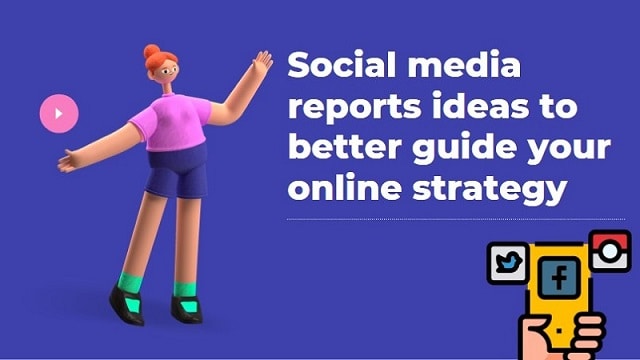 An example is making unboxing posts or videos featuring custom box packaging incorporated with your branding elements. It will help get your business in front of customers' eyes and pique their interest.
The following article will talk about some of the aspects you should consider when you are making a report on social media actions, including knowing what aspects to measure in order to separate the wheat from the chaff, as well as some tips to help you construct your own custom social media reports. 
Types of social media reports
Before we get down to work, it is necessary to specify that we will need to establish a period in which we will issue our report of actions on social networks. These are the most common types of social media reports:
Monthly
Quarterly
Biannual
Annual
The general rule establishes that the reports must be sent monthly, always before the last day of the month, plus another quarterly report and another annual one.
We take stock of the actions and objectives carried out during the year.
What is the use of making a social networks report

?
Establish the objectives and strategies of our Social Media plan
Inform our client of the work we carry out and its evolution
Document project statistics
Know the actions carried out to repeat or discard them based on their success or failure
Measure return on investment (ROI)
Generate a climate of transparency and trust with the client
Why are they important

?
Social media reports are a fundamental part of the work we are going to do as community managers. It is almost as important or more than the work done because it is as essential to carry out specific actions as knowing how to explain them.
Communication is an indispensable part of this process of generating trust with our clients.
Above all, in a newly created profession like this, our clients are indeed unaware of some of the specific tasks that a community manager must develop. That is why its explanation is essential.
Define our objectives
Before we get to work, we must be very clear about creating a social media report since each report will be different depending on our client and their objectives.
Therefore, we must first decide what the objectives are to be achieved by the client through their social media strategy.
One of the most critical aspects of our social media strategy is defining our medium and long-term goals. Each client has their own, and it will depend fundamentally on the nature of the business.
If we are facing an eCommerce, its objective may be to increase the sales of its products. However, if we work with a non-profit association, its goal could be to achieve greater visibility or generate a greater number of leads on its website.
Therefore, each company or client has specific objectives that we must analyze.
Generate Community
One of the fundamental aspects for the vast majority of brands is creating an active, participatory community with opinions and reactions, which grows every month.
If your client needs this type of service, we must reflect it monthly in our reports.
Increase Sales
If we work with a physical or online business, our online strategy is likely aimed at generating higher income and sales thanks to working on social networks.
This is one of the most complicated objectives that we will have to measure in Google Analytics, thanks to the conversion filter. In this way, we will know how many sales of the company have come from social networks.
Even so, this data is quite ethereal since a user can know the brand of our client on social networks and go directly to the website without going through any of our social networks.
Gain Visibility
For certain clients, the objective of being present on social networks may be due to an interest in gaining visibility. This visibility translates into people reached by our publications, either organically or paid.
In these cases, we must define the visibility objectives set by the client, establish a strategy for our ads on social networks, and classify this visibility according to the different audiences that we want to reach.
Traffic
Apart from generating community, increasing sales, or gaining visibility -all these aspects are interrelated-, the generation of traffic to our website is also a common objective in almost any social media strategy.
Generating traffic through links posted on social media was an obsession for many web pages for years, although the rise of Instagram has completely redefined this strategy.
Thus, in our final social media reports, we must reflect the traffic that has reached the web from social media, the best hours of traffic, the audience reached, the page views, the visit times, and all the aspects that we consider relevant.
Brand Image
Suppose we are interested in working on the image of our brand, creating attractive publications with high viewing rates, or simply being on social networks. In that case, our goal will be to communicate the brand image of our client.
Ideas to create a social media report
Once all the data that we consider essential for our social media report has been obtained, it is necessary to put some order and establish a structure.
This script will be similar to all the reports that we carry out in the future, aiming to be consistent with each other. The most important thing is to get the data and conclusions shown clearly and directly, without detours.
Even so, there is no general rule for making a social media report, although this structure may be helpful for you in the future.
1.
Summary of actions
In the first part of the report, you must summarize the actions carried out, a general balance of the month that ends and point out some conclusions that allow the client to have a global perspective of the entire document by reading only the first part.
2.
Balance of followers
Everyone is interested in the number of followers, although sometimes it is not the most important thing. For this reason, it is essential to detail the evolution in the number of followers in each social network from the moment we start working with a specific client.
This will also offer a broad perspective on where the brand is on social media.
3.
Results obtained
This third point will fully analyze the results obtained this month through the different actions carried out. And for a better understanding, we will separate the data of each social network, including graphics that support the data that we are showing.
In addition to pointing out data as important as the reach of our publications, the number of likes, or the most successful publications, it is also important to point out the spending we have invested in advertising on social networks and its results.
To make things clear, you can make an infographic video to show the results.
4.
Analysis and conclusions
Once the data is exposed, it will be time to analyze it and draw conclusions. What has worked this month? What has not worked? Also, What could be improved? Any suggestions for the future?
It is the most important point of the entire analysis, the one that will define whether or not our strategy has been successful. The future of the brand depends on good analysis.
5.
Future actions
Finally, we will explain the future actions after the conclusions obtained with the data for this month. What could be explored? Any suggestion? What aspects work for the competition? Once this report has been sent, it is very important to establish a fluid dialogue with the client, exchange opinions, listen to suggestions and add proposals for the strategy to be successful.
It is recommended to have direct communication since, in the dialogue with our clients, we will learn many aspects that probably would not have occurred to us on our own.
Summary
Good social media reports ensure the customer-community manager relationship. And due to its importance, the social media manager must dedicate the time it deems appropriate to explain the work carried out during the last month, quarter or year.
Otherwise, the absence or poor performance of a report of the actions carried out will cause our relationship with the client to lack sufficient trust and, therefore, be doomed to failure.
We've summarized the ideas to create a social media report, now get started with your own custom social media report.