Video call has become one of the most prominent ways of communication nowadays.
From attending meetings to participating in online classes, everything is now arranged on a video call. Even wedding ceremonies are also held virtually now.
Sounds like a joke!
In that case, it is essential to create a positive impression on the conference call participants that can impact your professional and social life as well.
That's why it is important to have a stunning look in a video call, Zoom, or Skype meeting.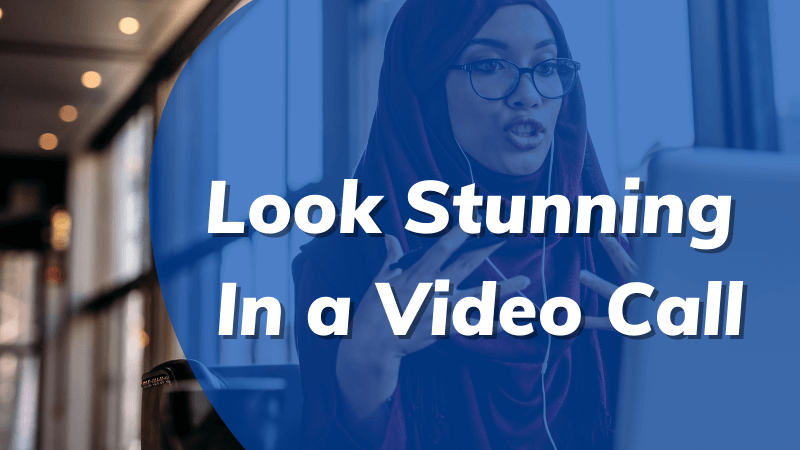 But, the big question is how to look stunning in a video call?
Well! to have a smashing look, you have to consider a few things like your outfit, quality device with good camera resolution, make-up, background, body language, and so on.
In this write-up, we have given some effective tips and tricks that you can follow to have a beautiful look. So, stay tuned and keep reading.
8 Tips to Look Stunning In A Video Call
Are you in hurry?
If so, you can watch this short video tutorial as well and bookmark this page to read whenever you have time.
This guide is all about how to look and feel great on camera for your video call. Let's read them out.
Choose Right Dress For The Camera
Selecting the right dress for the camera is another significant thing that influences the look of your camera for video calls.
Always go for a dress with natural and cool shades of blue or green that give an attractive look on a computer screen.
You can also choose a very bright color like red or neon to have a legitimate and clear look on the video call.
Stay away from wearing dresses in a color that is similar to your skin and the background so as not to get a weird look. In addition, if it is possible then try not to wear shiny or loud jewelry that will cause noise on camera.
Also, you can apply some of the tips to making webcam videos look good for a better experience.
A Laptop With High-Resolution Webcam
First thing first. To give you the best look on a video call, a webcam plays a vital role that nobody can ignore.
There are numerous Laptops, but all don't come with a high-resolution webcam.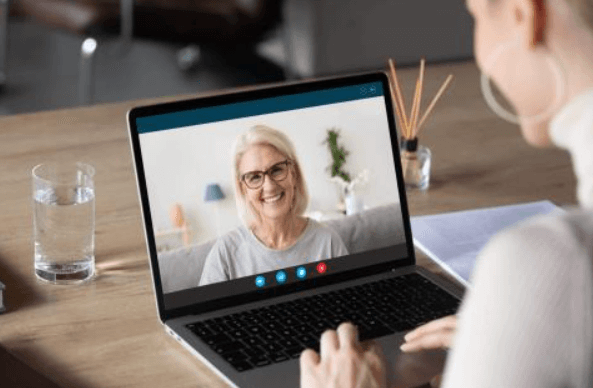 You'll find many laptops on that market that hold a VGA webcam that won't give you the best look anyhow. On the other hand, some laptops come with a 1080p resolution webcam that will ensure you are looking stunning on a video call.
That's why we recommend checking the webcam quality of a laptop if you would use it for video calls mainly.
Here are some of the best laptops for zoom meetings with high-resolution webcams.
Natural light also impacts the look of your video call. Always set the laptop during the video call in a place where you'll get natural light and ensure that light is coming from behind the laptop.
If your house is in a shadowy place where you won't have sufficient natural light, you can use a desktop lamp that will increase the brightness and turn your face more eye-catching on a video call.
One thing you have to remember is that, don't set the lamp straight to your mouth, which can create a yellow cast that can be very unflattering.
Don't waste time taking heavy makeup before attending a Zoom call.
You can apply light makeup that will help you maintain your appearance and grow confidence as well.
Our best makeup tip is oil. You can have a bright and innocent look with facial oil.
Oils are super moistening and wholesome which will do highlights for your skin during the stresses of a certain period. Besides that, Oil gives your skin a lift that makes you look better on camera.
Pick a Spacious and Tidy Room
We usually suggest arranging your video call meeting in a large living room or the largest room in your house as those rooms tend to have natural light.
So, you'll look better and brighter on a video call.
Other than that, make sure that the room you have chosen to host a video call is neat and clean that also influences the look of your video call as well.
Never host a video call with a messy background that will create a bad impression on your professionalism.
You may not have the time before attending a Zoom meeting.
In that case, you can apply filters as widely used video calling comes with lots of filter options. From there choose one that will give you a better and smoother look.
The filter you'll find on the setting options name "Touch Up My Appearance" of the Zoom. The filters hold smoothing effects and blur over imperfections.
It is true that on video calls or Zoom meetings, other participants will see your top part of the body, but still, you have to be aware of your body language.
Your body language shows how confident you are and how you'll look as well.
Sit up straight on your chair and keep your feet on the ground. Look at the camera straightly to ensure good eye contact.
Besides, pay close attention to your video call settings and facial expression as well which will help you look good on a video call.
Remember the last thing, don't check your lips, hair, or other parts of the body while you are already on a video call.
This is a fact that no one can deny.
Confidence plays a significant role in how you'll look on a video call.
If you don't have enough confidence, you will look nervous.
Suppose, you have a brighter room, the best device, and likable clothes, but lack confidence. Can you imagine what you'll look like then?
That's why before attending or hosting a Zoom meeting, pay attention to increasing your confidence level first.
That's something that can give a better look and will also create a positive impression on your professional life.
Final Thought
So this was our guideline on how to look stunning in a video call. We have given 8 effective tips that you can apply before hosting or attending a video call.
To get the best look, you have to choose the best laptop with a quality webcam which is the initial thing. After that, make sure you have placed the laptop in sufficient natural light.
Best outfit, spacious room with a tidy environment, and lastly self-confidence will give you the best look in a video call.