Installing a security system to protect your home from burglars can easily be accomplished by smart security cameras such as Blink Camera in your home.
However, if you need to access your camera from anywhere, it's very crucial you know if it's compatible with Google Home.
Blink doesn't work with Google Home natively. As it's an Amazon product so it's only compatible with Alexa and other Echo devices. But! we can still integrate Blink with Google Home via third-party services like IFTTT and Zapier.
We'll go through a step-by-step procedure (with screenshots) to integrate Blink with Google Home.
How to use IFTTT to connect Blink with Google Home?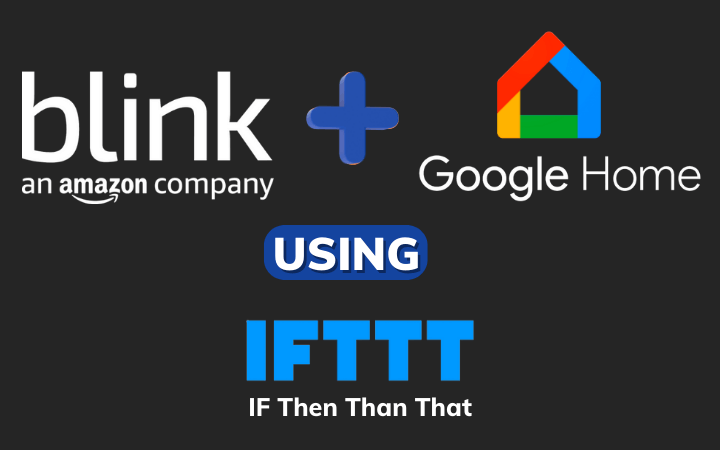 IF This Than That, normally denoted as IFTTT, refers to one of the web-based services.
This service allows users to create conditions triggered by specific changes occurring from other web services such as Gmail, Instagram, Facebook, and much more.
Blink users can automate access to many web-based services including Google Home once they connect to IFTTT.
Although it may sound complicated, connecting Blink smart device to Google Home is easier than expected.
Let's now discuss how you can connect Blink security cameras with Google Home using the IFTTT service in only three steps:
Step #1: Authenticate Blink And Google Assistant
The first step is to authenticate Blink and Google Home with IFTTT app in order to set up the automation.
For Authenticating Blink With IFTTT:
Download and Install IFTTT – automation & workflow smartphone app from the play store: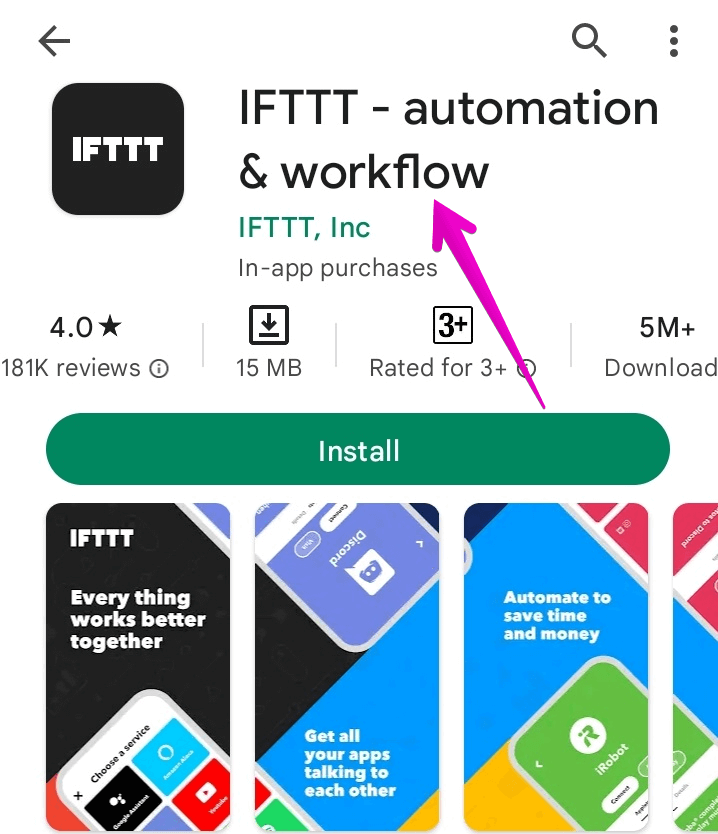 After successfully installation, open the app
When you tap Continue, you will have to choose the sign-up option: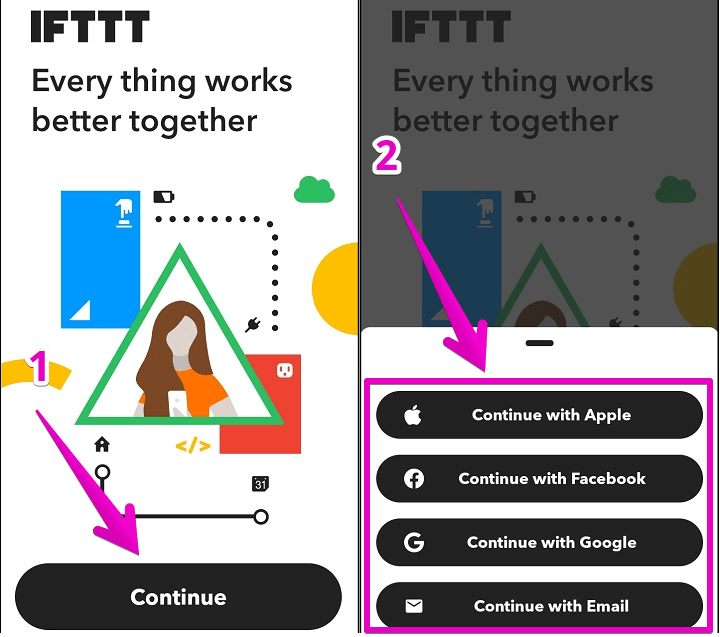 Complete the registration process
Navigate to Explore tab and search for Blink: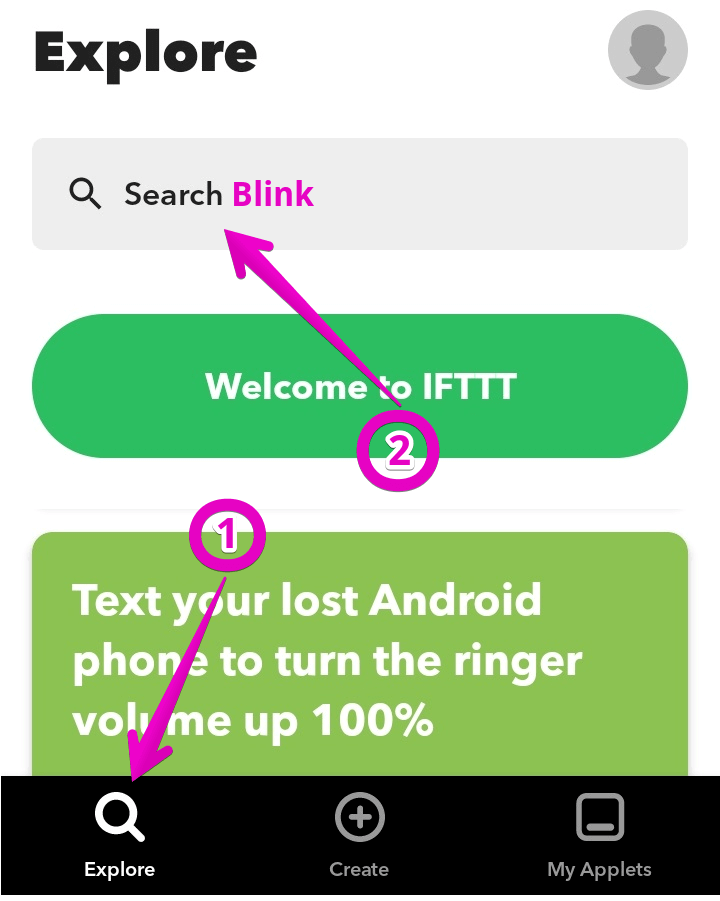 Choose Blink from search results: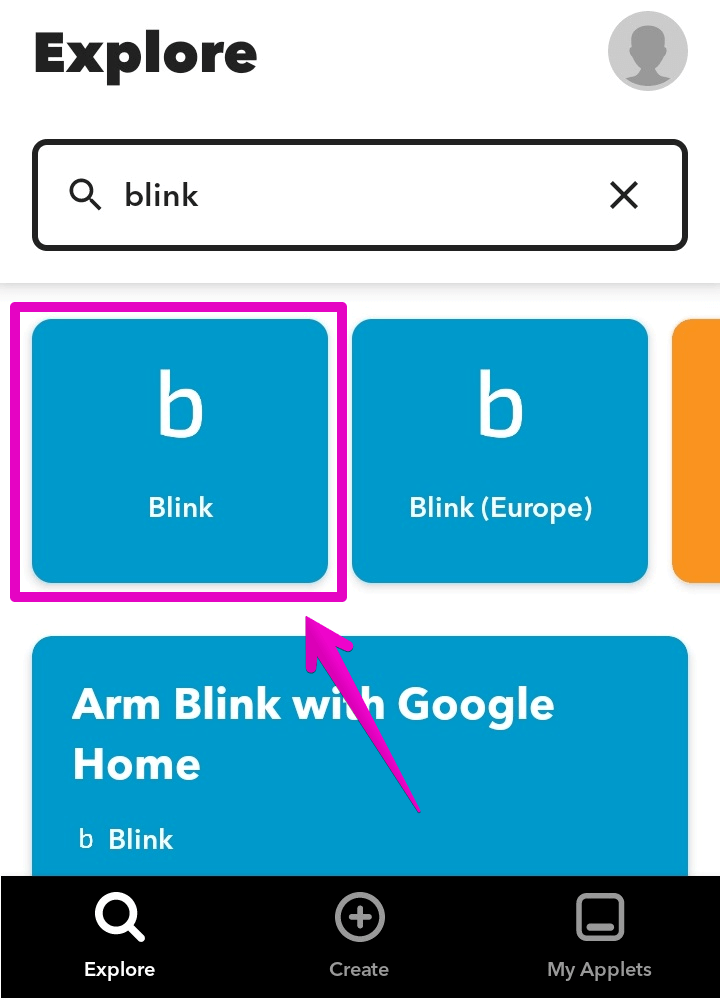 Now, tap on Connect option: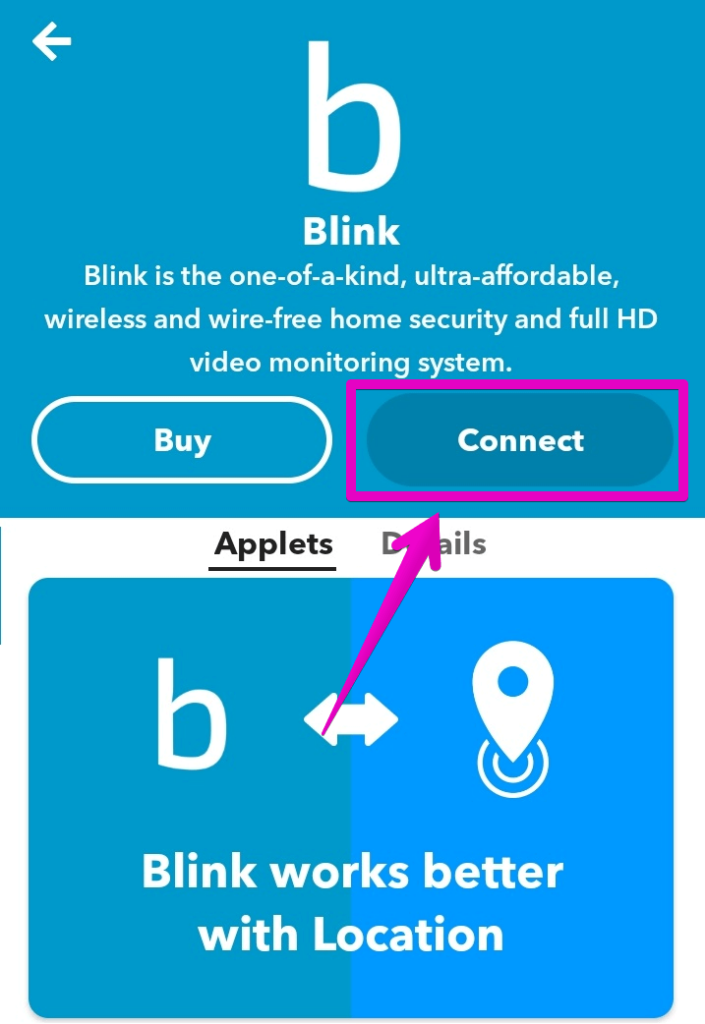 Here, you have to sign in to your blink account and complete this procedure: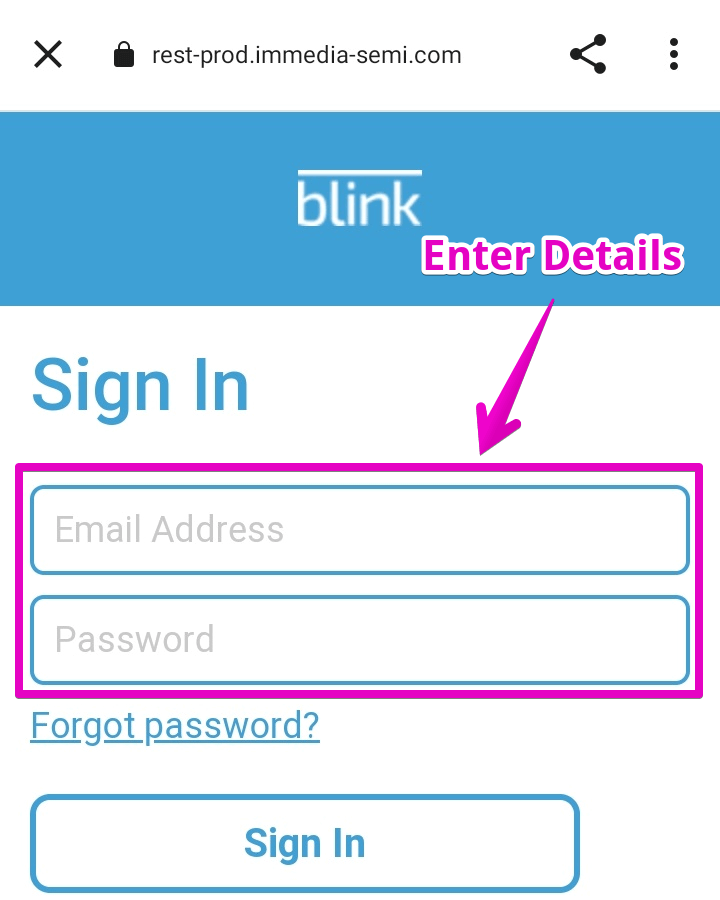 Then, you'll receive a PIN to your mobile number or email address: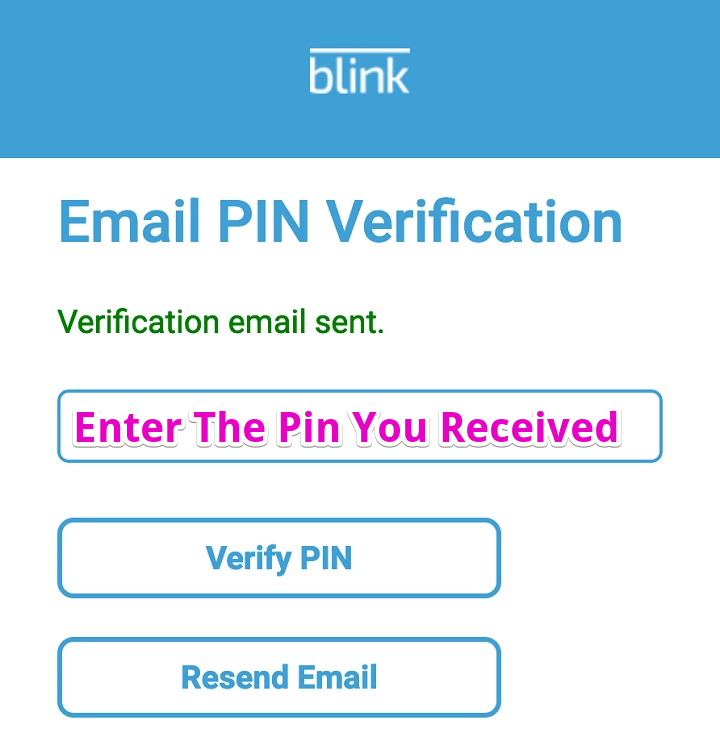 After, tap on Grant Access: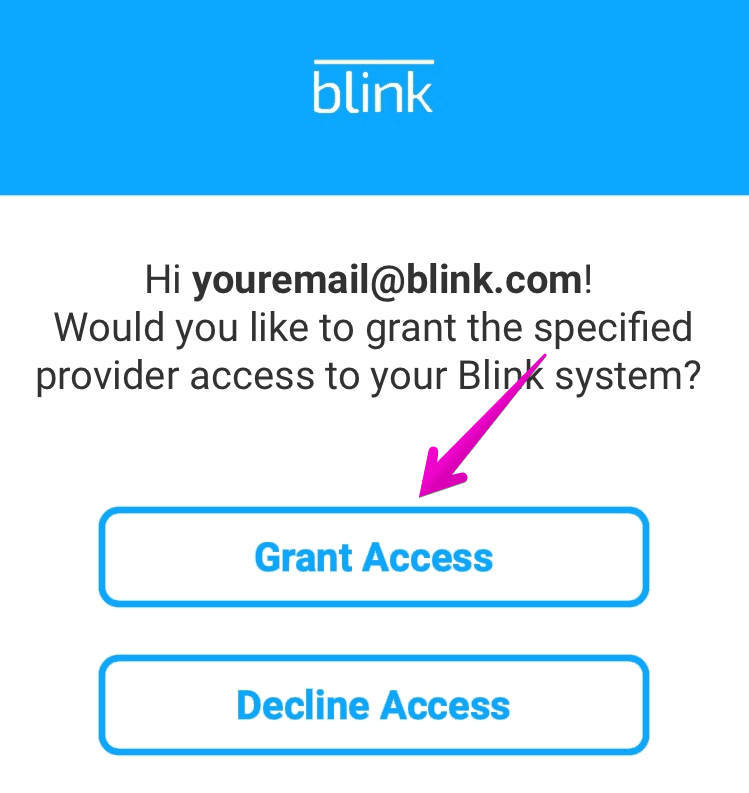 So far, we have successfully authenticated Blink smart device with the IFTTT service.
For Authenticating Google Home With IFTTT:
Now, we'll go ahead and authenticate Google Assistant.
Go to Explore tab again and search for Google Assistant this time
Choose Google Assistant from the results: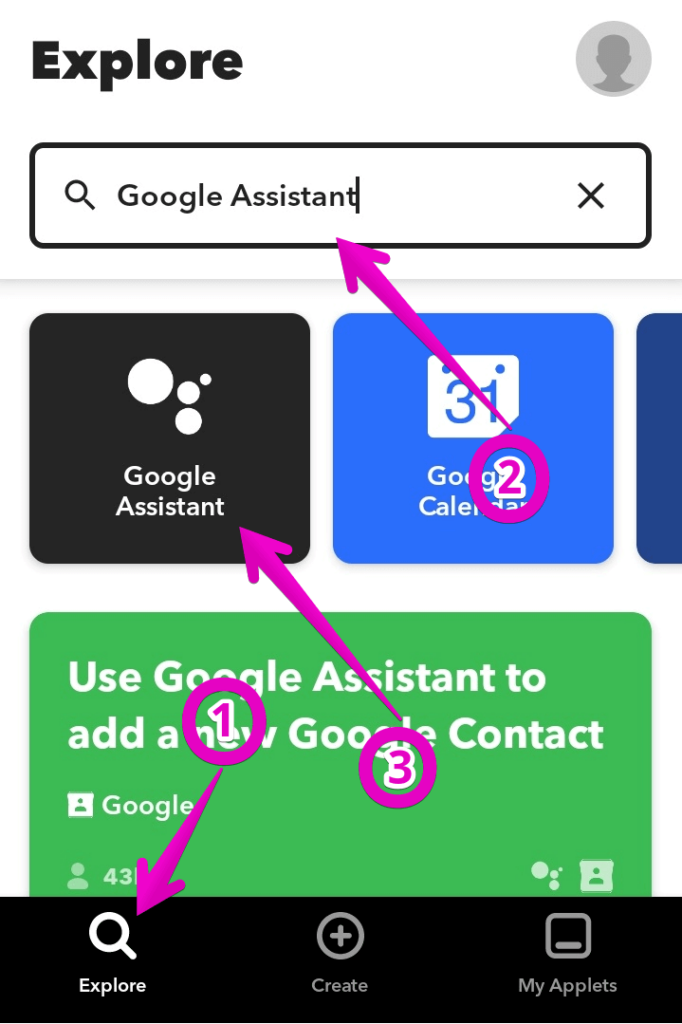 Now, Tap on Connect again: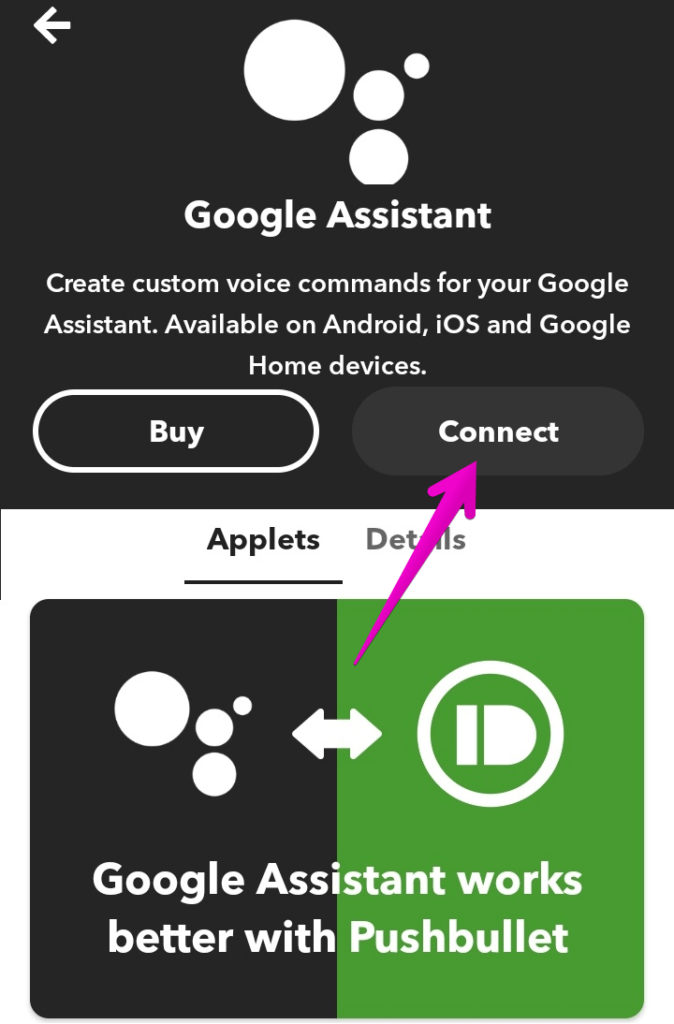 Here, choose the google account that's associated with Google Home: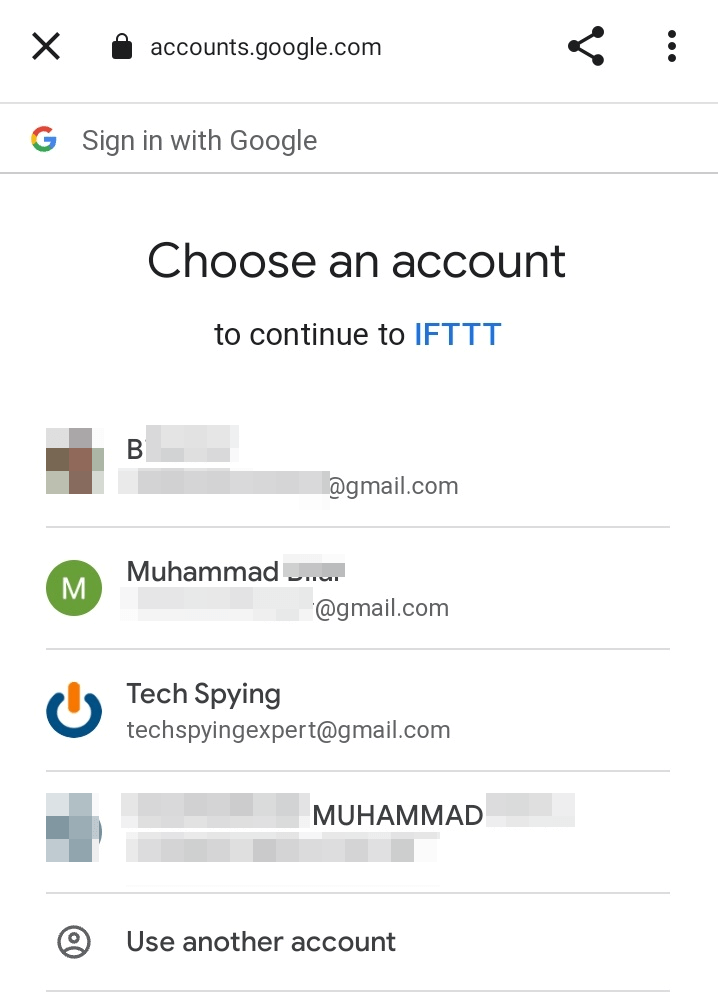 Step #2: Create Triggers And Actions
The process of authenticating the Blink security system with Google Home using IFTTT is finished.
The next step is to set up triggers and actions so that we can control Blink cameras using Google Home.
Navigate to the Create tab: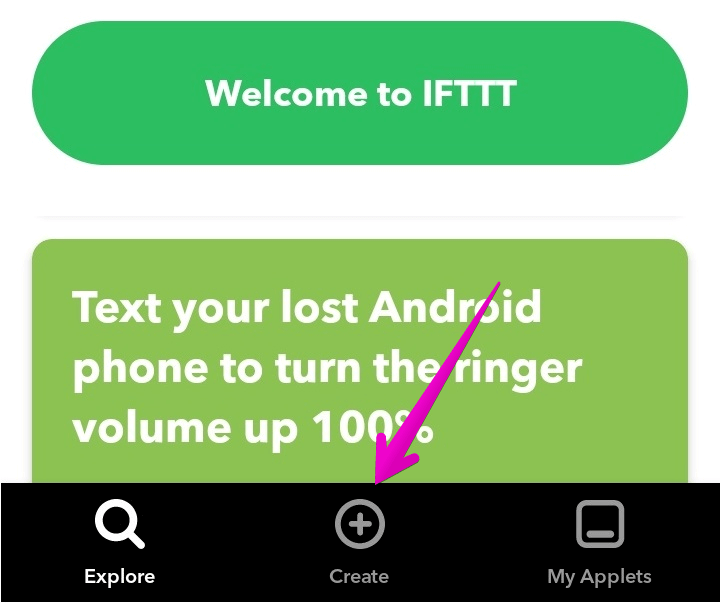 Tap on If This followed by Add: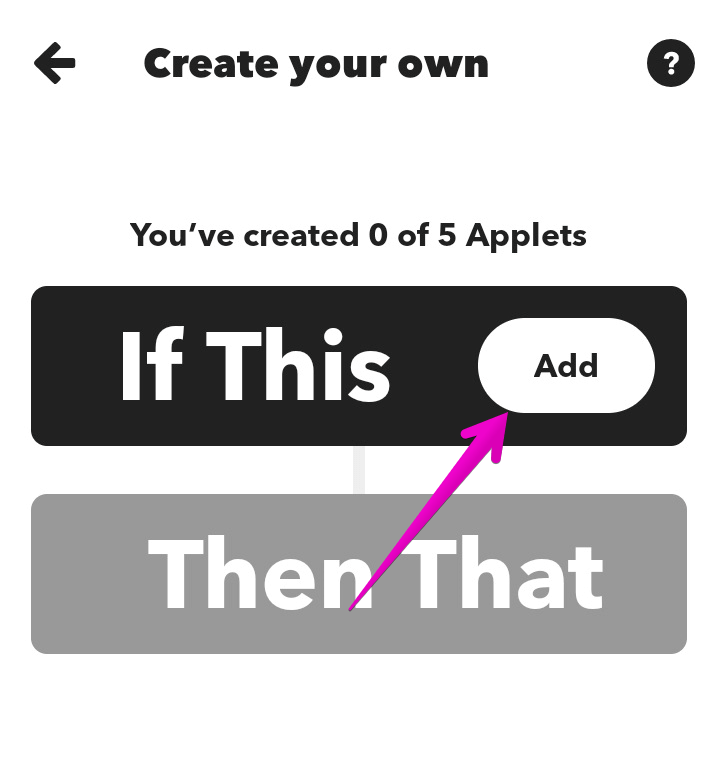 Here, search Google Assistant and choose it from the search results: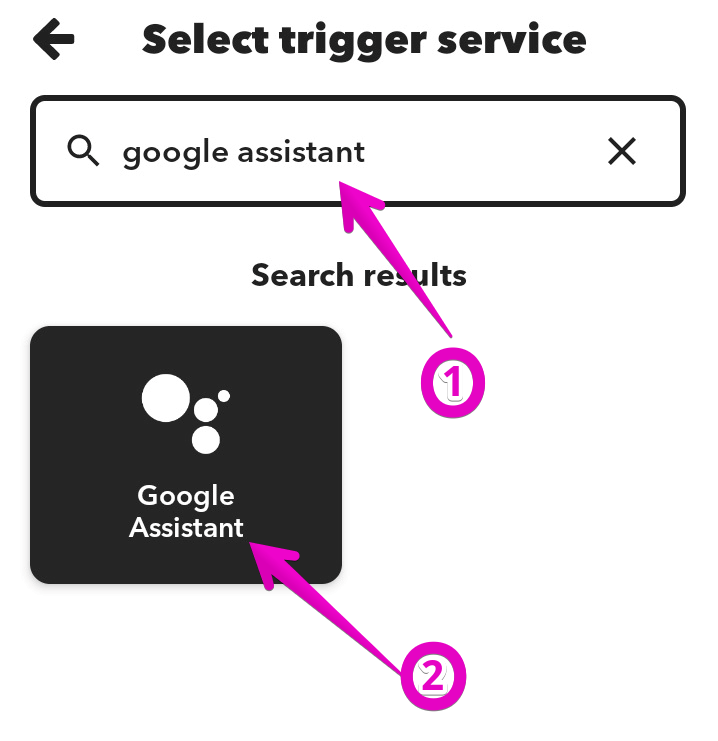 Now, you can select the phrase options according to your liking and fill in the details accordingly and tap Continue: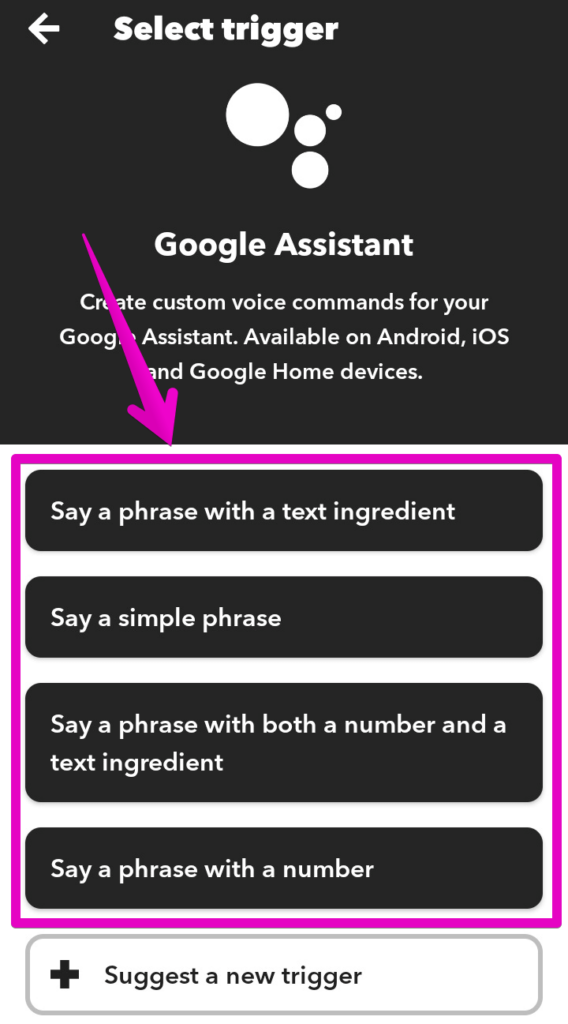 After that, tap Then That followed by Add: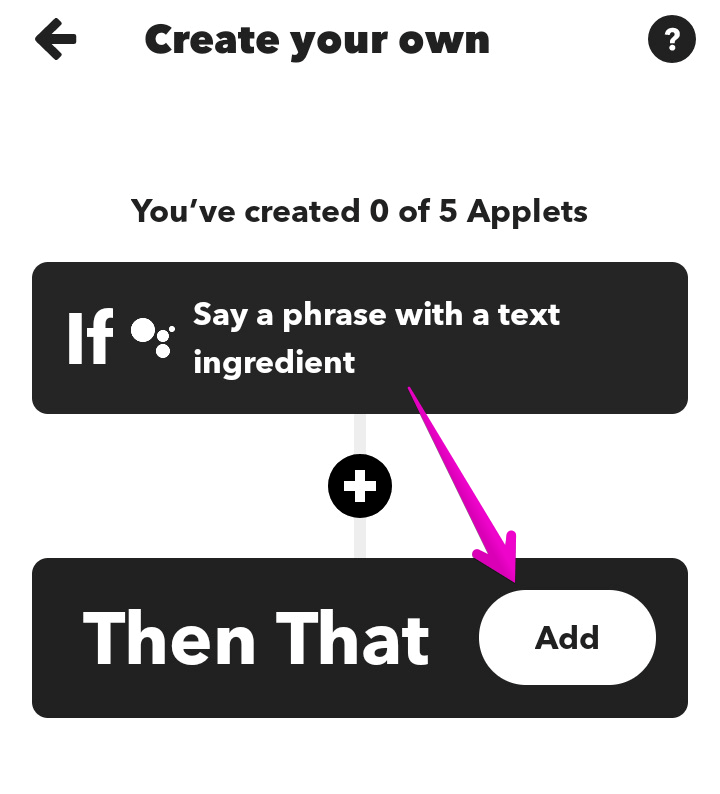 Now, search for Blink and select it from the search results.
Here, select an action to occur, for instance, disarm or arm the system: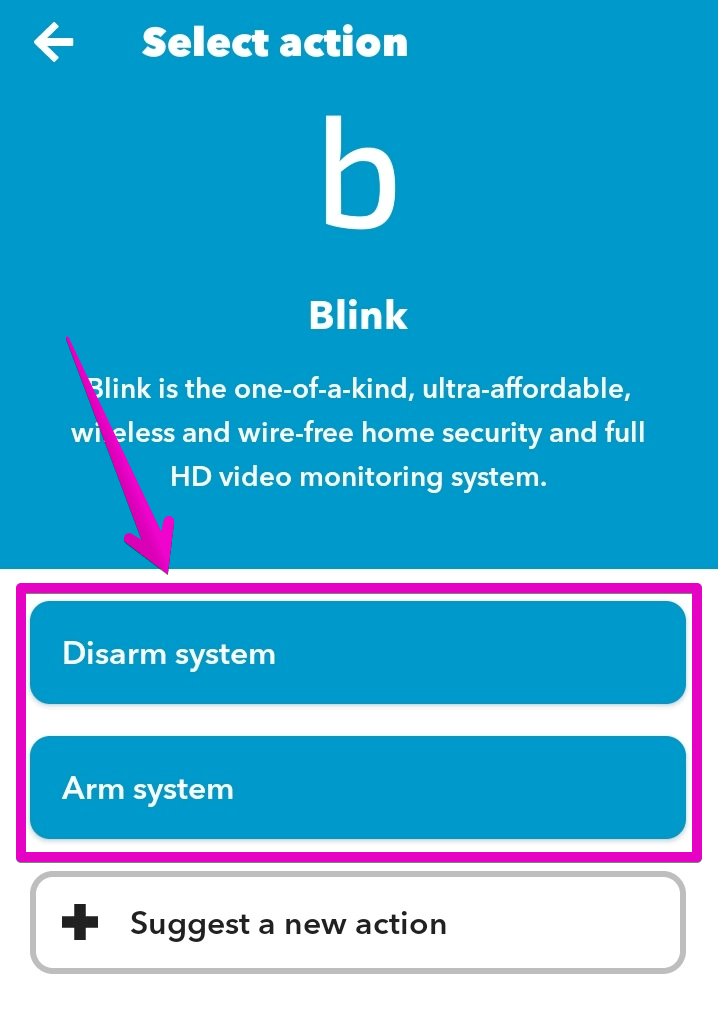 You can also create a new action.
Now, we have finished configuring the applet.
Step #3: Control Blink Camera With Google Home
Finally, we have done a connection between both devices Blink and Google Home using the IFTTT service.
Now, you're ready to use blink camera and Google Home together and automate the workflow of your smart home.
The Blink system can be armed or disarmed directly from Google Home when you're away (or any other condition you set up).
Triggers and actions are the only things that IFTTT works with.
In IFTTT, different kinds of triggers can be set (which you configured earlier), but the Blink system can only be armed or disarmed.
You just have to trigger the device by saying the phrase (you set up earlier like What's up Google) and the action (arm or disarm) will be performed accordingly.
As you noticed, several commands can be set, but a limited number of actions can be performed.
But! If you want more control (action), consider using Amazon Alexa because Blink's cameras work with Alexa.
How does the IFTTT work?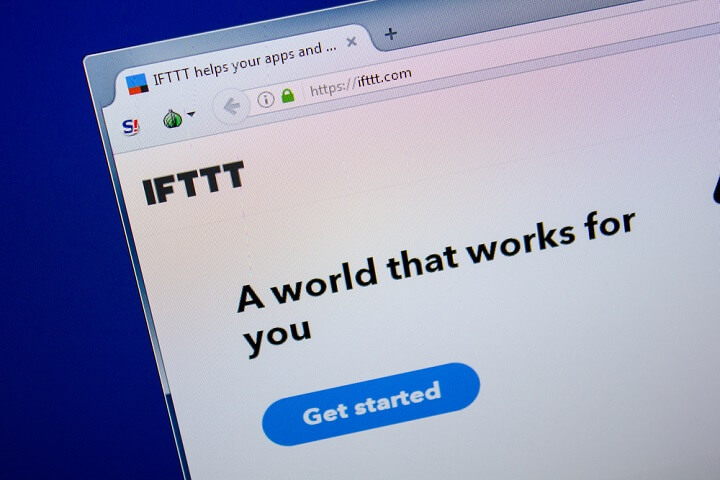 IFTTT is the best online service for setting up automation between smart devices that do not offer native integration with each other, like using Blink with Google Home in this case.
Actually, we create applets which are the automation that controls other smart devices for you in the background.
The IFTTT service is especially useful for smart home integration as we can easily integrate multiple devices to automate our houses.
As an example, you can set Blink cameras to arm or disarm automatically when you leave the house or arrive.
There are thousands of applets you can create to make your life more dynamic and easy.
In Addition, you can create your own too.
Not only it's a very useful tool in home automation but also social media marketers use this web service to make their tasks easier.
Note: More than 650 brand services and platforms are compatible with IFTTT web-based service. To access a complete list of IFTTT services, you can check out the services page of the IFTTT website.
Zapier is one of the best freemium web services just like IFTTT to automate your tasks.
Moreover, we can also use the Zapier service, instead of IFTTT, to connect Blink cameras with Google Home.
The procedure is pretty much simple and easy.
Why Do Blink Cameras Not Work With Google Home?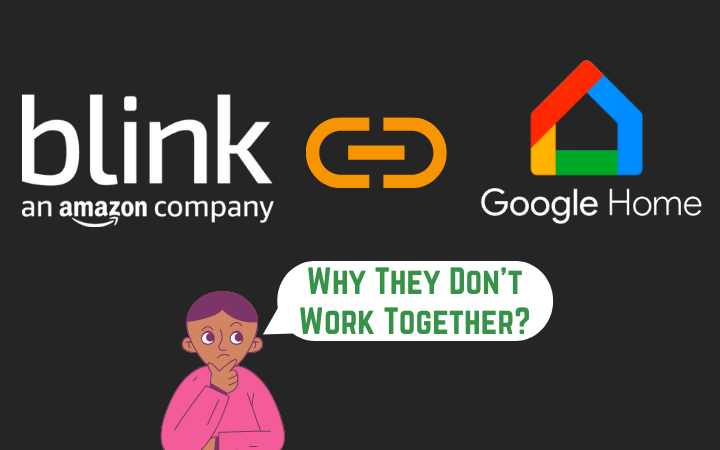 Amazon owns blink cameras; hence they are only built to be controlled with their respective Al voice assistant Alexa and not to work with Google Home, which is a Google product.
Therefore, Blink cameras do not work with Google Home.
Besides, Google is a competitor to Amazon; therefore, they offer their lines of cameras, such as Nest Cam and Google Nest Home IQ.
And, they are compatible with Google Home and Nest hub too.
To take full advantage of Blink devices, you should integrate them with Alexa smart device.
To do that, install Blink SmartHome from the Alexa skill.
You can then activate the Blink devices using various voice commands.
In addition to the voice commands, the Alexa devices with a screen such as Echo Show usually display Blink Footage on the Live view feature.
Note: Although Google Home is not compatible with Blink, it can work with other smart camera devices like Ring and Arlo.
Although Blink can be integrated with Google Home indirectly, its functionality is somewhat limited.
Therefore, you should use Alexa to have more control over your smart camera as Blink cameras work perfectly with it and provide you with an enhanced experience.
Controlling Blink Cameras with SmartThings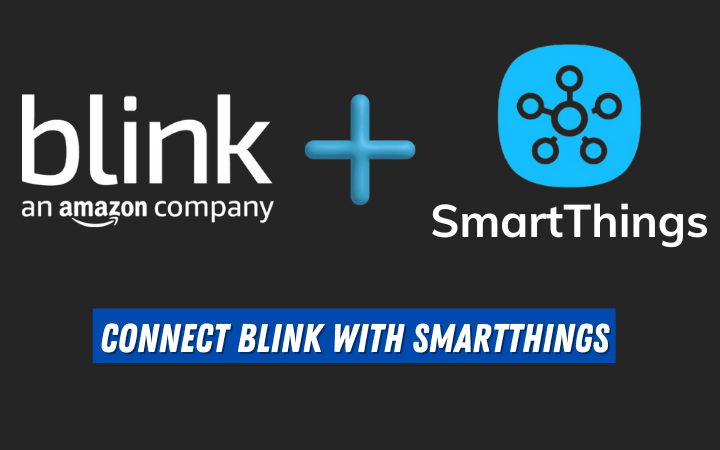 SmartThings app by Samsung can be used to arm and disarm the Blink's cameras too.
But! integration with IFTTT is a requirement.
Once integrated, you'll have more automation and workflow options.
The SmartThings app is an excellent choice since it is also compatible with Android and iOS devices.
It also supports many smart devices including Blink which makes it an appropriate alternative to integrating Blink devices.
Blink Camera is compatible with what smart cameras Devices?
Some of the Amazon's smart camera devices that Blink is compatible with include the Echo Dot and Echo Show.
For Echo Show, one can watch explicit live feeds of your home from any place in your home.
Besides, you can also opt to use Blink's two-way communication feature.
It runs on the phone to connect with either Echo Show or Echo Dot.
Being an Amazon product, blink provides a more enhanced experience with Amazon smart devices.
What smart cameras Work with Google Home?
In terms of smart home integration, Google Home is one of the devices we think of. That's true because we can connect a number of smart devices with it.
As Blink does not natively compatible with Google Assistant, so you can try out alternative cameras.
Several smart security cameras, from several well-known brands, natively work with Google Home.
They come with various functionalities to take your home security to the advanced level.
Instead of Blink cameras, you can check out the following security cameras that work with Google Home hub natively and provides more functionality as well.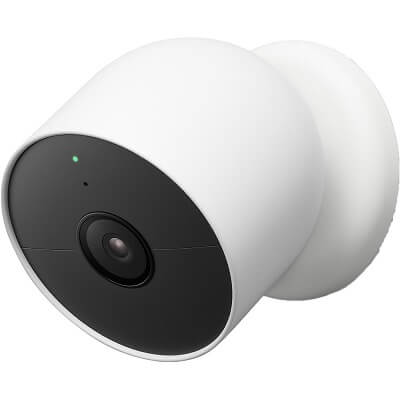 Google Nest Cam, by Google, is one of the best deals in terms of the best security cameras for homes.
You can easily integrate it with Google Assistant. Moreover, you can also control it using the Google Nest hub easily.
You can keep an eye on your home from anywhere in the world. You can speak to someone in your home with the Nest Cam and see what they're doing.
It also includes two-way audio giving you the ability to communicate with people inside of your home.
It ranked higher in the market based on its ability to remember faces, thus heightening the security of your home.
Moreover, it includes an HD 1080p wide-angle lens.
Google Nest Home IQ is an improved version of this product that provides more features, but Google discontinued it due to the new and enhanced Nest cameras series.
All in all, Google Home Nest is the best home security camera on the market right now.
Below are some of the highlights:
Face recognition and motion detection system with high intelligence
Be notified when suspicious activity is spotted on the camera
Interacting with another person is easier with the two-way talk
Suitable for both indoors and outdoors
Highlight particular areas and receive alerts when something happens there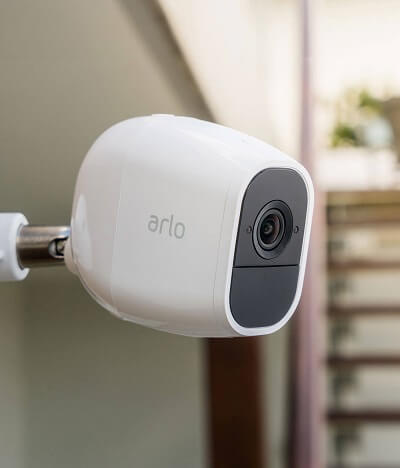 In the last few years, Arlo has stood out in the market as the best brand of camera for home security.
There are a number of Arlo cameras available (with different features) including the Arlo Pro series, Arlo Ultra, Arlo Baby, etc.
These features include viewing your camera feed from Google Nest Hub or any app of your choice from your smartphone.
It's compatible with Google Home devices too. Moreover, the Arlo security cameras can be used both indoors and outdoors.
Arlo also works perfectly with Google Nest Hub, just like Google Nest Cam. So, you have more control over your security camera.
Check out some of the cool features of the Arlo Camera:
It can Detect Objects (whether it's a parcel, person, or vehicle)
Specify a particular area for which you wish to receive alerts
One tap to contact the police or medical responders
Video history lasts for 30 days – that's enough
Top-notch camera quality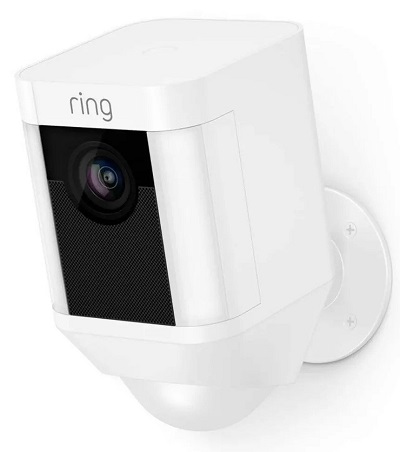 The ring is another excellent choice when it comes to house security cameras.
This camera has a wide lens view and a dual-purpose doorbell function.
They are also installed with a doorbell ring that notifies the user when a package has arrived, or someone is trying to break in.
Ring cameras also allow users to speak to the person at the door which is a time-saving feature.
In addition, they're compatible with Google Home.
Ring is one of the best alternative cameras to Blink with more controls.
Check some of the features of this amazing camera:
Can record 1080p High-Quality live feed
Offers two-way talk
Set up alerts easily
Offers Extended Warranty too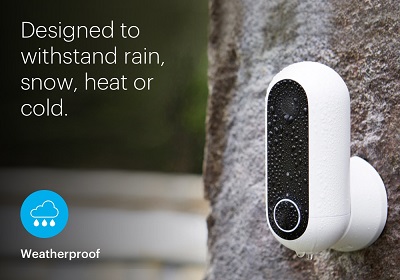 Canary Flex is another Google Home compatible security camera on this list. It's lightweight and can be mounted anywhere easily.
It is equipped with an HD camera so you can always get crystal clear video no matter where you are.
With this weatherproof camera, you can keep an eye on your home outside without any worries.
In comparison to Blink's cameras, it can be the best alternative with more features.
The camera has a number of notable features, including:
Rechargeable battery with extended life (6700 mah)
Night vision HD video recording
Intelligent person detection using AI
Offers a two-way talk facility
Supports Dual-band Wi-Fi feature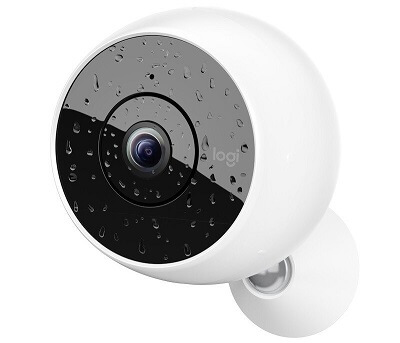 It's no secret that Logitech is one of the best technology brands in the world.
Logitech Circle 2 security camera is one of the products offered by this company in addition to its other tech products.
Not only it's compatible with Google Home Assistant, but it also offers a 1080p HD camera to record high-quality videos.
As with other cameras, it also supports two-way communication. Also, integration with Google Home devices is easy as well.
Some of the highlights are:
Supports integration with Google Assistant and Alexa
Person and motion detection
Easily set up alters
Amazing 180° field view
Frequently Asked Questions
Do blink cameras work with google home?
Blink cameras do not work with Google home hub since they're certified by Amazon and compatible with Alexa only. But, we can use the IFTTT service to work Blink cameras and Google Home together.
Can The Blink Camera Work With Nest?
Unfortunately, Blink only supports Amazon Alexa; therefore, if you want to use it with Google Nest, you must use a third-party service such as IFTTT and Zapier to connect these devices together.
Do You Have To Pay A Monthly Fee To Use Blink?
By default, Blink does not charge its users a monthly fee. However, they offer an optional premium subscription service with a cost of $3 a month or $30 a year. This package includes unlimited cloud video storage and recording features, etc.
What home security cameras does blink offer?
Home security cameras offered by Blink include Blink mini, Blink indoor camera, and Blink outdoor camera. By using these cameras, you can enhance the security of your home and monitor what's happening.
Can I access the Blink system from my computer?
Currently, you can't access Blink from your computer. However, you can install an android emulator on your PC and then, install the Blink home monitor app. This is the only way for now.
Can the Blink Camera detect motion through glass or window?
Not all Blink Cameras are able to detect motion through the glass or window. Still, the Blink mini is capable of detecting as it uses pixel difference analysis instead of the IR heat signature.
How long do blink camera batteries last?
2-year battery life is claimed by Blink for the Mini, Indoor, and Outdoor cameras. You can, however, make it last longer if you follow the company's guidelines.
The Bottom Line
We used the IFTTT service to connect Blink with Google Home but the functionality is limited.
So, it's always suggested to do native integration of these devices with their supported voice assistants to take full advantage, like Alexa in this case instead of Google Assistant.
On the other hand, when using a Blink Camera, you will never go wrong with Amazon's Alexa smart device, which offers users all the control they need for their security system.
Several other smart security cameras are available, so you can choose another one if you wish.
Remember, whichever camera you choose for home security, the core feature is how it integrates with your existing smart home systems and the functions your device provides.
However, if you're looking for the most favorable or interactable brands, it's advisable you go for the Google Nest series since they're fully compatible with Google Home devices.
So, did you get the answer of "Does blink work with Google Home?"?
If so, share it with others too so that they can also use this technique to automate their tasks using voice commands.