Everyone owns a smartphone and we connect many different networks in home, school, work, coffee shops, friends, and family houses. When we connect to WiFi, our phone saved that password. So, what if you forgot the password of any network? Maybe you want to connect that network on another device. So, I will guide you that how to find wifi password on phone when connected.
Luckily, there are a number of ways to find the connected WiFi password in some simple steps. If you use Windows 10 and want to view saved WiFi password on Windows 10 then I have written an article on it as well. Now, make sure to read this article till the end in order to understand the full method that how to find WiFi password on phone when connected.
How To Find WiFi Password on Phone When Connected
Here, we will discuss different methods that how to find WiFi password on phone when connected. You have to read all the methods so that you better understand. So, let's start our today's topic.
Methods to find WiFi Password When Connected
Basically, there are two kinds of devices to find the connected WiFi password:
Rooted Devices
Non-Rooted Devices
1) Rooted Devices
If your smartphone is rooted then, it is very easy to find the connected WiFi password without much struggle. We will
discuss this method as well to view the connected WiFi password
. If you don't know about root then, I have written a brief article on
rooted devices, its pros, and cons
and you can read it.
2) Non-Rooted Devices
On the other hand, if your smartphone is not rooted, you can still find the connected WiFi password but there are certain conditions. You have to fulfill these conditions in order to do that. There are only limited methods to find the WiFi password if your phone is not rooted. The conditions are given below: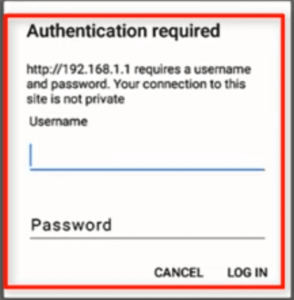 You must connect to that WiFi network, you want to find the password
The WiFi network whose password is to be found must not have an admin password in their webpage like below:
If you can fulfill these requirements then you can find the WiFi password on the phone when connected otherwise you have to root your android smartphone since it does not contain any conditions.
Method 1: Without Root
Now, let's discuss the first method to find the connected WiFi password if your smartphone is not rooted. Follow the given procedure carefully:
     1) Go to your smartphone Settings > WiFi > tap on connected WiFi
     2) You will find go to webpage option with IP address like below: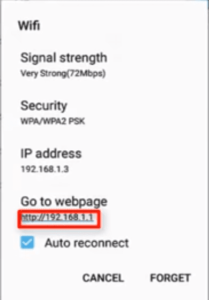 3) Suppose, if you don't find this option (go to webpage) simply download and install the 
Router setup page
and open it. Now, click on
Open Router Page
, the webpage will automatically open.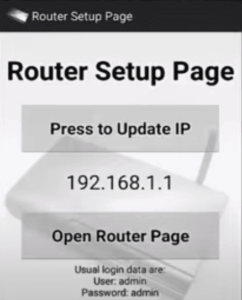 5) Now, it will ask for authentication required (username and password). Note that if the router admin did not set username and password then this option will not appear.
     6) But if you see this box then, simply type admin in both fields (username and password) because the normal username and password are admin and tap on login.
Note: If an admin sets another password instead of admin then you can not find the password of that WiFi without root. In that case, you have to root your smartphone.
     7) When you tap login, a router page will appear and you will see WiFi Network Name and Password.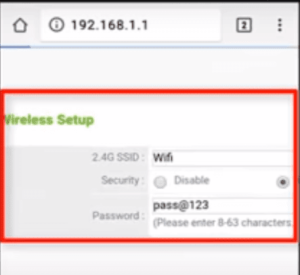 9) It is important to note that every router has it's own different webpage so you have to find the wireless setup option.
     8) That is how you can see the wifi password if your phone is not rooted.
Method 2: On Rooted Devices
If the above method is working for you then it's ok but if you are unable to find a connected WiFi password using that method then, you can follow this method but again your smartphone must be rooted. On rooted devices, you don't need to do much hard work to find a password since you can do this in a couple of steps. Even you can view the WiFi passwords of all the networks you connected in the past.
Now, you have to follow the given procedure to find the connected WiFi password:
     1) First, you have to download and install
ES File Explorer
app on your smartphone.
     2) Open this app and turn on the Root Explorer option from the sidebar menu.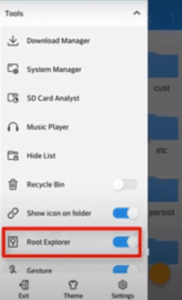 Note: Your mobile phone must be rooted in order to activate this feature (Root Explorer).
     3) Now, go to Device > Data > Misc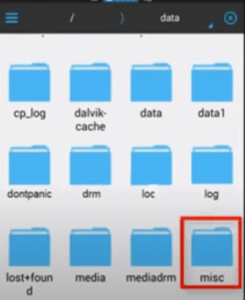 4) Now, tap on wpa_suppicant.conf and choose HTML Viewer
     5) An HTML page will open, here you will see an SSID and PSK mean password of your WiFi password.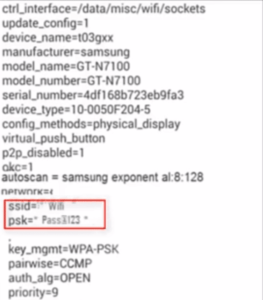 6) This is the easiest method to find the connected WiFi password.
Image Credit: The images used in this post are taken from catchhow site. The article is written in the Hindi language and I have written in English in my own words not copy-pasted or translated.
Conclusion
I hope you have understood the whole procedure to find the connected WiFi password. Now next time, you can easily share the password with your friends even if you have forgotten. Since we connect WiFi everyday and password is saved in our phone that's why do not take a headache to remember it and ultimately we forget that password.
Finding the connected WiFi password is not too much difficult as we think. Even a non-educated person can do this. So, if you find this article helpful then don't hesitate to share it with your friends or loved ones. You can also take a look at other articles to increase your knowledge about tech. That is all for today.