Thinking of taking a course on Blockchain and crypto? Then, you're in the right direction. One must know the basics of Blockchain and the technology behind it, and the concepts of smart contracts and decentralized applications.
There are several online courses regarding Blockchain and crypto. You can get a good understanding of the fundamentals by taking any of these courses. Also, you should also know about investing in Bitcoin, the leading cryptocurrency.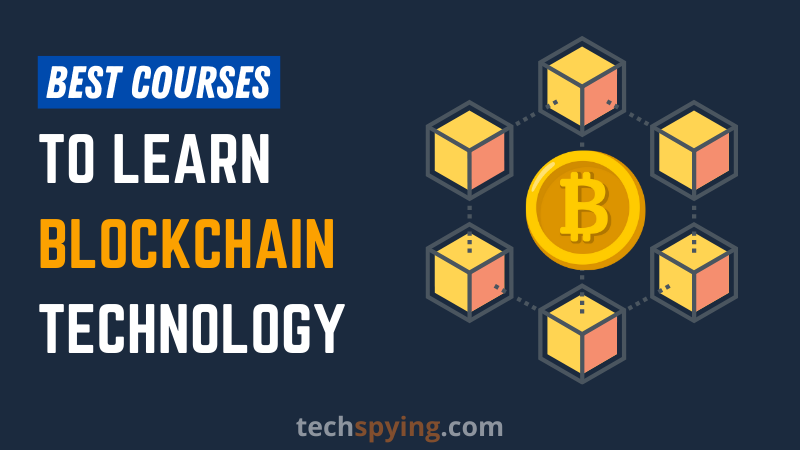 Decentralized and immutable blockchain technology offers potential solutions to data breaches and cyber security problems. This is the key to the new cyber security paradigm. Developers are able to create applications that enable communities to manage their own information, data, and digital assets by using Blockchain technology.
Therefore, you need to be familiar with the basics as well as the advanced aspects of this technology. And this is what these courses teach you.
Keep reading this article to learn more about the most valuable and demanding courses. So, let's get started.
Level: Beginners
Rating: 4.6
Duration: 14.5 hours (Approx.)
If you're interested in learning about Blockchain and crypto, you should check out Udemy's Blockchain A-Z course. Students who are new to blockchain development may find this course to be a good choice since it only requires basic python programming skills. 
Throughout this course, you will learn how to build a blockchain, create a cryptocurrency, and create smart contracts.
Also Read: What Is Crypto Art, And How Does It Work? Ultimate Guide
Furthermore, you'll be taught how to use the Blockchain to establish trust and conduct transactions.
The course consists of lecture videos, projects, practice sets, and other resources. This course is a great choice for people who are just trying to get started with technology.
Level: Beginner
Rating: 4.7
Duration: 10 hours (Approx.)
The course will provide you with a brief introduction to advanced blockchain technology, regardless of your prior development experience. It'll also teach you about the philosophy behind decentralization.
This course consists of 5 modules, the first 3 modules introducing the blockchain and the technology behind it. The next module teaches you about what Ethereum is and how it can be used to introduce blockchain technology.
Also Read: Crypto Mining: Cryptocurrencies Mining Explained Analysis
In the final module, you will learn various use cases, such as self-sovereign identity and reputation, and ownership and governance.
Along with the video lectures, you're provided reading materials as well. Quizzes are taken at the end of every module to learn better. So, if you're interested in learning these aspects then, you must join this course.
Level: Intermediate
Duration: 3-5 hours/week (Approx. 6 weeks)
Price: Free (Optional upgrade)
UC Berkeley EdX online courses on Blockchain and cryptocurrency are perfect if you are interested in learning about the latest technology. From the basics of Bitcoin to enterprise-level implementations and industry applications, this course provides a broad introduction to the field.
The blockchain course provides a solid foundation for future learning and careers. To succeed in this field, you need a solid understanding of blockchain fundamentals, which this course provides.
Also Read: How To Avoid Bitcoin Scams? 3 Common Bitcoin Scams
This course will also cover Ethereum and other blockchain technologies, in addition to blockchain basics. Blockchain solutions used in real-life applications are also discussed in the course.
Additionally, this comprehensive program covers blockchain platforms for enterprise, smart contracts, and proof of work. Interested in the course? Go ahead and enroll free of cost.
Final Words
In order to learn the technicalities of Blockchains and crypto, you can choose any of the above courses. It shouldn't take you more than a few days to learn enough to start coding.
These courses will enable you to create distributed applications, such as blockchain-based platforms for tracking product life cycles.
If you're not sure where to start, you can check out tutorials on different training platforms. A special training course offered by 101 Blockchains Academy teaches the basics of Blockchain.
Did you learn something new? You can also share it with others so that they can benefit from it as well.