I want to record the screen without installing any recording software? Is this also true for you and you are seeking a free online screen recorder no download requirement?
You need screen recorders whether you want them to be used for marketing reasons or for training purposes.
If you don't use screen recorders often, installing heavy software isn't a good idea to record small clips.
Does that make sense?
You can instead use many free online screen recorders to fulfill your needs. Sounds Good!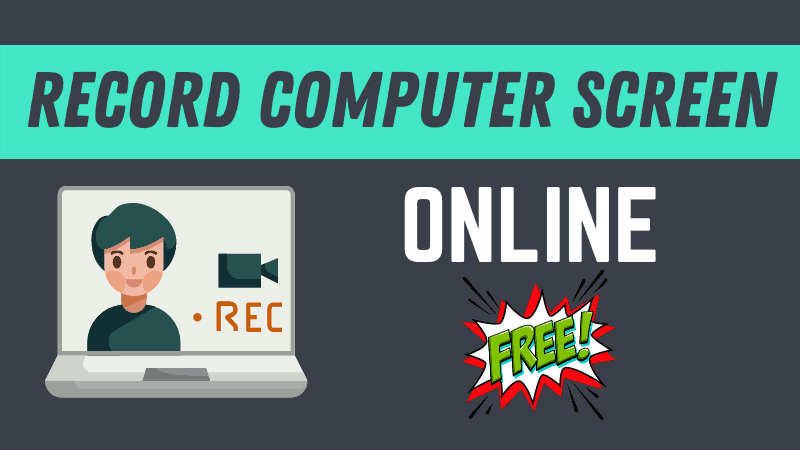 Nowadays, you don't even need to download external screen recording and editing software to capture your PC screen because there are many free online screen recorders.
In this article, I will share some of the best free online screen recorders for capturing your computer screen.
Free Online Screen Recorder No Download
Are curious to explore the list of best free online screen recorders?
My PC does not have a screen recorder installed instead, I use an online screen recorder.
Using an online screen recorder can make recording videos easier since we don't have to burden our PC with additional software.
So, let's start it out.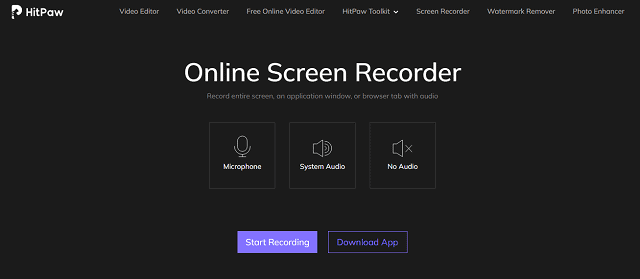 HitPaw Online Screen Recorder is a completely free online screen recorder no download and installation are required to take benefit of this awesome tool.
More importantly, it has no time limitations to record.  It allows you to record the entire screen, an application window, and a browser tab with or without audio. 
Moreover, you can edit your recorded video by cutting, changing speed, adding watermarks, merging, adding subtitles, reverse, looping, adding music, cropping and rotating, etc. 
Using this free online screen recorder to create videos is an easy task. You only need to visit https://www.hitpaw.com/online-screen-recorder.html. Select "Microphone", "System Audio" or "No Audio", click on the "Start Recording", pick "entire screen", "Window", and click on the "Share" button to start recording.
If it is ok, you can click on the "Stop Sharing", back to the HitPaw Online Screen Recorder home page, and click on the red button to stop recording.
If you need to edit the video, you can click on the "Cut Video" and you will be brought to the HitPaw Online Video Editor dashboard. If you do not need to edit it, just download it.
You can use this screen recorder without installation and capture your favorite moments. This is the best screen recorder online with no installation required.
Features:
Doesn't cost you even a penny i.e. it's completely free
There's no time limitation involved
Edit your recorded videos online (if the size is less than 20MB)
Can record macOS screen as well
AnyRec screen recorder releases a free online screen recorder for beginners. You can record screen video and audio to MP4 and WMV directly.
The intuitive interface and easy-to-use options can help you save a lot of time. There is no maximum time limit or watermark. So you don't need to spend extra money.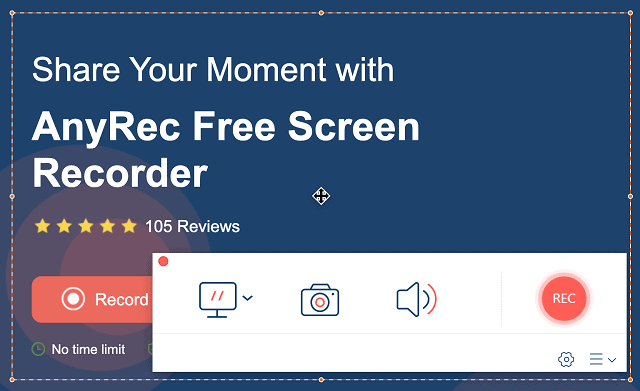 Just click the Record for Free option to access the free screen recorder. Select the screen recording area with your left-click mouse. Or you can unfold its list to choose from 1920 x 1080 (1080P), 1280 x 720 (720P), 854 x 480 (480P), 1024 x 768, 648 x 480, full screen, and select region.
The audio recording support is enabled by default. You can click the Audio icon to disable it if you want to record video only.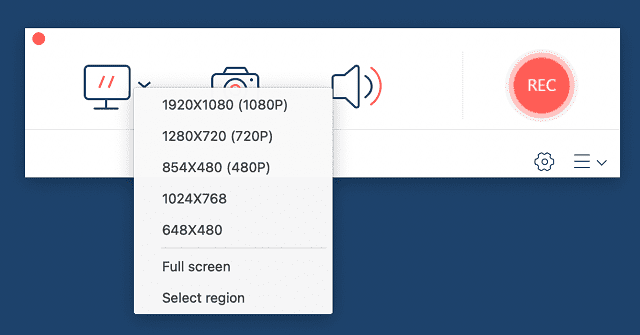 Before recording, you can click the bottom Settings icon to adjust output settings.
Here you can change the video format, codec, frame rate, quality, and path folder. Also, you can customize hotkeys to quickly control screen recording.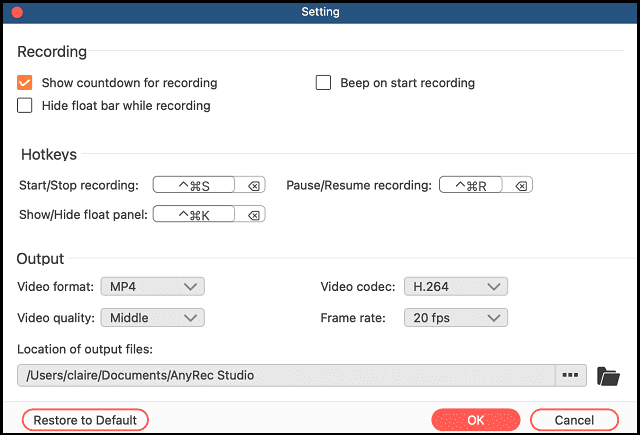 After those preparations, you can click REC to start recording with AnyRec free online screen recorder.
After a 3-second countdown, you can capture the computer screen freely. Here you can pause, resume, and stop recording video.
Once you finish recording, you can get your video recording in the Recording History drop-down list automatically.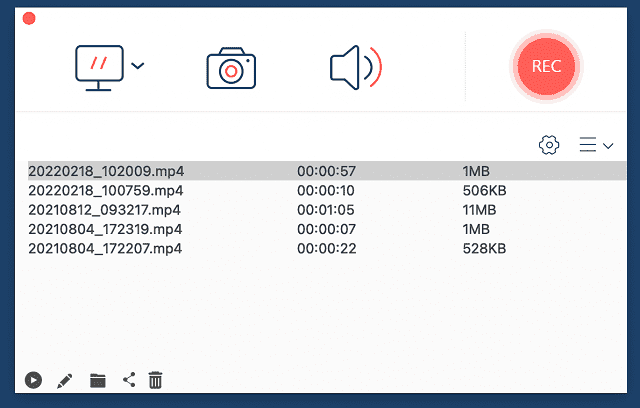 Well, you can run AnyRec free online screen recorder in many scenarios, including having online video chatting with strangers, making online business meetings, playing desktop games, and more.
You can record your daily life and share your moment with AnyRec all the time. It's also a free screen recorder no watermark is added.
Features:
Completely free to use online screen recorder
Record gameplay and webcam videos
Real-time drawing and annotation tools
No time limitation included i.e. record as much as you can

DemoAir is a best free screen recorder for Chrome extension with powerful video recording and sharing features for you to share daily video messages with ease.
Free to use, no need to download, no recording limitations, and no watermark in exported videos.
Whether it's a product demo, design feedback, or an online course, with the DemoAir screen recorder you can quickly record and share unlimited video messages.
There are 3 recording modes for your all recording needs. You can choose Desktop recording, Current Tab, or Webcam only recording mode.
For capturing your whole screen or a specific application, you can choose Desktop recording.
If you want your recording to focus on a specific browser tab such as a Google Slide presentation, Current Tab mode will be a good choice.
If you want to record a whiteboard explainer video or an audio assignment, you can choose Webcam-only recording mode.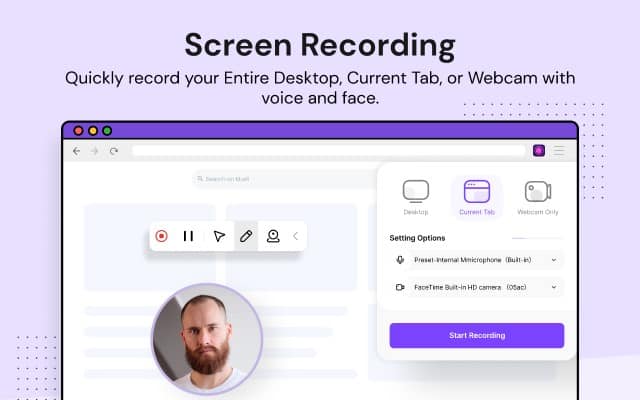 The recordings will be saved to Google Drive automatically.
You can copy a shareable link with one click, publish your recordings directly to your YouTube channel, send them via Gmail, share videos to Google Classroom or embed recordings on your website or blog easily with the DemoAir.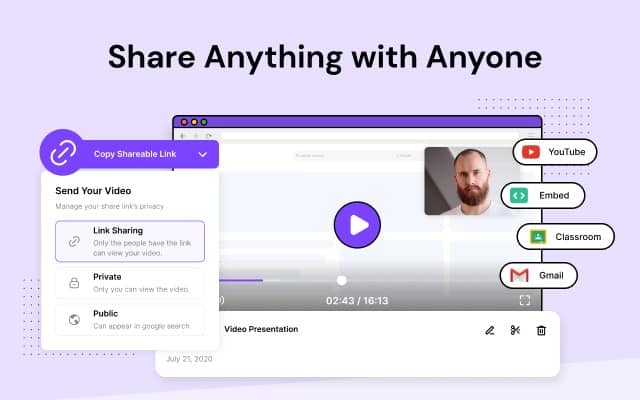 What's more, DemoAir is also integrated with your workflow. You can easily share a recording video to Jira, Slack, Trello, Asana, GitHub or anywhere your teams work.
You can also download the videos in WebM or MP4 format so you can watch them anytime. So, take advantage of this free screen recorder no download is required.
Features:
Like others, it's also a free desktop recorder
Share your recorded clips with others
Provides video editing tools to modify your clip
Integrates with popular online services like Github, Jira, Slack, etc.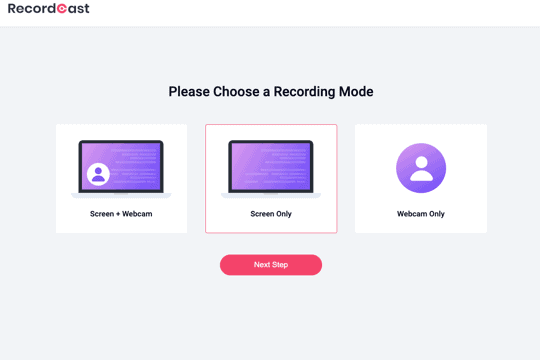 The Record Cast is also the best online video recorder free of charge and edits your videos with a powerful video editor. You can record your screen in high definition.
Some of the features are a built-in video editor, flexible recording, free, no download, and installation required to capture the screen.
You can record videos of up to 5 minutes each.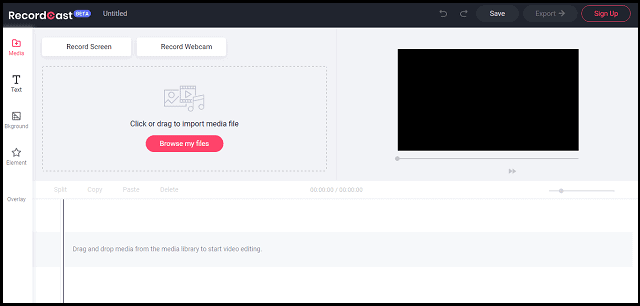 In addition to recording your computer screen, you can send a short video guide to your friend, record YouTube tutorials, and do many other things.
Recording a screen is just a few clicks away.
You can use their screen recorder for free and enjoy powerful video editing features. There are also paid plans available if you wish.
All in all, it's a good screen recorder without installation to capture your screen.
Features:
There's a time limit of 5 minutes for recording your PC screen
Provides a powerful online editor to edit your videos
Record your gameplay and share it with others
No watermark included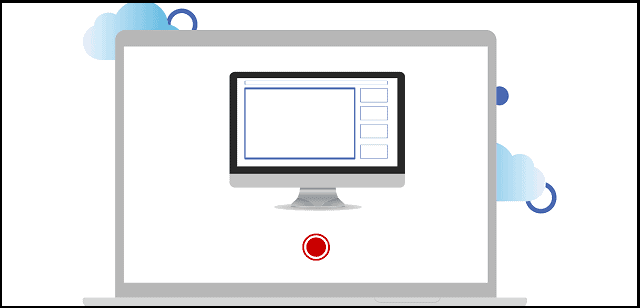 Among these free online screen recorders, ScreenApp comes next in this list. It also provides you the feature to record videos online free of cost.
It has no software and browser extension requirements.
As soon as you record your computer screen, you can download the video immediately.
One can record your entire screen, any window, or browser tab. You can edit them as well and share them on social media platforms.
It's free and does not include any watermarks on the recording.
Features:
You can record your screen for up to 15 minutes (up to 3 hours if you register for a free account)
It provides cloud backup too for your recorded videos
Record video in FHD format
No extension or plugin is required to record a screen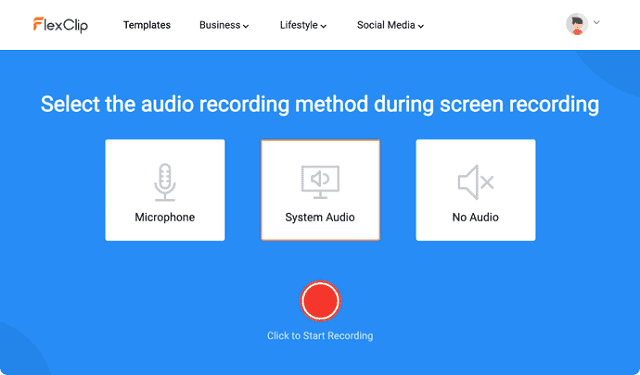 Flex Clip is another awesome online screen recorder no install is required. It allows you to record videos of up to 30 minutes each.
There is no limit to the number of videos you can record and edit.
After recording, you can modify the video easily with their amazing online video editor.
There is a guarantee of privacy and security, and it is completely free to use as well. They offer other services too.
So, you can easily use this free screen recorder no download is needed as well.
Features:
Offers free web-based screen recorder
Record your videos for up to 30 minutes – that's enough
They offer a complete and powerful video editor
In case of any issues, there is a live chat option available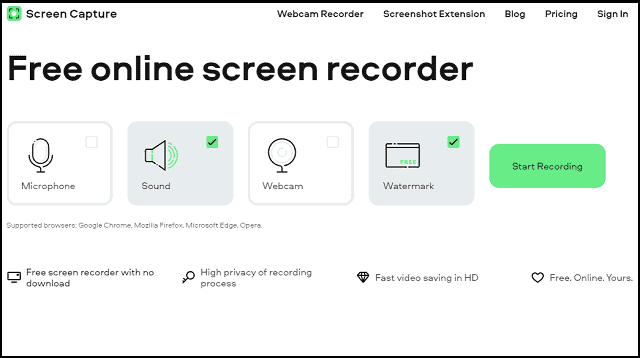 The Screen Capture also allows you to capture your computer screen in a few clicks. You can easily record videos but they put a watermark inside the recording.
You have to pay to remove the watermark at $9.95/month. But the free version is enough to record high-quality videos.
You can download your recorded video with a single click. Your data will be saved since they focus on users' privacy.
It's a free screen recorder no installation is required. So, give it a chance and see the results.
Features:
Capture your computer screen in high definition
There is no time limit included
Simple & easy to use screen recorder
Best free screen recorder for PC (paid plans are also offered)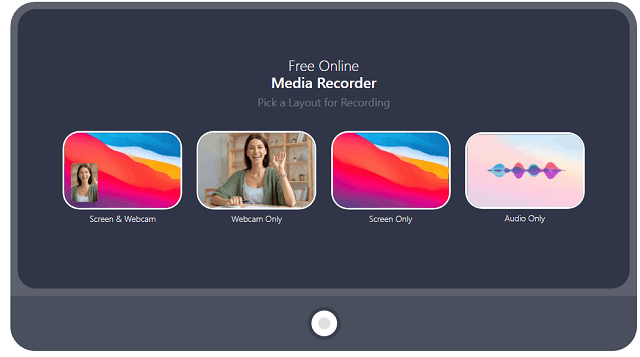 Last but not least is the Veed.io online screen recorder to capture your computer screen online.
You can capture your PC screen, edit the recording, share it, or download it instantly.
Just select the layout (entire screen, window, tab), start recording, and you are good to go.
It contains a powerful video editor where you can modify your recorded video. The screen recorder is completely free, there is no time limit, and you can use it without installing anything.
Sounds good!
Features:
There is a time limit of 10 minutes (Upgrade to remove)
Edit your clips after recording
Share the video link with others to get instant feedback
No browser extension is required
Frequently Asked Questions
How can I record my screen online?
To record the screen online, select any reliable online screen recorder like HitPaw or Wondershare DemoAir. Choose recording mode, hit on Start Recording, and you're good to go.
Which is the best screen recorder for online classes?
For recording your online classes, HitPaw online screen recorder is the best choice. There's no time limit, and record HD videos without a watermark. Moreover, you can use it on macOS too.
is it safe to use online screen recorders?
Yes, as long as you are using a reputable online screen recording service. There is no need to install a third-party screen capture program to record your screen if you don't often record videos.
Can Online Screen Recorders Replace Screen recording software?
Despite being enhanced over time, online screen recorders still have a long way to go in order to compete with screen recording software. Furthermore, online screen recorders do not offer very powerful video editing tools.
Do you plan to uninstall screen recording software?
To record your PC screen, you no longer have to download a heavy screen recorder first; instead, you can use an online screen recorder.
I compiled a free online screen recorder no download or installation is required. This article was written to help you record your computer screen for free. I hope you enjoyed it.
If so, share it with others. You can subscribe to the newsletter to receive updates about this tech blog.