There are more and more online design tools, just a little Google, and you can find many useful online design platforms.
And in the field of logo design, there is a very useful website that is DesignEvo.
By using it, you will be able to make your task much faster and more efficient.
Why use DesignEvo?
When it comes to designing a logo, choosing the right tool can greatly simplify the process.
If you search on the Internet for logo design costs, you can find many reference prices for logo designs.
Although the quotations are high or low, the design quality and the designer's professionalism are also different. Still, if you want to design a logo, an average case may be possible.
It also costs more than hundreds of dollars. If you are looking for a job in this sphere, you can try to find something relevant for yourself here Graphic Designer Jobs.
Moreover, the design process also takes a little time. For a logo that is more difficult to design, it may require a more extended delivery period. In addition, there is an upper limit on the number of revisions, and an extra fee will be charged if it exceeds it.
But after all, designers are professional. If most people have no experience in design, those professional design software can't quickly get started, let alone use them to design logos.
Then can't nom-designer make it by themselves? Sure. If you still want to design your logo, you can try DesignEvo.
DesignEvo Key features
DesignEvo comes with an intuitive interface.
It provides more than 10,000 kinds of logo templates.
There are millions of icons provided by DesignEvo.
There are hundreds of text fonts and shapes offered by DesignEvo.
The logo editing tool is simple and easy to use.
The cloud storage function provided by DesignEvo can save every work.
Without any design experience, you can create a beautiful logo.
You can download the logo without paying a fee.
Although DesignEvo has a free version and a paid version, in general, the free version is OK, but the quality of the downloaded logo file will be 300X300px in JPG and PNG.
How to make a logo with DesignEvo?
Now, let's learn the entire procedure of how to design a professional logo with Designevo and download it.
Don't have time to read?
You can also watch this short video tutorial as well:
Start and register for DesignEvo
After entering the DesignEvo official website, you only need to click the Make Logo button in the middle to start designing. But let's start with the registration in the upper right corner so that you can save your logo on your account and download it.
After registering your DesignEvo account, click the Make a Free Logo button in the middle.
Pick a logo template or start from scratch
After clicking the button for making a Logo, it will take you to the screen for selecting a template.
If you have no idea how your design started, you can look for the logotype you want from the sidebar on the left. Many fields to choose from, including animal, art, automobile, food, etc.
But if you don't want to use their template, you can click on the new blank canvas in the upper right corner and start designing your logo from the beginning.
Assuming that the logo you want to design is related to technology, specifically mobile, you can enter the keywords mobile in the searching box. 
Then you can see that there are dozens of mobile logo templates. If you see a template you like, move the mouse over, and it will display the option of Similar or Custom. In Similar, you can see more related logo templates, and Custom will enter the editing screen.
Customize the logo template at will
If you click the New Blank Canvas or Customize button, you can enter their Logo editor interface, which looks like the picture below.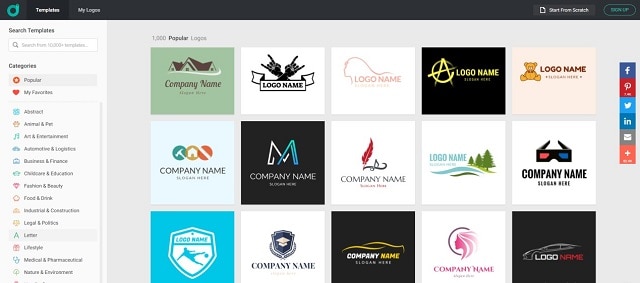 There will be Icon, Text, Shape, and Background functions available on the left sidebar.
Icon
The icon stock connects more than a million types of icons. So if you are looking for an icon, there are also classification options in the icon, or you can directly search for the icon you want from the search box above. After finding the icon you like, click on it directly to apply it to your logo design.
Text: Classics and Art
There are two types of text options. One is the classic mode, which changes the font style of the text itself. Another art mode has more advanced functions. It can add a particular frame or shadow effects to the text.
Shape
You can find some simple graphics on the shape tab. If you can't find the icon you want, you can look for it on this function.
Background
Finally, Background is specifically used to set the canvas background.
Preview, save, and download logo.
If the logo has been designed to be perfect, you can go to the upper right of the screen to preview, save and download
Preview Logo
Click on the preview to see how this logo looks on Document, Business Card, or website.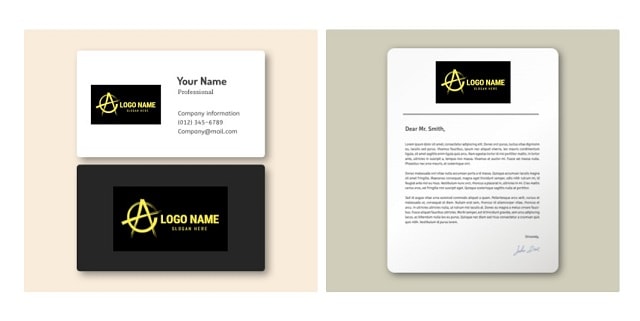 Save logo
The Save function is to save your current logo design on the cloud, and the protected content can be found in My Designs so that you can come back here to edit and modify your logo at any time.
Download Logo
Click Download to download the logo you designed. It will jump to the following screen. Generally, you can only download the low-quality logo if you don't choose to pay. The free logo file is in 300X300px PNG and JPG.
If you need a higher-resolution Logo, you can consider buying DesignEvo's paid plan: Basic Package & Plus Package.
Conclusion
Logo makers are a good and feasible approach to getting a visual identity. Therefore, if you need to get a logo, then just DesignEvo to start your project.
I hope you found this guide helpful if so, share it with others so that they can also get benefit from it.