Windows offers many different tools for managing your hard drive, but one of the most important is Disk Management. This feature gives you the ability to create, delete, resize and format partitions on your hard drive.
It only offers basic features and is not an all-in partition management tool. There are many advanced partition management tools that provide additional features in addition to basic features.
Minitool Partition Wizard is one of the leading disk/partition management tools in the market. Stick with this article to read the MiniTool Partition Wizard review and to explore its powerful functionalities to maintain your disk drive.
What is a Minitool Partition Wizard?
The Minitool partition wizard tool lets you manage your hard drive to maximize disk performance. You can manage partitions with a range of functions from resizing, deleting, splitting, and merging them.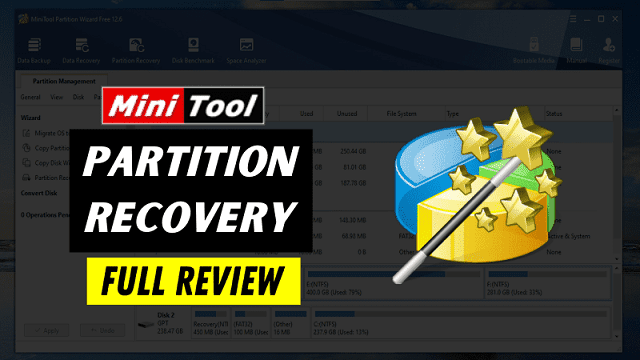 Minitool Partition Wizard is an all-in-one partition manager that offers a range of features. With its few clicks functionality, you can resize partitions on your hard drives to make room for new partitions.
This tool has been downloaded and appreciated by millions of users around the world. The developers of this powerful tool are improving it day by day and adding more interesting features over time.
Minitool Partition Wizard Features
This tool contains various useful features to manage your hard drive partitions. Let's talk about some of the best and most powerful features:
1)
Create/Resize/Format Partition
So, let's begin with one of the basic features like creating, resizing, and formatting partitions. Windows built-in disk management tool also provides these functionalities but this tool makes the procedure very simple and easy.
It guides you throughout the process to prevent any loss of your precious data, especially formatting the drives. Minitool helps you at every single step you perform.
Even a common user with basic knowledge can perform these actions without any problem.
2)
Convert Between MBR and GPT Disks
There are two partition styles, Master Boot Record (MBR) and GUID Partition Table (GPT). MBR is the legacy standard, while GPT is more modern. GPT is newer because it offers better data protection & compatibility with other operating systems.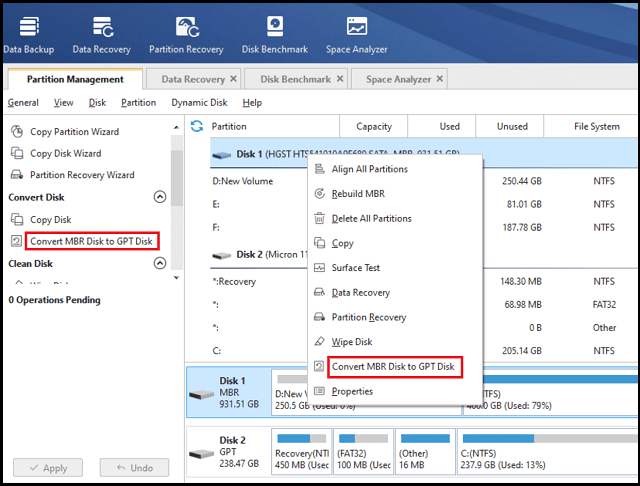 With the help of Minitool Partition Wizard, a user can easily convert a disk from GPT format to the MBR format, and vice versa with a few steps only. 
If you're receiving an error message: "Windows cannot be installed to this disk. The selected disk has an MBR partition table." then, you may need to convert it. You can use this powerful tool for this purpose.
3)
Convert NTFS Partition to FAT32
Conversion between NTFS and FAT32 formats is not only time-consuming but also arduous. With Minitool, the process is quick and easy. The conversion process is completed with only a few steps.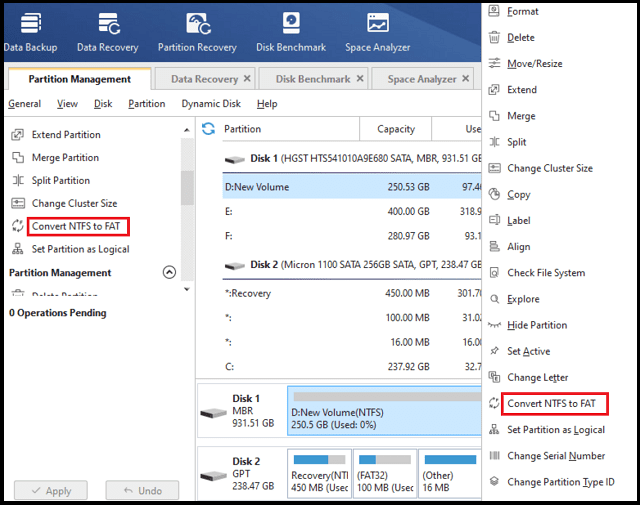 You can safely convert partitions without damaging your precious data but it's a paid feature.
You just have to click on the relative option and follow the onscreen instructions then, you are good to go.
4)
Convert Dynamic Disk to Basic Without Data Loss
Dynamic disk is not used among users since many of them are not familiar with its benefits and want to convert dynamic disk to basic. 
But there is always a risk involved like data lost while conversion and the process itself is a little bit tricky and complicated.
There is no other best option than using Minitool partition wizard for this purpose since it makes the method very easier. Converting the disk to basic is only a few clicks away.
5)
Backup Your Data
Backing up data (Copy of data) can save your life since, in this age of era, data is more important than everything else since it has become a commodity that has value in the marketplace. 
If you're also serious about it then, it's recommended to periodically take data backup and save it at some safe place. But which tool to use for this purpose?
Luckily, Minitool also provides this facility to its users to take backup of data so that you don't face any problem in the case when you don't have access to original data.
6)
Extend/Split/Merge Partitions
If your drive is running low on space, you may want to extend its size. It can be done easily using this amazing tool.
Furthermore, if you have a big drive and want to split it to create another partition then, you just need to select split from the left menu pane and follow some on-screen guidelines.
You can merge two drives into one as well by using this software. Sounds good?
7)
Data/Partition Recovery
Loss of data, whatever the reason is, is a common problem many users face in their daily work. There are thousands of data recovery software available out there.
In case you intentionally or accidentally lost your data and want to recover it then, the Minitool data recovery option may be a useful option for you.
Moreover, it has the ability to recover the data of the entire partition as well. 
8)
Disk Benchmark
Disk Benchmark is one of the powerful features of Minitool to make sure that your system is running as efficiently as possible.
This tool monitors the performance of your disks and then provides suggestions for improving the performance.
It will detect hard drive issues such as bad sectors, slow read/write, or hardware incompatibilities. In this way, you can maximize your computer's performance.
9)
Copy Partition
Do you want to make a copy of the disk drive/partition? This process has become very simple using this incredible tool.
Its copy disk wizard function helps you create copies of all partitions or a single disk.
Before starting to make a copy of the partition, make sure you have enough space on the destination drive to avoid any error. Also, copy the destination drive data because it'll be destroyed during this process.
10)
Space Analyzer
Using Minitool, you can deeply analyze the storage of partitions especially when you're running low on space. You can observe which type of data is taking up more space then, you can delete it to save space.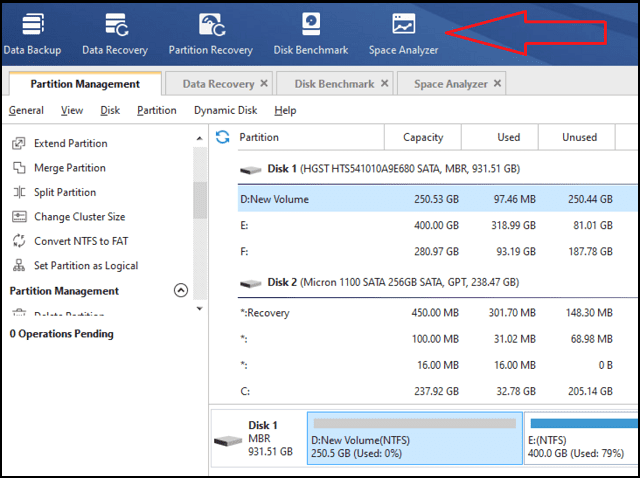 It will scan the selected disk drive and give you a better idea of space usage. Moreover, it can also be used for disk cleanup.
Not only can you use this feature for internal hard drives but also for external drives like USB flash drives.
Final Verdicts
Minitool partition wizard is packed up with all the necessary tools needed to manage the hard disk partitions. It makes our work effortless and quick.
It's an all-in-one tool to analyze and increase your hard disk performance. It offers a free version as well which you can utilize to its power and then upgrade to a premium plan if you want.
You should give this amazing tool a try and test its features at least once. Then, if you like you can shift to the paid plans to explore advanced functionalities.
So, I hope you learned something new from this MiniTool Partition Wizard review, if so then do share it with your loved ones as well.