Mind maps are a visual representation of information used to organize your thoughts. They help you visualize ideas and concepts in a way that's intuitive and self-explanatory. One of the most powerful things about mind mapping tools is that they help you to generate new ideas as you build your map.
Whether it's a project plan, a roadmap for a presentation, a brainstorming session, a list of your favorite movies, or a list of your favorite tools, mind maps can help you get organized and stay productive.
EdrawMind (MindMaster) is a market-leading mind-mapping tool that helps you to create maps in no time with its awesome built-in templates. We are going to review this amazing mind master tool in-depth. So, stay tuned.
What is EdrawMind?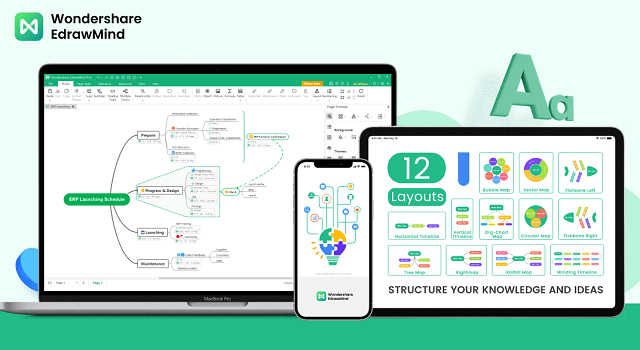 EdrawMind is a cross-platform mind mapping software, which has various themes and multiple functions and allows users to create content-organized and style-rich mind maps for a variety of purposes. You can find mind map examples from the mind map gallery.
You can use the software for brainstorming, project management, knowledge management, business presentation, etc. This tool is built to solve the problems of complicated and disorganized thinking. 
With its simple design and rich editing functions, it offers a complete set of tools that will help you create quality documents.
This is a great tool that helps students organize their notes about a certain subject and also helps authors write a coherent text with a lot of illustrations.
What Can You Do With EdrawMind?
1) Project & Task Management
EdrawMind is the only tool you'll need for mind mapping. Designed to make tasks a lot easier, it has every tool you need to accomplish your project – from brainstorming to drawing and organizing. 
The software will automatically layout your ideas for you, and provide a variety of options to make your project a reality. It saves a lot of precious time.
2) Knowledge Management
EdrawMind is a visual knowledge management software that allows users to organize their collective knowledge in one place. This approach makes it easy to share, manage and update information – all in a visual format that's easy to follow and understand.
This approach makes it easy to share, manage and update information — all in a visual format that's easy to follow and understand.
Also Read: Wondershare DemoCreator – Next Level Screen Recorder
3) Make plans
Making plans help you organize content ideas so you can create successful, relevant content for your business. Taking time to brainstorm ideas and explore content topics will improve the quality of your content and help your organization produce better blog posts, videos, or documentation.
EdrawMind is a powerful tool to organize your content ideas. It can help you brainstorm, organize, and plan all of the content ideas you have for a certain project or assignment.
4) Present your ideas using the PowerPoint feature
You can present your ideas via mind map in class and meeting from EdrawMind directly using the presentation feature.
With EdrawMind, you can create beautiful presentations in seconds. With just a few clicks of a button, you'll have a professionally designed presentation.
5) Organize your structure
EdrawMind provides you with various features to easily organize your structure. You can arrange and sort them quickly and easily. There are a lot of customization features available to use to make your structure attractive and look beautiful
6) Analyze/Display Complex Ideas
EdrawMind provides the facility to its users to create diagrams to visualize difficult concepts. This tool is great for students, teachers, and business owners to organize their thoughts and make complex ideas easy to see – letting them streamline their brainstorming sessions and increase efficiency.
EdrawMind Highlighted Features
1) Supports Multiple Platforms
EdrawMind is available to use on all major operating systems, including Windows, Linux, Mac, iOS, and Android. You can install the software on your computer or even your phone. They also support modern web browsers like Chrome, Firefox, Microsoft Edge, and more.
No matter what device or which OS you're using, EdrawMind lets you work on it.
2) Cooperation and Share
EdrawMind is built to help you work smarter, not harder. With just a few clicks, you can share your work with other users, allowing them to collaborate on one document at the same time easily.
You can communicate, and work collaboratively with your team to complete group projects.
3) Built-in Templates, Themes, and ClipArt
Create a mind map in seconds with the one-click template editing feature. Get started by dragging and dropping one of the professionally designed mind map templates into your canvas. 
Moreover, you can use the library of customizable icons to create your own unique graphical representation of ideas, information, projects, or anything else that needs sorting.
4) Mind Map Gallery
EdrawMind has an extensive selection of mind map templates that can be used for any purpose-from meeting notes and project plans to workflows and information presentations.
Just pick a template from the gallery and you're ready to go. If you have created a mind map that you're proud of, publish it to our gallery to share with everyone.
5) Outlining & Note-taking
With EdrawMind, you can easily convert a mind map into an outline and vice versa – saving you time and energy. It's only a few clicks away to convert the map into an outline for a clear view of your thoughts.
Getting Started With EdrawMind
First, download EdrawMind software according to your operating system and then, install it on your system.
Once the installation process is completed (it's very straightforward), now let's see how to convert your mind ideas into a visual presentation.
How to Make a Mind Map?
Once you launch EdrawMind, it shows you a bunch of blank templates to choose from.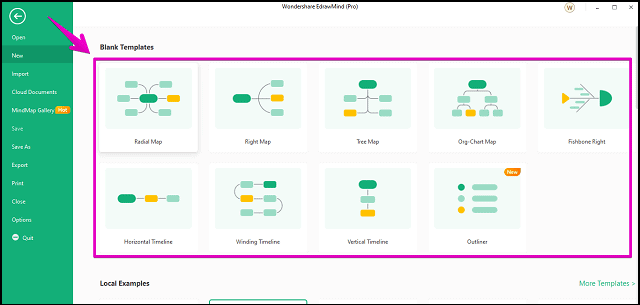 Select any of them. Moreover, there are premade examples as well. Instead of making a map from scratch, you can just select any of them, start modifying it and save your time.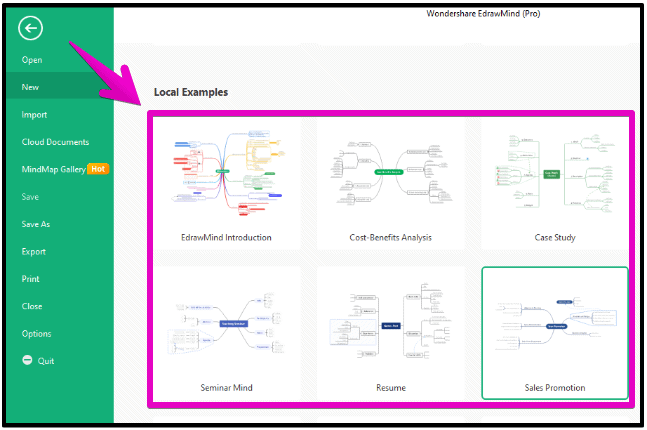 It has an MS Word-like user interface that makes it easy to use. Press Enter key to add a topic to the map and CTRL + Enter to enter the subtopic. Alternatively, you can find these options in the ribbon as well.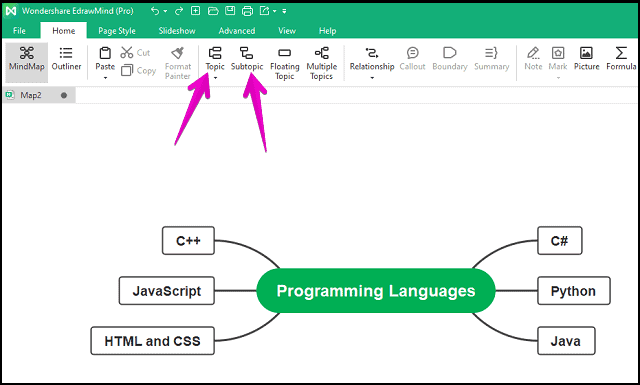 Instead of adding topics one by one, you can add them together by choosing the Multiple topics option in the ribbon. Moreover, you can add floating topics, make relationships between topics and subtopics.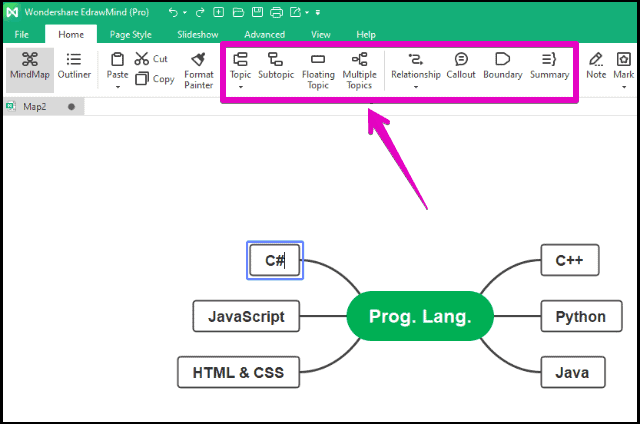 On the right sidebar, you will find topic format features in the format tab. Here, you can change theme, layout, connector style with only a single click. Moreover, it allows you to modify shape and branch style, etc.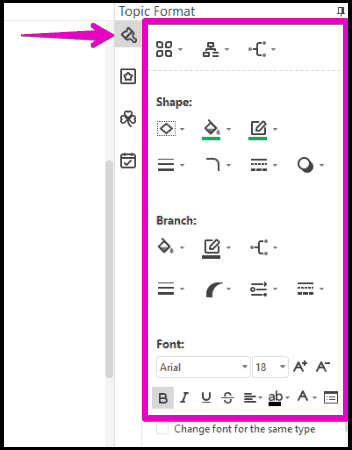 In the Mark tab, you can add several kinds of marks to your topics to make them eye-catching. Just click on any mark, it will be added automatically to your selected topic.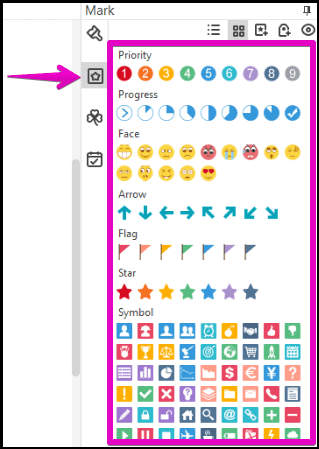 In the clipart tab, you will find 700+ stylish cliparts. They are grouped into different categories like Office, Education, Holiday, etc. Drag and drop them anywhere you want.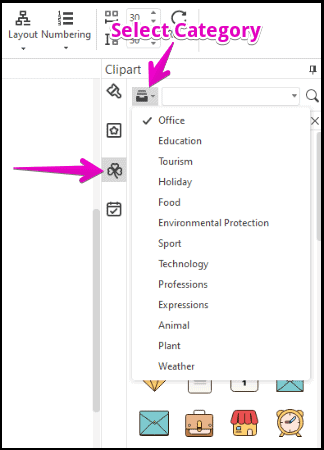 EdrawMind has an amazing feature of tasks as well. You will find this feature in the task tab where you can set the task info, start time, end time as well. You can create a complete project with EdrawMind easily.
Add Table, Hyperlink, and Attachment
Just like MS Word, you can add tables, hyperlinks, and attachments as well to your topic or subtopic.
You will find these features under the More option. Just click on it, and add your desired functionality to your map.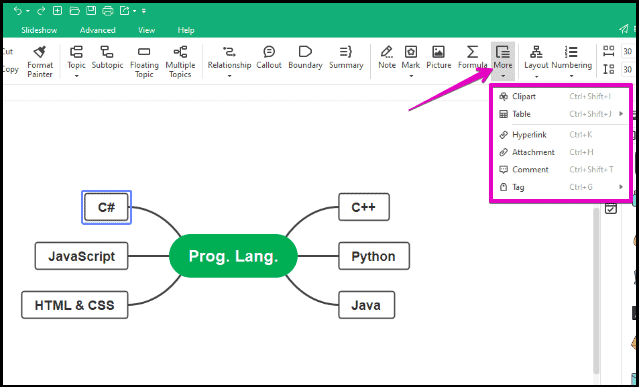 You can write comments as well on any specific topic. Moreover, add notes for a better understanding of the map. All these features are packed only in one tool. EdrawMind is an all-in-one mind mapping tool.
Insert Formula
EdrawMind also provides you the facility to add formulas to your mind map with just a few clicks. This function will definitely be helpful for you. EdrawMind aims to structure your ideas and increase productivity.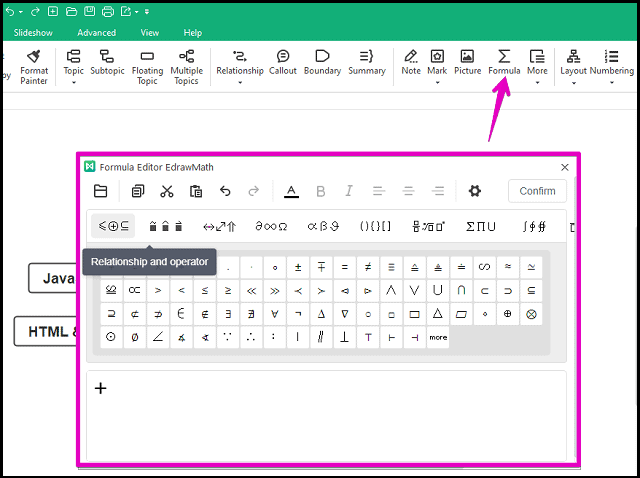 To add formulas to your map, just click on the Formulaoption or press CTRL+Shift+L. You will find a bunch of mathematical symbols here including relational, modifiers, arrows, Greek, etc. Make your desired formula and click on confirm.
Turn mind map into Gantt chart
Gantt Chart helps monitor project status and implementation with a visual taskbar. You can edit and manage job information directly in the Gantt Chart View. In EdrawMind, you can create this chart in a few steps.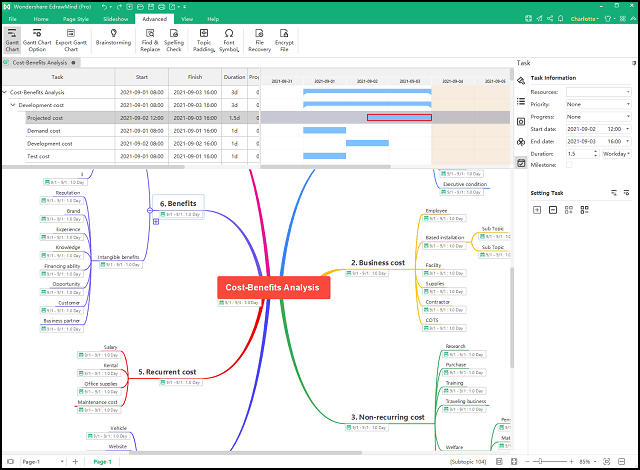 Brainstorming mode
With a brainstorming feature, you can freely think about new ideas. Once you come up with some, you can bring them to the mind map by dragging them into place.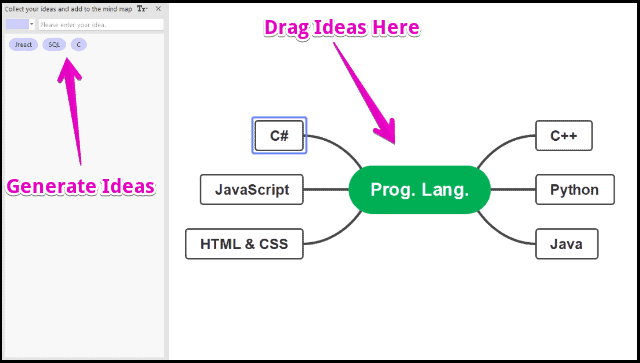 You can turn on brainstorming mode by pressing F8 key or by navigating to the Advanced tab then, hit on Brainstorming.
Export File
Once finished, EdrawMind provides a range of export options in a variety of formats including Graphics, MS Office (Word, PowerPoint, Excel), PDF, SVG, and HTML.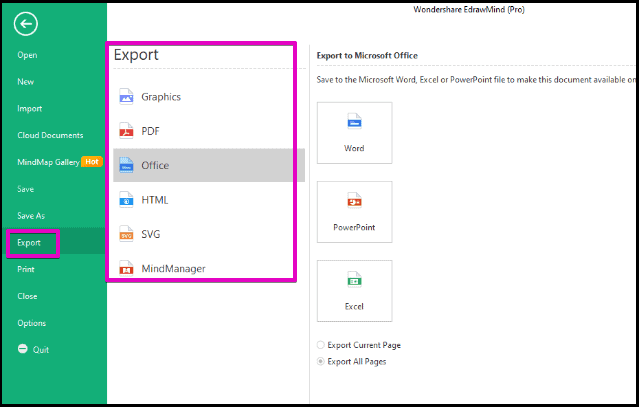 Simply, navigate to File > Export > choose your desired format. You're done.
Convert Files to Mind Map
This tool makes it easy for you to convert various types of documents from Word, HTML, MindManager, etc. to a mind map with a single click.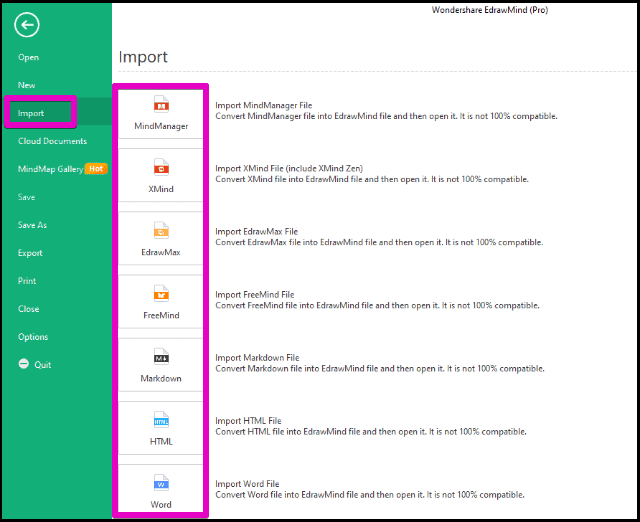 Go to File > Import > Choose the file format. Now, browse your desired file and it will be converted into a mind map.
Wrapping Up
EdrawMind lets you create beautiful, editable mind maps that cover any project or idea. Whether you're working on a simple list of tasks or the most complex of projects, this tool allows you to organize your thoughts visually and master bigger tasks with ease. 
With EdrawMind, you can create presentations for your business, send your clients final mockups, or simply jot down new ideas. This is an all-in-one mind mapping tool you need for your work.