YouTube now compels users to watch ads because video on YouTube comes with too many ads. YouTube has become an "adhub". Isn't it?
It used to display only one ad in a single video but now, ads are everywhere including beginning, middle, and ending. This is a very disturbing thing for users.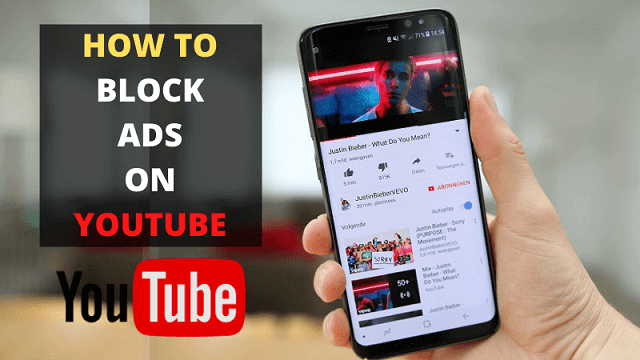 Is there any way or trick to handle these irritating ads? Fortunately, yes. There are several methods to block ads. And that's why I will teach you how to block youtube ads on android smartphones.
Why the Need to Block YouTube Ads?
There are several reasons why an individual might want to block YouTube ads. Some people find the ads too intrusive, while others may have a data plan with limited data bandwidth or are on a metered connection.
Have you ever wanted to watch your favorite YouTube videos without multiple ads hogging up all of your time? You want to enjoy your video without any interruptions but instead, you are interrupted every few minutes with an advertisement; this can be quite annoying!
While we agree that ads are necessary sometimes, of course, creators have to earn as well, but when the ads take up more of our time in the video than the video itself, that's where we need to think about it.
See Also: How to Install YouTube on Windows 10?
There are several ways to block ads on YouTube that we will discuss later in this article.
Is it Possible to Block Ads on YouTube App?
Strictly speaking, no except subscribing to a paid membership. Due to the restrictions of Android OS, there is no single adblocker that is capable of blocking ads on the YouTube app.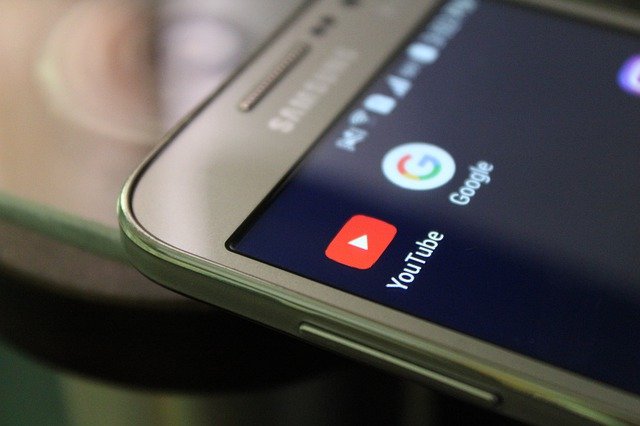 YouTube app itself comes with many constraints that can't be violated by any of the adblocker applications.
Furthermore, you must put parental control on YouTube in order to provide your children with a safe environment.
Then, how to block infuriating YouTube ads? Luckily we have several methods to perform this operation. Make sure to read this article till the end to understand the methods.
See Also: 15 Best YouTube Video Downloader Free
How to Block YouTube Ads on Android?
Now, we will go through some best possible ways to avoid these ads from popping up. Let's take a birds-eye view on methods:
Via Adblocker
Use Browser that supports Extensions
YouTube Premium
1)

By Using Adblocker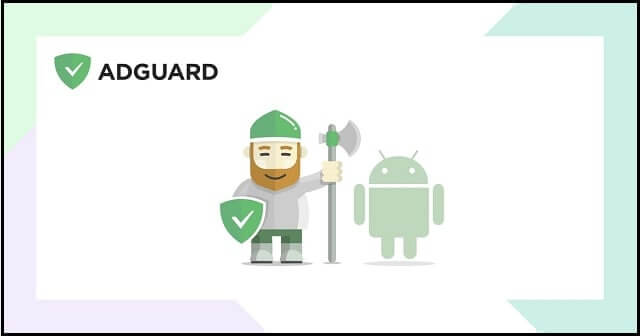 The most common and the best way to block YouTube ads is by using an adblocker app. There are many freeware tools available in the market. Some are free and of course, there are paid as well.
These adblockers can only remove ads from browsers, not from YouTube app. That's why you will need to watch YouTube videos on your favorite browser like Chrome, Firefox, Kiwi, etc.
As there are so many adblockers in the market, so which one to choose? Well, I researched this a lot and came with some of the best ones:
AdLock
AdShield – Ad blocker, No more ads & tracking
Adguard
You just have to download and install any of the above apps and activate the adblocker. Follow the on-screen instructions and you are ready to enjoy an ad-free YouTube.
2)

Use Browser that supports Extensions
I personally have removed the YouTube app from android because these annoying and unskippable ads appear twice at beginning of the video and in-between as well.
There are many android browsers that support extensions, including adblocker extensions. Once any Adblocker extension is installed, you will not see any ads including YouTube.
There are many such browsers on the web but some of the best browsers are:
Kiwi Browser
FireFox
Yandex
These are the best browsers of all according to my point of view. Now, let's see the entire method to block YouTube ads.
Moreover, some browsers, like brave browser, have built-in ad blockers installed. So, you can go with them as well.
Method to Block YouTube Ads:
Kiwi browser is a lightweight and chromium-based browser. You can watch videos and listen to music, without annoyances.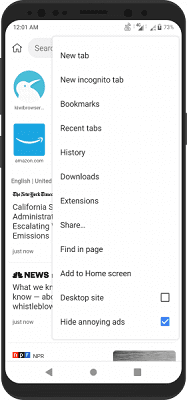 I am using the Kiwi browser and recommend as well to block YouTube ads. You have to follow the given procedure carefully:
Download and Install the browser from play store
Launch the browser and Navigate to chrome.google.com/webstore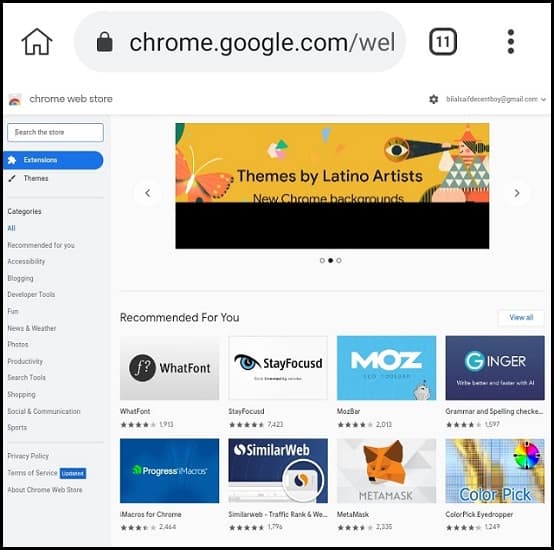 Search for AdBlocker Ultimate and add it to your browser.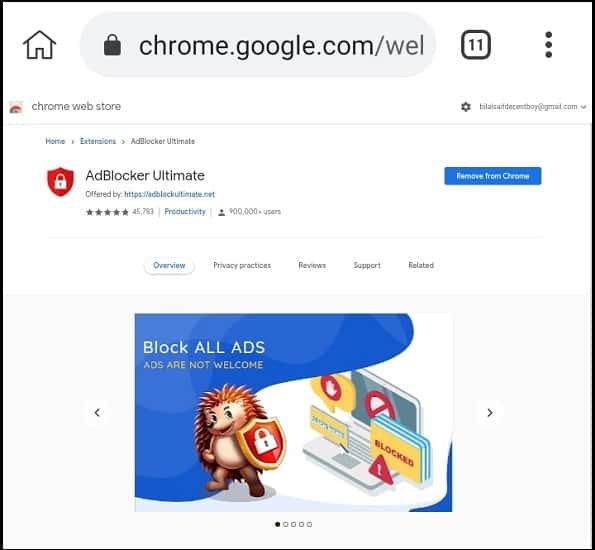 You can click on three dots and scroll down to see extension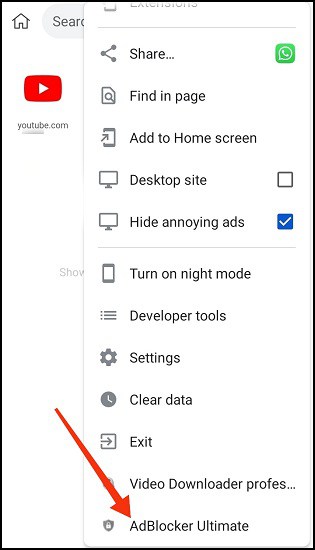 Now, you can browse YouTube without ads
This is the method I am now using to block YouTube ads. This is a proven way to block frustrating ads from not only YouTube but also websites.
3)
YouTube Premium
If you want to continue using the YouTube app without ads, you can purchase a premium YouTube subscription that is ad-free and has more features.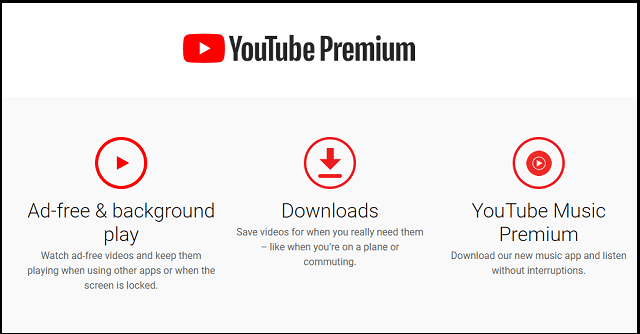 If you are not sure whether it will work for you or not, you can take advantage of a 1-month free trial as well as a free preview of its premium features.
Some of the premium features are:
Ad-free video and music experience
Download and watch videos later when you're low on data
Videos keep playing in background
Explore ad-free YouTube music feature
Wrapping Up:
The methods discussed above will surely work for you and you can finally enjoy ad-free YouTube and provide a safe environment to your child or children.
I hope you found this article helpful if so, then do share it with your friends and also read other useful articles as well to enhance your knowledge about technology.
Which method did you follow to stop YouTube ads? Let me know in the comment section. Furthermore, if you know more worthy methods then, explain in the comment to benefit the readers