When we talk about cloud storage, OneDrive is the one that comes into mind. OneDrive is the Microsoft cloud storage which provides the facility to store files.
The files stored in the OneDrive can easily be accessed from any location and anytime you want. You can store your important files or even save large size files on it.
You can store that files back into your computer as well whenever you want. Some users are unaware of it so, this is a quick guide on how to move files from OneDrive to PC.
If you also want to move files from your OneDrive cloud storage to your computer then, you should read this article carefully.
Also Read: How Do I Stop Documents Being Saved to OneDrive?
How to Move Files From OneDrive to PC?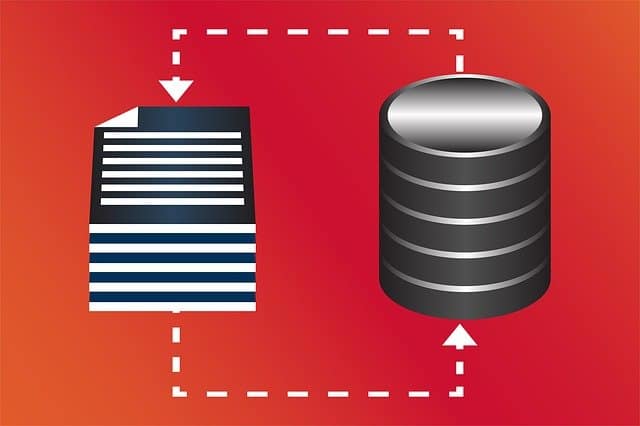 If you run windows 10 then, you can save files to your PC in two ways. These are given below:
Via OneDrive Folder in File Explorer
Via OneDrive website
I will go through both the methods to move OneDrive documents to your personal computer. So, let's begin this quick knowledge post.
1)
Via OneDrive Folder in File Explorer
To move files or documents from OneDrive to your computer through OneDrive folder in the file explorer is the easiest way. You can access all your cloud-based data directly on your windows 10.
You don't need to access the website and once you have downloaded any file, you don't even need an internet to access these files from OneDrive.
Now, I will show you the step by step method to move files from OneDrive to PC. Look at the given steps:
1) Log in to your Microsoft account on Windows 10.
2) Navigate to OneDrive folder in the file explorer.
3) All the files will be displayed, you saved in OneDrive
4) Now, copy any file or document you want to move to your PC.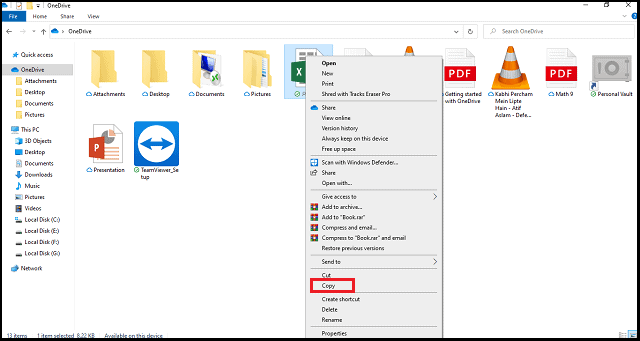 5) Paste the copied file wherever you want to keep.
6) It will take some time, depending on your internet connection.
7) That's it
You have successfully moved your file from OneDrive to your computer. Now, you can access your file from OneDrive as well even if you are offline.
Greater the file size will take more time to move, depending on your internet connection speed. This is the simple copy-paste task.
Pro Tip: In OneDrive folder, you can double-click on the file as well instead of copy-paste and that file be saved to your computer and will be marked as green tick. You can access that file anytime even if you don't have internet.
2)
Via OneDrive Website
Now in this second method, we will save our required document to our computer through OneDrive website. This is also easy method.
To do that, follow the given instructions:
1) Login to OneDrive using your Microsoft account.
2) Your files will be displayed once you logged in.
3) Right-Click on any file and click on download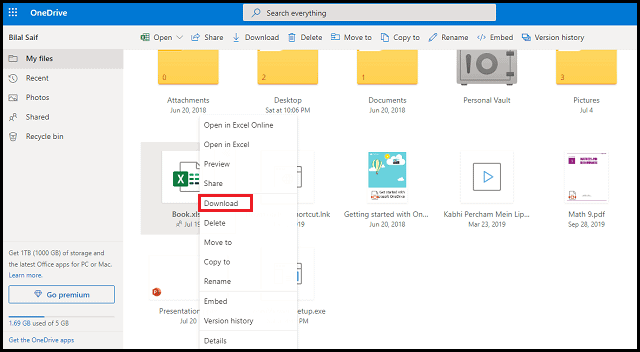 4) The file will be downloaded to your PC and you can move it anywhere you want.
5) All done.
This is the second method to save the files into your PC using the OneDrive website. Large size file or document will take more time to download.
Final Words
OneDrive is the convenient way to access your files from anywhere. They give you free 5 GB storage, at publish time. You can also utilize this storage to your important files or backup your data.
Later, you can download anytime you want and save to your PC. It is recommended to have copy of your important files as a backup.
I hope you have understood how to move files from OneDrive to PC. If you find this article helpful then, share with your friends and family members.