Dropbox site, one of the most popular cloud storage services, offers a simple and easy way to back up your files and photos so you never have to worry about losing anything again. You can add their app in your windows to sync files.
To make it easier to use, you can actually integrate it will the file explorer. Just one click to access your dropbox app. Sounds good? Well, I will teach the step-by-step guide on how to add Dropbox to file explorer or install dropbox in windows.
Dropbox offers 2GB of free space in the basic plan where you can sync your files easily by using different devices. Need more space? Upgrade to pro plans.
Keep reading this article until the end, and you'll learn all about how to integrate your Dropbox with file explorer.
Benefits to Add Dropbox Folder to File Explorer
Dropbox provides software for windows OS so that we can directly manage our files from a computer instead of navigating to their web page.
Once installed in your windows 10 computer system, we can add a dropbox folder to the file explorer. There are numerous benefits of doing this and some of them are listed below:
1)
Access to Files Becomes Easier
The main advantage of integrating Dropbox with the file explorer is obvious. It takes time to visit the Dropbox website to access our secure files stored in it. But using this method, our files are just a click away. It becomes like our disk drive where we can easily transfer and add files. It saves a lot of time and resources.
2)
Sync With Folders
Don't let your precious files be lost to a hardware crash or theft. With Dropbox's automatic backups, you can sync them to the cloud and access dropbox folders from anywhere by using different devices. It only takes few steps if Dropbox is installed in your windows 10 and integrated with the file explorer.
You can also use dropbox as an image hosting platform to host your pictures. You can read about 20 free image hosting sites in 2021 if you want another platform to save and share your images with others.
3)
Transfer Files
We can transfer the dropbox files to others in few steps if you add Dropbox app to your windows 10 computer system. On the web, it takes more steps but not in this case. I will show you the procedure later in this article.
With the help of Dropbox transfer, you can securely send files to anyone even if they don't have a Dropbox account. On a free account, you can transfer a file of up to 100MB.
How to Add Dropbox to File Explorer?
Now that we've discussed the benefits of integrating Dropbox with File Explorer, we'll start adding it to windows 10 without wasting any more time. Let's dive into our main topic.
We will go through the simple steps to achieve our goal easily. Follow the given steps carefully.
Step 1: Create a Free Account
Skip and jump to the next section if you already have a Dropbox account. For those who don't have, you can create a free basic account in which they offer 2GB free space.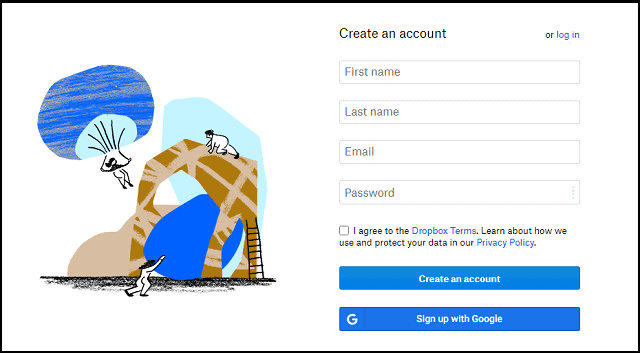 You can simply sign-up with Google as well to speed up the process. Once you have created your free, you will instantly free 2 GigaBytes of space.
Step 2: Download Dropbox Software
Now, we have to download the Dropbox desktop app. Just click on the Download button: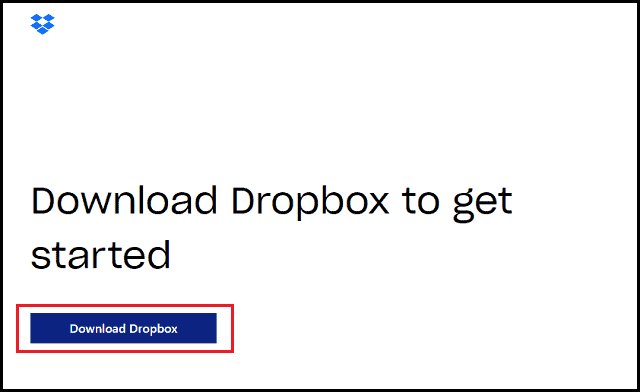 It will download the dropbox installer file. Open that file and it will automatically download and add dropbox for you. You have successfully installed dropbox desktop software in windows 10.
Step 3: Set Up Dropbox
Now, setting up Dropbox is the main step in which we will actually add dropbox to the file explorer in the windows 10 computer system. In the setup Dropbox window, click on Advanced Settings to explore the extra settings.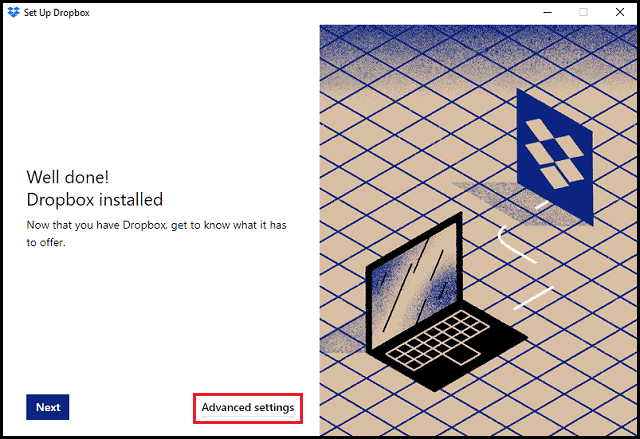 Select the Dropbox folder location. You can select folders to sync as well in this window but we can do it later. After, click on Next.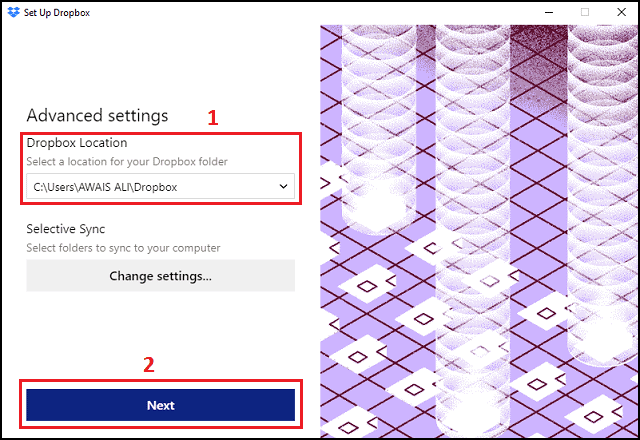 Here, you have to choose how to sync your files. If you are a free user then, you can only select Make files local. Paid users can select Make files online only. I will go with basic. After choosing, click on continue.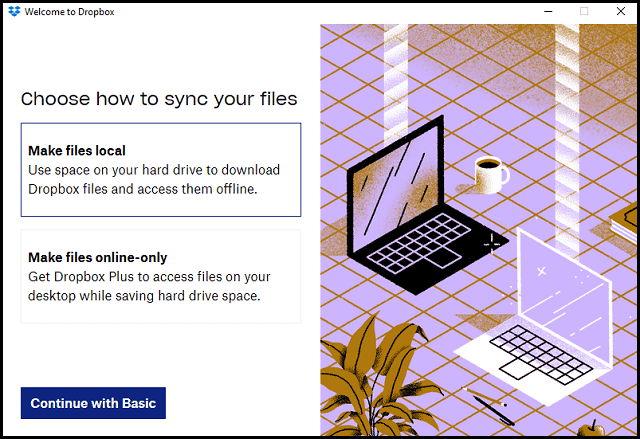 Now, you can select the folders that you want to back up with Dropbox. Also, you can add folders. You can skip this if you don't want to. Choose the option accordingly.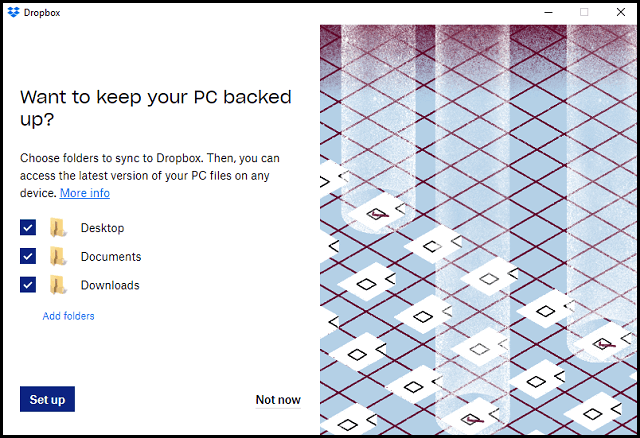 You have successfully done the settings of Dropbox. You can see the Dropbox folder in your file explorer like below:
Step 4: Pin to Quick Access
The last step is to pin Dropbox to the file explorer's quick access bar. For this, right-click on the Dropbox in the file explorer and select Pin to Quick Access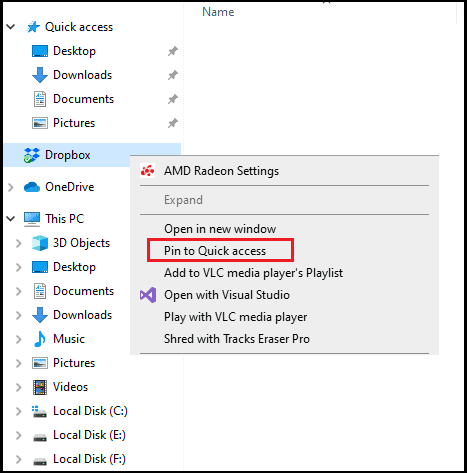 Dropbox icon is pinned to file explorer quick access bar as well. You can open dropbox from the start menu as well to save files on your Windows PC. In this way, you can install it and save hard drive space, sync folders, upload files to dropbox directly.
Frequently Asked Questions
How to Change Dropbox Folder Location?
If you selected the wrong folder at the time of installation then, you can change it easily. Click the Dropbox icon in the Windows taskbar: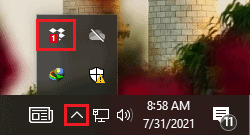 Navigate to your Profile> Preferences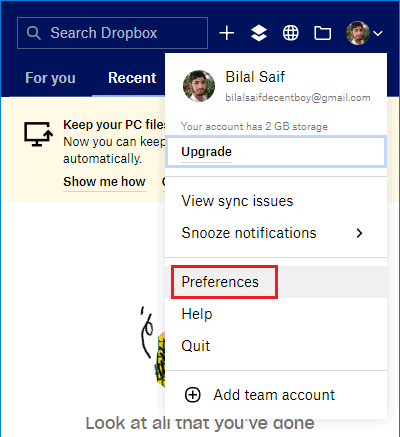 Go to the Sync menu, change the folder and click on Apply here: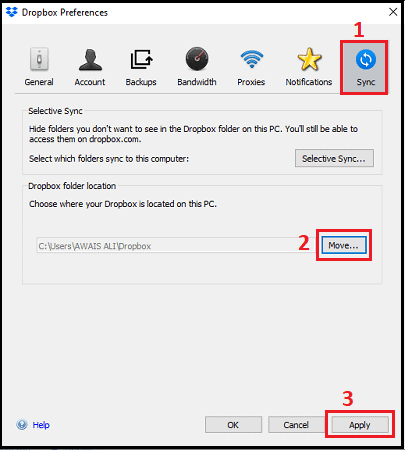 This is how you can change the path of the dropbox folder using windows 10.
How to Add Dropbox icon to Send to Menu?
You can easily transfer any file to dropbox once you have added the Dropbox app to send to the menu. For this, press Win + R to open the run program and type shell:sendto then, click on OK just like below: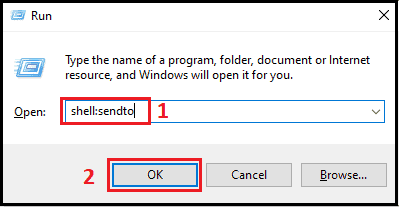 Now simply drag the Dropbox folder from file explorer to send to folder. That's it.
Now, right-click on any file, go to send to the menu and you will find dropbox here like below: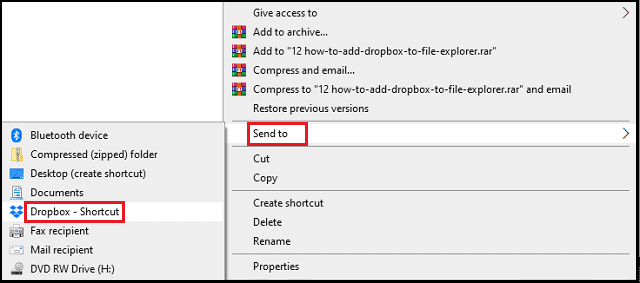 How to Transfer Files Using Dropbox Transfer?
As I said earlier, you can transfer dropbox files to others even if they don't use dropbox. To send any file (less than 100MB in a free account), just right-click on that file and click on Send with Transfer.
Then, click on Create Transfer. It will generate a link that you can share with others and that link lasts for 7 days. In this way, other users can access your content as well.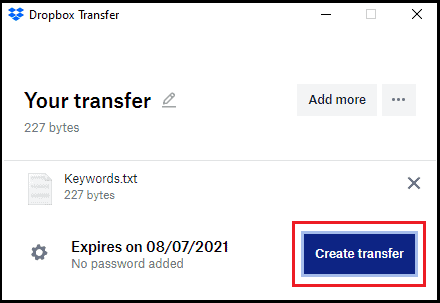 Paid members can make additional changes like set the custom expiry date and set password, etc. But free members can't set passwords or make any changes.
How to Enable Dropbox as a save location in Microsoft Office?
To display this option, navigate to the Dropbox preferences (dropbox icon is located at taskbar) and check the show dropbox as a save location in Microsoft Office box: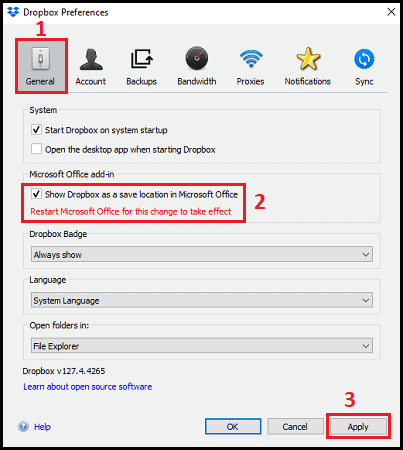 Finally, click on Apply to save the changes. Now you can directly sync your Microsoft Office documents in Dropbox using windows OS.
Why is my Dropbox not synchronizing in Windows 10?
Many users find this issue that Dropbox folder is not synchronizing. There may be multiple reasons for this problem. Some reasons and their solutions are given below:
1) Dropbox is not running in the background. To check it open the task manager (right-click on the taskbar and select task manager) and go to processes. Check whether Dropbox is working or not. If not, enable it.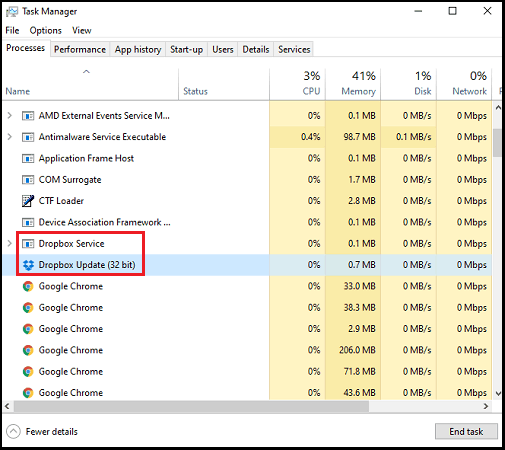 2) Maximum storage limit is reached. As Dropbox only provides 2GB of free space so, maybe you have used all the space. In that case, it is obvious that Dropbox will not synchronize the files. You can upgrade or free up the space to solve this issue.
3) Maybe an antivirus is interfering with Dropbox. Try to disable antivirus or give permission to Dropbox (whitelist).
I hope it will fix your issue you are able to sync folders in your windows by using their app.
What are the Alternatives to DropBox?
There are many Dropbox competitors in the market that provide the same features at a cheap price. Some also provide an app for Windows OS. They provide more storage for free of cost than Dropbox. Some of them are:
Google Drive
Icedrive cloud storage
4shared
iCloud
OneDrive
How to Share Images via Dropbox?
You can use dropbox as image sharing platform as well. Follow the procedure explained in the transfer section above.
Dropbox cloud storage isn't a good platform to share images because there are dedicated platforms available like Imgur where you can create an album and share them with others as a whole.