Sometimes we need to capture a specific part of the screen using Windows OS. Windows 10 comes with two screenshot features known as Snip & Sketch and snipping Tool.
We can use these tools to snap any part of the computer screen but what is the difference between these tools i.e. Snip and Sketch vs Snipping tool.
Today, I will try to clear your mind about these two screen capture tools, so make sure by the end.
How to Open these Tools?
Before diving into the main topic, I want you to know that how can you open these built-in tools in windows 10.
Snipping Tool:
Just type "Snipping tool" in the windows search bar and this tool will appear. You have to click on it.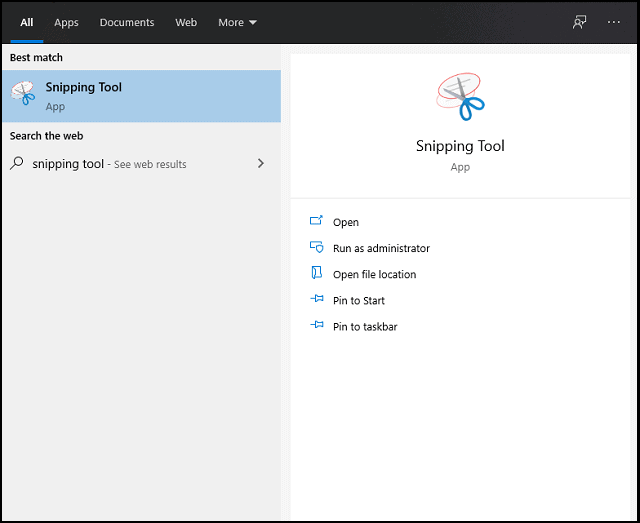 Snip and Sketch:
You can launch this tool in two ways. The first one is press Windows key + Shift + S together and select the area, you want to capture.
In second method, type "Snip and Sketch" in the windows search bar and click on this tool. That's it.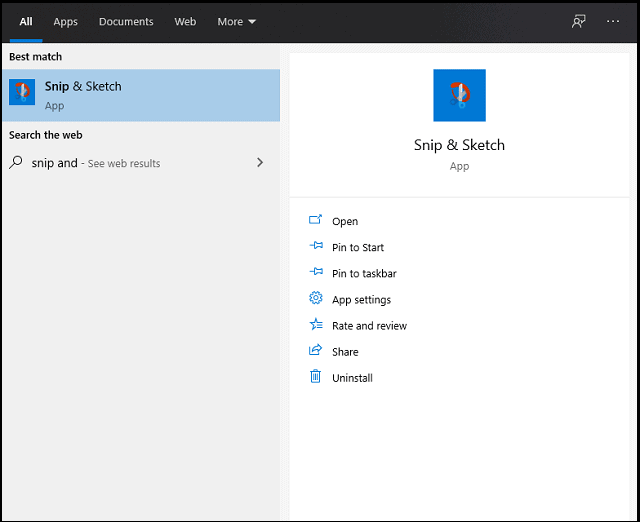 Snip And Sketch vs Snipping Tool
Now, I will explain the difference according to many aspects between these two screenshot tools.
I will try to show you why Microsoft launched snip and sketch when snipping tool was already in windows.
Also Read: 5 Best Fast Web Browser For Windows 10
So, let's discuss the main topic:
1)
Features
This is the main difference between these two screen capturing tools that is features. Features take a program one step ahead.
Snipping tool contains less features as compared to snip and sketch screen capturing tool.
Let's have a quick look the given table to see the features: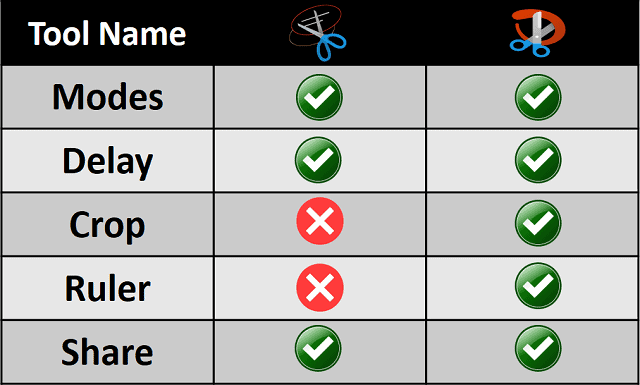 2)
Compatibility
First we will talk about Snipping tool. This is very old tool since it comes as built-in screen capturing tool in windows 7, 8 and now 10.
In windows 10, Microsoft improved this tool a little bit.
On the other hand, Snip and Sketch is only available in windows 10. However, it is available on the web and you can easily download.
It comes with more features which we have discussed earlier.
Also Read: 5 Best Free Screenshot Software For Windows 10
3)
Un-install
In case of snipping tool, you are unable to remove this feature from your windows because it comes with windows.
Snipping tool is a built-in in almost all latest windows like 7, 8 and 10 so, you can't get rid of this tool.
Although, snip and sketch comes as built-in feature in windows 10 but you can easily remove this tool from your windows if you want.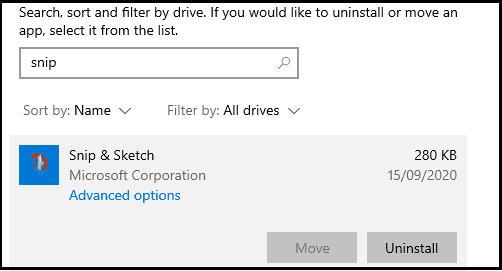 If you think that snipping tool is enough for you than, you have right to un-install this additional tool.
4)
Touch Screen
Snipping tool does not suit for touch screen systems since it has become old and perhaps, Microsoft will remove this feature in future.
If you use mouse then, this tools still works best to capture the particular screen section.
Whereas, Snip and Sketch works best on touch screen systems as well. You can easily utilize this screen capturing tool touch based windows OS.
If you run windows 10 on tab or any touch screen device, you will find this tool very helpful.
5)
Speed
This is my personal opinion and you may disagree with this. Snipping tool works little bit fast as compared to snip and sketch.
When I take any screenshot, snipping tool instantly launches whereas, snip and sketch takes time to load properly.
As I said earlier, this is my experience because I often use these screen capturing tools that's why I know about these tools better.
Also Read: How to Change Mouse Pointer Color in Windows 10?
Which Tool Is Better?
Which screen capturing tool is better? This query appears in mind after comparing different aspects.
Well, you have to select yourself by keeping in mind all the above points. But my suggestion is Snip and Sketch.
The reason is that this tool is the advanced version of old snipping tool. It provides you more control over the features.
Moreover, you can completely modify the screenshot instantly with more tools as compared to snipping tool.
The developers of any program try to add more and more functionality in tool to enhance the user experience and same is the case with snip and sketch.
However, the final decision is yours. You can choose any of these program to perform your task because the purpose of both the tools is same.
Wrapping Up
I tried to cover each point to explain the difference between snip and sketch and snipping tool. If you know more about it, let me know in the comment.
I hope you found this guide knowledgeable and learned something new about Snip and Sketch vs Snipping tool.
Now, you can easily differentiate between these tools. If you like this post, share with others for informational purpose.